Covid amid Durga Puja: Fear hits ice cream sales in Calcutta
Ice cream carts, an inseparable part of Bengal's biggest carnival, stood outside pandals like every year, but the number of customers was few and far between
---
|
Calcutta
|
Published 27.10.20, 12:17 AM
---
Ice cream sales have plunged headlong this puja, thanks to the Covid-19 scare.
Ice cream carts, an inseparable part of Bengal's biggest carnival, stood outside pandals like every year. But the number of customers was few and far between, vendors manning the carts said on Sunday.
"I have barely sold stuff worth Rs 12,000 from Panchami to Navami this year. Last year, I remember I had sold stuff worth around Rs 8,000 on Panchami," Buddhadeb Gayen, an ice cream seller who has been camping
near Mudiali Club's Durga Puja for many years now, said.
Gayen, who sells products of a frozen dessert brand owned by a consumer goods behemoth, said his commission was Rs 16.50 for every Rs 100 sale.
Gulam Mustafa, who sells products of the same brand near the Ekdalia Evergreen Puja, said he had sold stuff worth Rs 12,000 on Ashtami last year. This year on Ashtami he could sell stuff worth Rs 1,800, he said on Sunday.
The Covid-19 threat has led to a substantial dip in the number of puja revellers on the road this year.
"Children are our main customers. This year, elders are doubly concerned about kids catching cold. Every now and then, a small boy or a girl is asking for an ice cream only to be refused by parents," Mustafa said.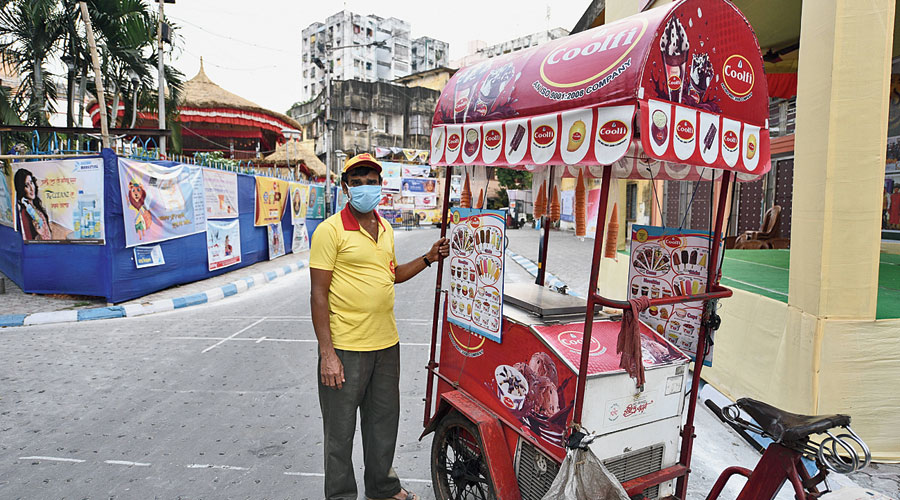 Members of an odd-group that stop by his cart ask him to leave the stuff on the cart, spray disinfectant on the packs before having the ice cream.
Dilip Sardar, who sells products of a local ice cream brand from his cart near the crossing of Pratapaditya Road and Rashbehari Avenue, said on Sunday he was still to make his first sale around 1.30pm.
Cycling from his home off Prince Anwar Shah Road, he had reached the spot around 12.45pm.
"Sitting idle for 45 minutes on a puja day is something I had never known till this year," Sardar, who earns a commission of 25 per cent on sales, said.
Rabi Ghosh, an ice cream distributor in south Calcutta, said on Monday business was down by "around 50 per cent" this Puja.
Ghosh, who gets stock from the company and has around 15 vendors selling them in Jadavpur, Dhakuria and Tollygunge, attributed the slump in business to the suspension of suburban trains to a large extent.
In the absence of local trains, tens of thousands of people could not visit the pujas in the city this year.