Supply woe for jab sites
We had to suspend vaccination for an entire day as we could not acquire vaccine: Ranjika Chattopadhyay, Covid Vaccine Centre Officer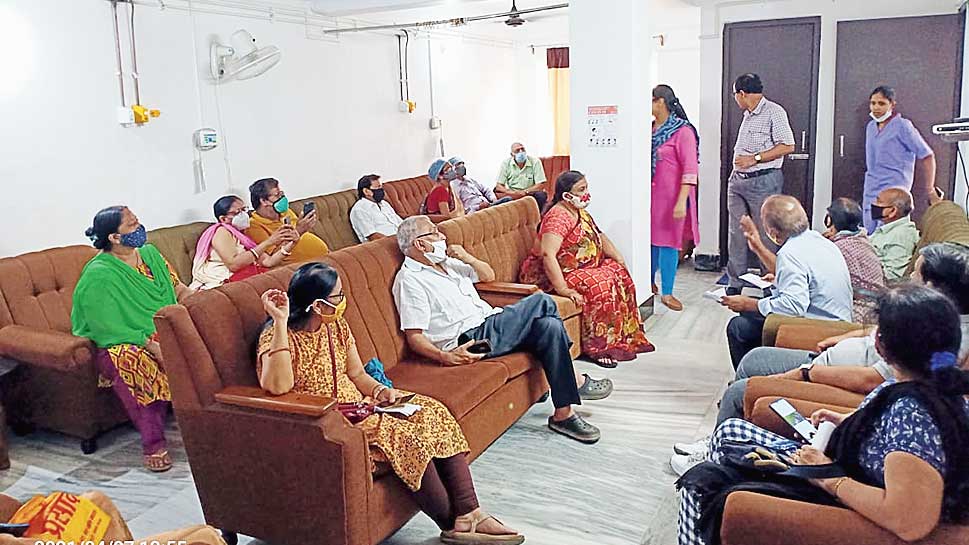 The vaccination lounge at Daffodil Hospital in Lake Town.
Pictures by Showli Chakraborty
---
Salt Lake
|
Published 09.04.21, 06:27 AM
|
---
Hospitals have been so swamped with registrations since the Covid vaccine became available to those aged 45 years and above, that at least two in our vicinity had to suspend the drive for a day as they ran out of vials.
"Initially we couldn't start giving vaccination in full strength to the 45-plus age group. In fact, we had to suspend vaccination for an entire day as we could not acquire vaccines," said Ranjika Chattopadhyay, Covid Vaccine Centre Officer at Daffodil Hospital. They received the vaccines only at night and resumed the drive the next morning. "In the initial days, we vaccinated 160-180 people. Now we are vaccinating almost 250-300 people per day but supply is a recurring problem."
ILS Hospitals Salt Lake is suffering from the same problem. "We have been facing supply shortage even before the 45-plus age group announcement was made," said an official in charge of vaccination. "Despite making advance payments for the vaccines, supply from Bidhannagar Subdivisional Hospital has been delayed right from the second week of March. Vaccinations have had to be kept on hold for several hours at a stretch on such days."
The hospital then started sourcing vaccines from the Barasat District Hospital.
The Bidhannagar Subdivisional Hospital and the Reckjoani Health Centre in Rajarhat allot supply units to most vaccination centres in Salt Lake and Rajarhat. In times of crisis, hospitals can also try other nearby centres like Barasat District Hospital.
Usually most vaccination centres pick up 10-12 vials per day from a government supply centre and each vial accounts for 10 jabs or a maximum of 11 jabs. However, the ground rule is that once a vial is opened it has to be finished within an hour, from the time it is opened.
As of now, Ohio Hospital in New Town is vaccinating 120 people per day while Bhagirathi Neotia Woman and Child Care Centre, New Town, is vaccinating 80-85 people per day. The Apollo Clinic at City Centre is vaccinating 320 people daily while ILS Hospitals Salt Lake is vaccinating 250-280 people a day.
Gopal Mukhopadhyay of Apollo Clinic at City Centre said: "There is growing concern about the supply of vaccines. It is quite erratic at Salt Lake Subdivisional Hospital. Sometimes we have smooth supply for a few weeks followed by alternate days of limited supply. At such times, we have to request customers to return the next day."
A lot of people, he said, had been visiting their clinic in an attempt to avoid queues at hospitals. "Also, we have a loyal set of customers who keep coming here for doctor consultations and so ours is a familiar setting for them," said Mukhopadhyay. Eager for jab
Predictably, there is a surge during the weekend for vaccines while weekdays usually record low footfall. Most people are booking slots through the Aarogya Setu app or the Co-Win portal, and spot registrations are also being conducted in large numbers, provided people are carrying their Aadhaar cards along.
"Initially I was apprehensive about the jab. I wanted to wait and watch," said Anjali Mukherjee, a resident of AC Block. "But now that many are getting infected during the second wave, I didn't want to risk it. My parents got vaccinated last month, while my husband and I got our first dose over the weekend at Ohio Hospital."
Residents have also benefited from the government notification announcing that vaccinations should not be suspended over holidays and weekends. "It was impossible for me to get vaccinated during the 9am-4pm slot on weekdays. But now I can get vaccinated on a Sunday. It would also help if the timings were extended till 9pm on weekdays so people could get their jabs on their way back from work," said Smritika Michaels, a resident of BD Block in New Town.
Shortage at source
Superintendant of Bidhannagar Subdivisional Hospital Partha Pratim Guha admits to shortage. "Our hospital is not short of vaccine but we act as the cold chain point for several other hospitals — ILS, Calcutta Heart Clinic & Hospital Society, Parkview Super Speciality Hospital, Techno India Dama, Amri, Matri Sadan etc. If we receive less vials, we are unable to pass on adequate supply to the hospitals which depend on us," he told The Telegraph Salt Lake.
Up to 300 people are being turned away a day at some hospitals due to a shortage in vaccine, he says. This acute shortage, he adds, began after the 45-plus age group got allowed to avail the facility.
The Centre has also allowed vaccination sessions at workplaces but the authorities have no idea where the extra supply will come from. "There was another confusion recently when they asked us to stop giving first doses of Covaxin due to shortage. So we reduced the days on which Covaxin would be given from three to two. But another notice some days later said that there was no shortage but that less Covaxin were being supplied due to less demand. They asked us to resume first doses of Covaxin but how can we when supply is so erratic?" asks Guha. Supply of Covishield is unreliable too.
The Co-Win portal too acts up now and then. If a hospital is unable to access it, patients have to be sent home without jabs.
Additional reporting by Sudeshna Banerjee