Covid-19 strikes SOS Children's Village
The West Bengal branch of the group, based in Salt Lake, has 15 houses comprising of seven to 10 children, ranging in age from infancy to mid-20s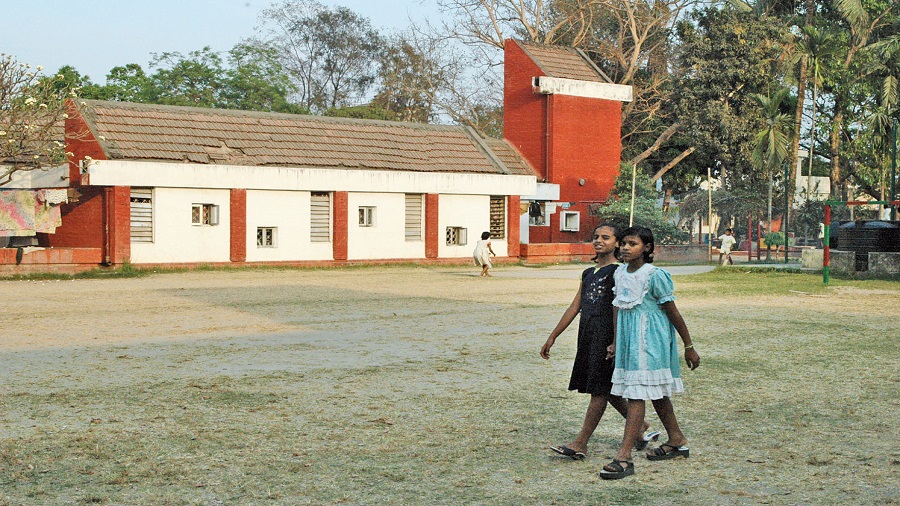 A file picture of SOS Children's Village, when Covid-19 was years away
Sourced by the Telegraph
---
Published 02.10.20, 03:02 PM
|
---
Eighteen residents of SOS Children's Village in BK Block and their youth hostel in Baguiati had tested positive for Covid-19 and have recently recovered.  
SOS Children's Village is an international organisation for orphaned and neglected children. The West Bengal branch of the group, based in Salt Lake, has 15 houses comprising of seven to 10 children, ranging in age from infancy to mid-20s. Looking after them are employees who take up the roles of "mother"s. The head of each house is a "mother" who has an "aunt" to assist her.
"It all began when an 'aunt' fell ill and tested positive in last week of August," said Sonali Das, secretary of the centre. "We were worried but received a lot so support from mayor Krishna Chakraborty and the health department."  
The corporation sent teams to conduct Covid tests of all residents of the village as well as their youth hostel in Baguiati. Boys above the age of 12 years are sent to this facility while adolescent girls continue staying in BK Block.  
The test results found two boys, four girls, two youths of the Baguiati hostel, two 'aunts' and seven members of the staff at BK Block infected. "The matter was intimated to the child welfare committee and the district social welfare officer, North 24- Parganas immediately.
The corporation sanitised the village on September 5 and 10 and internally we continued sanitisation on a daily basis," said Das.
Except for the first "aunt", all were asymptomatic. Nonetheless they were isolated in separate houses. As per the advice of their paediatrician, their temperature, pulse and oxygen saturation were monitored throughout. They were given vitamins and nutritious diet like khichudi of Gobindobhog rice, chicken soup, custard, corn flakes and energy drinks, according to officials.
The patients were served in disposable plates and cups by two nurses in personal protective equipment. After 17 days of isolation, health workers repeated the tests, and on finding them negative issued them fitness certificates, after which the children returned to their family homes in the village.
"No more cases were found thereafter. While we can never be sure how the first 'aunt' contracted Covid, it is true that some aunts and mothers have been visiting markets," said Das.
"Now that everyone has recovered some 'mothers' are looking forward to Puja shopping. But I am dead against this. It is with stringent protocol that we have brought the Covid situation under control. Going to a crowded market like Hatibagan will put everyone's health at risk again," she said.