Covid-19: Jab drive trips on supply shortfall
Multiple centres suspend vaccination due to shortage of doses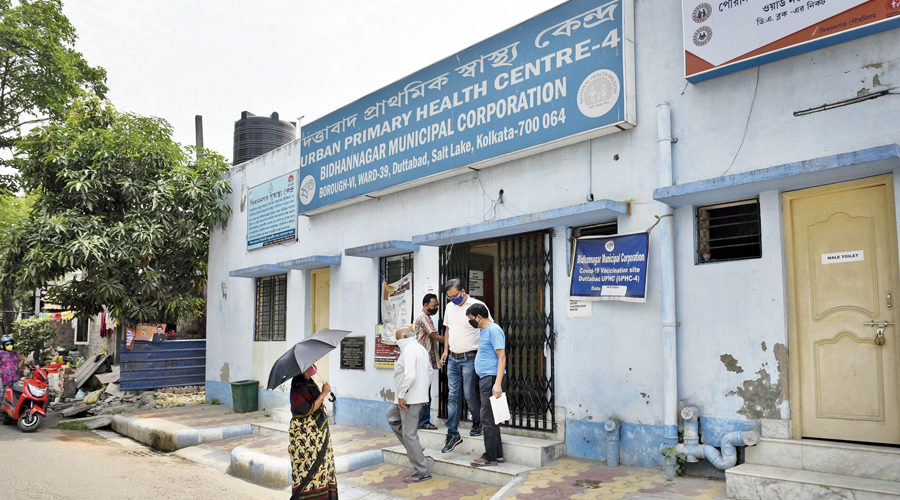 ---
|
Calcutta
|
Published 13.04.21, 01:17 AM
---
Covid vaccination could not be done at several centres in the city on Monday and many more had to briefly suspend inoculation or stop administering jabs before the scheduled time because of shortage of doses.
The vaccination drive against Covid-19 has been severely disrupted since Saturday because of lack of enough doses.
The urban primary health centre at Dattabad, run by the Bidhannagar Municipal Corporation, had no vaccines on Monday. All those who turned up for the shot were asked to come back later.
The vaccination staff at the centre said they had come to know around 10am that no doses would arrive during the day.
AMRI Hospitals Salt Lake could not vaccinate people for the third day in a row on Monday. The Mukundapur hospital of the group could only vaccinate 12 people from one vial it had in stock. Belle Vue Clinic exhausted its stock by 2pm. Those who arrived after 2pm had to return without getting the shot.
Late on Monday afternoon, the state received four lakh doses of vaccines, which could be just enough for a couple of days.
"We received four lakh doses on Monday. Now, we have a stock of over 7 lakh doses. Hopefully this will suffice for two days. The Centre has promised to send another 3 lakh doses on Wednesday," state health secretary Narayan Swaroop Nigam said.
Senior officials of the state health department could not say what would happen when the 3 lakh doses expected on Wednesday were administered.
A senior official said the state was supposed to get 20 lakh doses but the Centre has not been able to give a deadline by when the doses would arrive.
At vaccination centres, the shortage meant many prospective recipients had to go away without taking the jab.
Vaccination at Peerless Hospital was halted between 11am and 12.30pm as vaccines were not available. The hospital resumed vaccination after fresh stocks arrived.
"If we are not assured of stable supply, then we cannot tell the recipients to come at a specific time. This becomes problematic because many of them (prospective recipients) think this is happening because of the inefficiency of the hospital. The reality is we are not getting enough doses," said Sudipta Mitra, the chief executive of Peerless Hospital.
Belle Vue Clinic received 200 doses on Monday and they were administered by 2pm. The hospital has been inoculating between 350 and 450 people daily.
"Since we did not have doses, we had to turn away people who came after 2pm," said Pradip Tondon, the chief executive officer of Belle Vue.
"We had to stop vaccination at two of our three hospitals because doses were not available. This is a matter of great concern," said Rupak Barua, the group chief executive officer of AMRI Hospitals.
Doctors have been saying rapid vaccination was needed to bring the epidemic under control. But shortage of doses has cast doubt on plans to speed up inoculation.