Covid-19: Fresh doses on way but too few, says state health dept
Promised vaccine to last 'a day or two'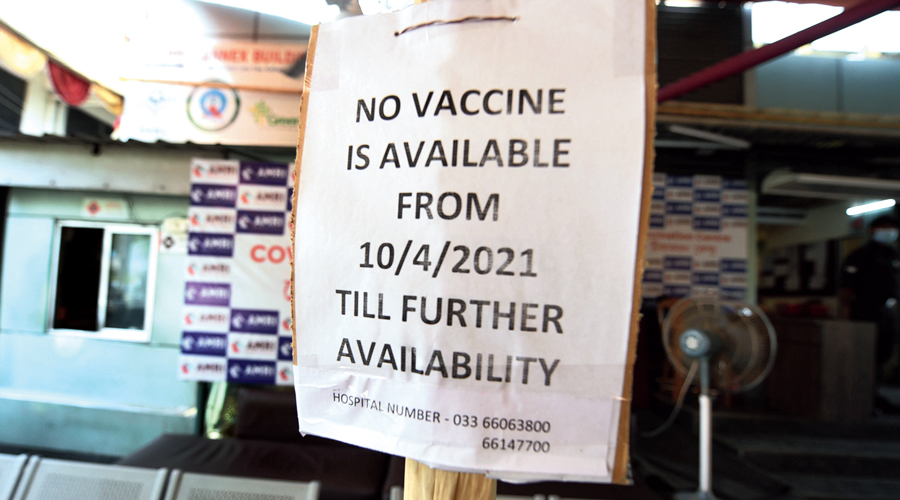 ---
|
Calcutta
|
Published 12.04.21, 01:18 AM
---
The Centre has promised four lakh doses of Covid vaccines to Bengal but state health department officials said that would be too few to continue the inoculation drive uninterrupted.
A number of Covid vaccination centres in the city did not administer jabs or gave them to fewer people on Sunday because of lack of or shortage of doses.Several centres had suspended vaccination on Saturday, too, because they had exhausted their stock and fresh supply did not arrive.
Health department officials said the Centre had promised to send four lakh doses on Monday evening. "That will be just enough for a day or two. It's not clear what will happen once the doses are exhausted," an official said.
Officials of the department were also uncertain whether vaccination could be done from all centres in the state on Monday.
Supply constraints have forced the Calcutta Municipal Corporation (CMC) to stop vaccination in about 30 clinics on Sunday, a senior CMC official said. The Bidhannagar Municipal Corporation, too, had to shut down 10 vaccination centres on Sunday because of lack of supply.
Ajay Chakraborty, the state's director of health services, told Metro that the department had 3 lakh doses in stock on Sunday afternoon.
"We may not have problems today but we would not be able to vaccinate from all centres on Monday. The Centre has promised 4 lakh doses on Monday evening as an emergency supply," he said.
"We are supposed to get 20 lakh doses but it is difficult to say when those will come."
Among the private hospitals that had to stop Covid vaccination on Sunday was Belle Vue Clinic.
The hospital, which has been vaccinating between 350 and 450 people on an average every day, could give the shot to only 100 people on Saturday.
"We suspended Covid vaccination on Sunday as we did not get vaccine supply. I do not know whether we can resume vaccination on Monday," said Pradip Tondon, the chief executive officer of Belle Vue Clinic.
The RN Tagore International Institute of Cardiac Sciences in Mukundapur, too, had to suspend vaccination on Saturday. Many people who had arrived for the jab were told that the hospital did not have enough doses and they would have to come back later for the shot.
"We kept the vaccination centre at our hospital closed on Saturday because we were told we would get fewer vials. We expected a low turnout on Saturday because of polls in the part of the city where our hospital is located," said an official.
The hospital got 20 vials on Sunday and vaccinated about 200 people.
AMRI Hospitals Salt Lake could not vaccinate anyone on Saturday and Sunday. The hospital had put up a notice announcing that it had run out of doses.
"We are not sure when the Salt Lake hospital will get fresh supply," said an official. The Dhakuria and Mukundapur units of the group together vaccinated 543 people on Sunday.
The civic bodies in Calcutta and Bidhannagar were also forced to curtail its vaccination programme on Sunday.
"We were vaccinating from 80 clinics. Ten of them were taken over for the polls. On Sunday, we had to suspend vaccination at 30 clinics. We could vaccinate from 40 clinics on Sunday. At some clinics, which vaccinated 250 to 300 people every day, only 100 got the shot on Sunday," a CMC official said.
The Bidhannagar Municipal Corporation shut down 10 Covid-19 vaccination centres on Sunday, an official of the civic body said.
The couple of BMC centres that administered the shot during the day are at Deshbandhunagar Hospital in Narayanpur and Vidyasagar Matri Sadan.
The ones where the vaccination was suspended include Aswininagar Health Centre in Baguiati, Saradapalli Primary Health Care Centre (PHC), Kestopur PHC, Jyotinagar PHC and Duttabad PHC.
Bidhannagar Sub-Divisional Hospital in Salt Lake on Sunday administered jabs to polling personnel, senior citizens and those above 45.
Case count
The number of active Covid cases in Bengal rose by 2,615 to 23,981 on Sunday. The state recorded 4,398 new infections and 1,773 recoveries during the day.