Covid-19: Doorstep vaccination resumes as private hospitals procure doses from manufacturers
Healthcare centres are getting requests from residential complexes, corporates and community groups who are willing to provide space for off-site inoculation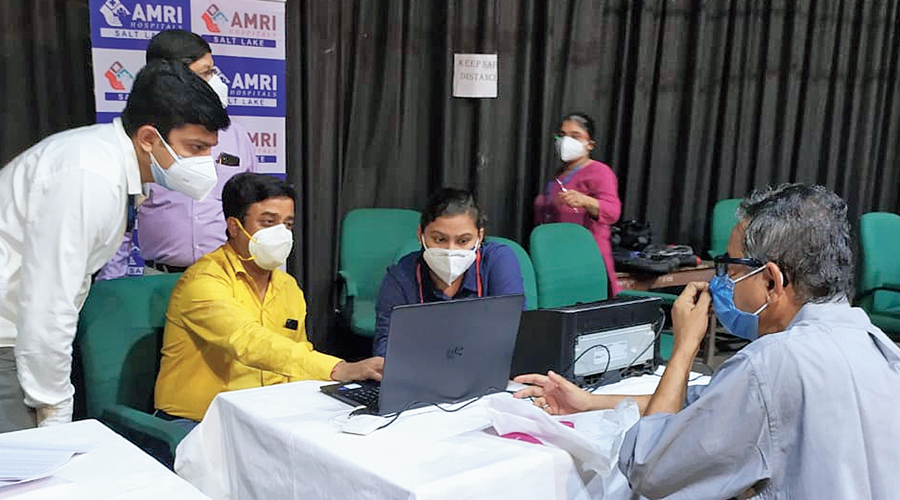 A recipient registers at an off-site vaccination drive at WBSEDCL's Salt Lake Karunamoyee office last week. The vaccine doses were provided by the state government and the inoculation done by AMRI Hospitals.
Telegraph picture
---
Calcutta
|
Published 20.05.21, 01:25 AM
|
---
Private hospitals have started fresh off-site Covid vaccination for residential complexes, community groups and offices and are planning more as the healthcare institutes are now procuring doses from the manufacturers.
Many private hospitals had started off-site vaccination — inoculating people at sites outside the hospitals — earlier on a small scale when they were provided the doses by the state government. However, the drives were not taking place after May 1 when the Centre had said private vaccination centres had to procure the doses directly from the manufacturers. 
A few hospitals have now procured vaccines and others have placed orders in bulk and vaccination at doorsteps has taken off again. This time it will be on a bigger scale, hospitals said.
The Telegraph has reported how hundreds of vaccine recipients, many of them with second doses due, are waiting because vaccine stocks are getting exhausted. Many state government sites are closed because of a lack of supplies while many private hospitals are waiting to get supplies from the manufacturers.  
The demand for off-site vaccination is very high and hospitals are getting hundreds of requests from residential complexes, corporates and community groups who would provide space for such drives. 
One hospital is getting requests from software companies each of whom want vaccination for nearly 20,000 employees and their dependents.
"Before May 1, the supply of vaccines from the government was limited so the off-site vaccination could not be started in a big way. But now, since the private hospitals can procure the doses in large numbers from the manufacturers, we can go for bigger off-site vaccination drives," said Rupak Barua, group CEO, AMRI Hospitals. 
He said the hospital has requests from more than 50 companies, residents' welfare associations and community groups in the city. The hospital group would start off-site vaccinations for them when the bulk supplies from makers of Covaxin, Covishield and Sputnik V arrive. Barua said the hospital group has recruited additional nurses and support staff for the off-site vaccination drive. The group is planning to procure about five lakh doses in the next three months.
"Off-site vaccination is important because the doses can be inoculated to a large number of people. The vaccination sites at the hospitals have limited space and so not many people can be administered the doses at once," said Barua.
Besides, there are many elderly people who find it difficult to go to a vaccination site. Also, there are many who are apprehensive of going to a hospital amidst the Covid-19 pandemic.
Apollo Gleneagles Hospital had been conducting off-site vaccinations since April 21 but in between there was a gap of about a week when it had to procure the vaccines.
"We are doing off-site vaccinations for oil companies, airport employees and communities. The drive resumed from May 6 and will continue as we keep procuring more doses of Covaxin and Covishield," said Rana Dasgupta, the CEO of Apollo Gleneagles.
He said the hospital has conducted off-site vaccination for the members of Punjabi Bradree and Burhani Masjid in the city. The vaccination for these community groups started from May 11, said Dasgupta.
Woodlands Hospital is administering more vaccines outside the hospital, at offices, than at the hospital.
It is conducting off-site vaccination for 500 to 600 people every day on an average. At the hospital, 250 people have been administered the doses every day since May 4.
"We are conducting off-site vaccination only for corporates. We feel employees at various offices are also priority groups like healthcare workers as they have to go out daily and are exposed to the infection. After the lockdown is over in Bengal, they will again be going to their workplaces in large numbers," said Rupali Basu, CEO, Woodlands Hospital.
She said more than 1,000 companies have approached the hospital for vaccination at their sites. Woodlands authorities are processing the requests.
Charnock Hospital in New Town has started off-site vaccination from Tuesday at educational institutions.
"We have already vaccinated 200 people in two days and it will continue as we get the supplies of the vaccine," said Ipsita Kundu, CEO, Charnock Hospital.
She said the hospital was in the process of procuring 50,000 doses of Covaxin.