Covid-19 curbs: Shoot halted, poverty stares at Tollywood team
Stoppage of work on the floors of Tollygunge studios means no pay for small-time actors, camera and lighting technicians, make-up and costume assistants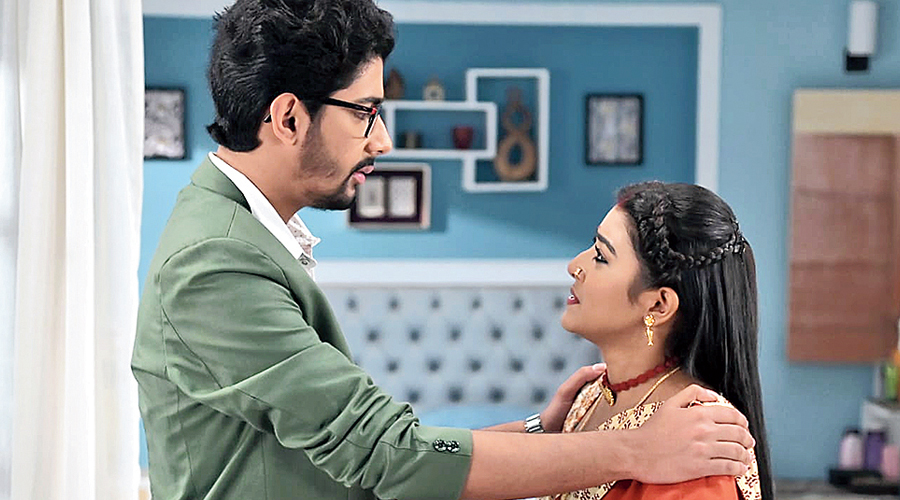 On the sets of Agnisikha, a Bengali soap, before shooting was suspended.
Telegraph Picture
---
Calcutta
|
Published 08.06.21, 01:06 AM
|
---
Many actors and technicians are teetering on the brink of penury because of the prolonged suspension of shooting brought about by the Covid-19 curbs.
Any such stoppage of work on the floors of Tollygunge studios means no pay for thousands of people. The list includes small-time actors in daily soaps, camera and lighting technicians, make-up and costume assistants and their likes — people who are hired on a daily remuneration basis.
Suvankar Chakraborty, 44, looked after light arrangements in a set at a studio off Prince Anwar Shah Road until May 15, when shooting stopped in Tollygunge. His daily income was around Rs 600.
Chakraborty lives with his mother, wife and daughter, a second-year college student. He has borrowed money from more than one place since the shutdown.
He can work as an amateur electrician and is looking for work in private homes and offices. "But I don't have enough money to buy a tool kit," he told Metro.
Arpita Ghosh, 23, has acted in bit roles in two soaps and one feature film. She was desperately looking for more opportunities when the second wave of Covid infections brought shooting to an abrupt halt.
Ghosh's father, who supplies construction material in and around Netaji Nagar, is ailing. Ghosh used to get "over Rs 1,000" for a 10-hour shift. "My income would have been so helpful for my family since my father's business took a hit following his illness," said Ghosh.
Sanjit Biswas used to work as a production assistant for another soap. His job was to look after the food and refreshments of the crew. His daily income totalled "around Rs 15,000" per month. Having been out of work for close to three months in 2020, Biswas knows how hard life can be.
"I would have faltered on insurance premiums had it not been for my savings. But this time, my savings have depleted. I don't know what to do if the shutdown continues for long," the Kudghat resident said.
In January-February 2020, just before the pandemic hit this part of the world, around 30 soaps and reality shows were being shot at over 10 studios in and around Calcutta, according to industry insiders.
"Over 1,000 actors and 1,500 technicians were part of this," said a member of the Welfare Association of Television Producers.
A single days' shooting entailed a budget of anything between Rs 1.5 lakh and Rs 2 lakh, the producer said.
The payment structure is varied. Small-time actors earn anything from Rs 400 to Rs 1,500, depending on their profile.
"A man standing in a crowd outside a slum will get one amount. Another person who is seen with a drink at a cocktail party and has a couple of dialogues with one of the main characters will get a different amount," said Susanta Das, the producer of popular soaps like Titli and Krishnakali.
Among the crew, a person helping in the make-up and costume of the lead actors gets more money than the caretaker of a camera trolley.
But the loss of income has democratised the profiles of people working in the industry. Even veteran actors are facing the heat because their incomes have gone south.
Samita Saha, assistant production manager on the floor of a soap called Agnisikha, has been getting frantic calls from her team members every day. Most of them have one question — what will happen if the curbs get stretched beyond June 15.
"Most of these technicians do not have any other skill set. It is difficult for them to switch professions," she said.
Multiple associations — of producers, actors and technicians — have requested the state government to allow resumption of shooting by following Covid-19 protocols.
"There has to be a balance between lives and livelihoods…. We request the government to allow us to resume shooting with Covid-19 protocols," said Firdausul Hasan, a TV and film producer.
The makers of some soaps have opted for what they call "shoot from home". Some actors have shot episodes from the confines of a home. The episodes have been aired.
The Federation of Cine Technicians and Workers of Eastern India has opposed the "shoot from home" module, saying it deprived technicians. But producers said that shooting from home was necessary for the survival of the industry.
"The production quality is compromised but we don't have any other option. Unless we telecast new content, we will not get money from advertisers. We have promised technicians full payment once we get the revenue," said Sani Ghose Ray, the secretary of the Welfare Association of Television Producers (WATP), and the producer of soaps like Saanjher Bati and Dhrubatara.