Second jabs could be delayed
Covishield supply to arrive after 3 weeks in Bengal: Official
Fresh doses only for government vaccination centres; second jabs could be delayed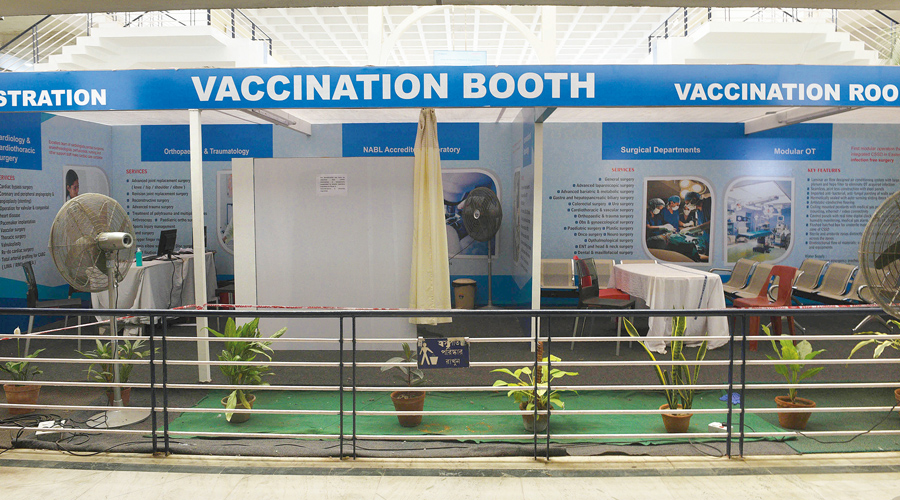 ---
|
Calcutta
|
Published 04.05.21, 03:20 AM
---
A senior official of the Bengal government said on Monday it could take at least three weeks for fresh doses of Covishield, one of the two Covid-19 vaccines in use in India, to arrive in Bengal and those would only be for government facilities.
"The Serum Institute of India, which manufactures Covishield, has informally told us that it would not be able to supply fresh doses to Bengal at least before three weeks. And these fresh doses are for government-run vaccine centres," the official said.
A state health department official said about 50 lakh people were awaiting the second dose of Covishield across Bengal. Many of them have their doses due in the next few weeks.
According to the Association of Hospitals of Eastern India, private hospitals in Calcutta need at least three lakh doses in May to complete the vaccination of those who have taken their first dose at the private facilities.
"Which means people who have taken Covishield as the first dose will have to wait beyond eight weeks for the second," said the government official.
The Centre and health experts have said people who have taken Covishield as the first dose should take the second jab between six and eight weeks of the first.
Bharat Biotech — which manufacturers Covaxin, the other Covid vaccine being used in India — has promised the state government about 1.5 lakh doses in a day or two but that would be far from adequate, an official said.
On Monday, till around 9pm, about 1.75 lakh people were vaccinated at government facilities in the state, the health department said. Among the recipients, only 18,500 got the first dose.
The Centre had announced last month that from May 1, the states and private vaccination centres would have to procure Covid vaccines directly from the manufacturers.
All private hospitals in Calcutta have suspended vaccination because of lack of stocks. The hospitals did not administer any jab on Monday and some put up notices announcing suspension of the drive for an indefinite period.
The private hospitals on Monday sent requisition for vaccine doses to the state health department, filling in formatted forms.
State health department sources said the private hospitals had asked for at least three lakh doses for those who were awaiting their second jab and one crore for those who will get their first dose.
The RN Tagore International Institute of Cardiac Sciences has submitted a demand of around 8,000 doses for May. The hospital has run out of stocks and did not conduct any vaccination since May 1.
"As advised, we filled in the template specifying the requirement of vials for the beneficiaries entitled for the second dose till May 31, amounting to 8,000 doses of both vaccines. We have also mentioned our requirements for phase 3 of the vaccination for the next three months, ending July 21, of around 34,000 doses. We have been assured of further guidance in a short period by the state government," said R. Venkatesh, regional director, east, Narayana Health, of which the Mukundapur hospital is a flagship unit.
Apollo Gleneagles Hospitals has submitted a demand of around 600 daily doses, said an official.
Peerless Hospital has submitted a demand of around 50,000 doses for the coming three months.
"We have been unable to conduct the vaccination drive since May 1 and are awaiting response from the state government. At the same time, we are also in touch with the manufacturers of the vaccines for direct procurement but there has been no response. Many people are calling up to find out when we will resume vaccination," said Sudipta Mitra, the chief executive of Peerless Hospital. He said the hospital wrote to the manufacturers on Monday, too.
"We have 3,000 second doses pending in May," said Mitra.
A senior state health department official said they were in talks with the Centre regarding procurement of vaccines for private hospitals but there has been no response yet.
"We have also given the option to private hospitals to pay directly to the manufacturers and we would allow them to use our cold chain network for distribution and storage. But the vaccines are not available and so everything is at a standstill,"said the official.
Case count
Bengal on Monday recorded 17,501 new infections, 98 deaths and 15,937 recoveries. The number of active cases has risen to over 1.19 lakh.