Back in town to work from home
Many who had left the city for jobs or higher studies have returned in this pandemic season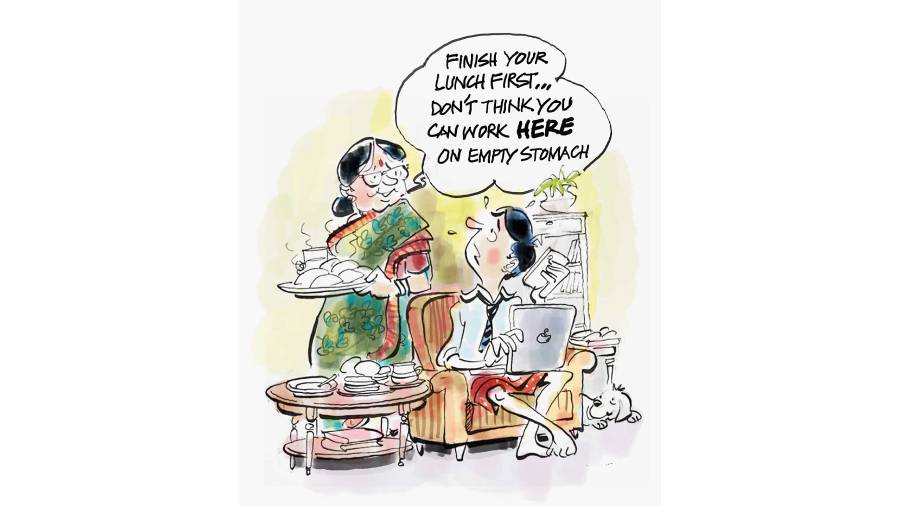 Illustration: Pratik Chakrabarti
---
Salt Lake
|
Published 28.05.21, 02:43 AM
|
---
The pandemic has snatched a lot from us but college students and working professionals are grateful for a small mercy it has shown. With office premises being out of bounds, these youths have been able to work, not just from home but, from their hometowns.
No sooner did the first lockdown get announced last March than students and professionals across the country started packing their bags and trying to book tickets home. Salt Lake and New Town, notoriously referred to as old age homes, saw the return of youths, most of whom are over the moon at being with their families.
Seventh heaven
"Money can't buy such luck," says Aniket Sil, an IT sector employee who has returned to ED Block's Sourav Abasan from Hyderabad. "No company would have given us such a long leave and now none of us want to go back."
Long before the pandemic Souradip Basu would, in vain, ask his Bangalore bosses to let him relocate to Calcutta. "I wanted to come back so badly that I could have signed a lifetime bond  and tattooed the name of the company on my chest in exchange," says the CA Block resident, now having the last laugh.
Sitting in his Gurgaon office, Subham Nandi would fantasise about working remotely. "Since office space was short, 30 per cent of our staff would work from home anyway. But it took the lockdown to let all of us do it from home. Before this, the longest break I could take would be a week," says the resident of Meena Sparsh in New Town.
Working from remote locations has never been an issue with Western clients, says Sumit Sarkar of BL Block, now back from Hyderabad. "But Indian offices felt employees wouldn't work unless under their boss's noses. That's not true if the work is deadline-bound." Recently Sumit changed his job and is delighted that the new company has granted him a permanent work from home option.
Teething trouble
The transition to the township wasn't smooth for everyone. When Subham moved into his New Town flat, the table there was meant for his father to read the newspaper and using a laptop on it was rather uncomfortable. They didn't have Wi-fi and he nearly had to move heaven and earth to get a decent connection in the lockdown. 
But like many others, Subham used the "office settlement bonus" granted by his company to set up infrastructure at home.
Poulami Pal and her husband returned to town as late as October. "It's easy for bachelors to pick up their limited belongings and not look back but my husband and I had a lot of furniture and fittings in our Mumbai flat. In fact, a new business had started there during this exodus where companies would simply keep your belongings safe while you left town. But they were charging a bomb and we eventually shipped our stuff to Calcutta," says the lady from AH Block. 
Food for thought
Food ranks high on the list of perks of being home. Even besides relishing the taste of mom's cooking, some youths are happy to simply not get into the kitchen. "It's a relief to not have to cook or plan meals everyday," says Poulami.
Natasha Kesh of FE Block is enjoying that elusive cup of tea with homemade pakoras and Aniket is glad to have something healthy to munch on. "The last two years I was living on junk food from Swiggy and Zomato so my health has improved now," he says.
So much so that he had put on eight kilos in the first three months of the pandemic. He then started walking 5km a day to work it off.
Comfort of home
Life in now a bed of roses for an IT sector employee who is woken up gently by his mother every morning. In fact, he has taught his father to log into his work station, which the senior gentleman does while junior snoozes away.
Ishan Kamal Mitra of AE Block is happy he doesn't have to commute and can work in boxers, if he pleases. Flexible working hours allow Aniket a "bhaat ghoom" after lunch and Ritankar Sen says the pandemic has recalled all his friends back to town. "At least we can meet more often now," says the former resident of Hyderabad and current resident of AH Block. Money bags
Sumit is saving more than Rs 20,000 on rent and an equally large sum on airfare. "Before this, I would fly down to Calcutta every month to be with my family. My wife works in a government school here and could not relocate and my son is very young so I would keep looking for excuses to fly back," he says.
Souradip has saved so much on rent that he has bought a scooty and Ritankar, although saving a fortune, says it is getting redirected to ordering food. "Everyone at home knows how to cook but we are lazy," he shrugs.
Improved productivity
Not just personal gains, residents say their performance has improved because of the arrangement.
"The office was full of distractions, with colleagues coming  over to my seat all the time but at home my parents are tucked in by midnight and I can work silently till 4.30am. I love it," says Ritankar. 
Souradip is so overwhelmed by his perks that he is happily clocking extra hours without even demanding overtime. "In Bangalore, we wouldn't work a minute after hours but now I don't take a tea break till 9.30 at night. I'm even logged in on weekends. And I'm happy to do so considering how much the office is doing for us."
Students have taken an about-turn too. Teresa Dhar of DB Block would barely attend classes, let alone take notes in college. "But since online classes are such a challenge, I feel I'll fall behind if I don't pay attention. And now I've finished three notebooks taking down notes for corporate law!"
The last word is Sumit's. "If you are lazy, you shirk work both at home and office but if you're hardworking, you can complete your task and enjoy a multitude of perks at home," he says.
Where the heart is
Natasha says being with her parents has been a driving force in the pandemic. "I see parents bogged down by the heartbreaking news coming in. Being with them has reduced the worry and fear around the pandemic," she says.
The former resident of Bangalore adds how she now enjoys evening walks with parents on the rain-drenched roof and laughs with them watching something funny on TV. "These are a reminder of what we missed over the years. They are gifts, if I may say so, of this lockdown."
Sumit is happy he can watch his son grow up and Souradip sleeps with a smile on his lips, knowing that his parents are in the next room. "I know I can help them if they need anything and vice versa. I hear my mother's voice first thing in the morning… people don't value such things till they leave home," says Souradip.
A CA Block resident, Souradip is a Covid volunteer and can afford to go drop off a packet of supplies to a neighbour in between work. "I'm happy to be around to help neighbours at this time of crisis," he says.
AJ Block's Rijula Roy is glad she was around when her Covid-positive grandmother needed a hospital bed. "Being tech savvy, I got on Twitter and sought help, I could make calls for oxygen," says the copywriter from Mumbai. "This is my home. There's a sense of security here. There are people to fall back on and I too am here to chip in."
Sumona Jana's shift back to her parents' place in New Town CE Block has been providential. A month ago, her father was detected with cancer. "He avoids doctor visits at all costs. Had we not been here he might not have gone to the doctor in the first place. It is only on going for the tests the doctor prescribed that the malignancy was discovered," she says.
Last week, their entire family tested positive for Covid and the daughter is thankful that she did not have to deal with the medical emergency from afar.
"We had planned to return to Bangalore in July but now there is no question of leaving without completing my father's treatment," Sumona says.
Lazy bones
Remote working comes without the hazard of lethargy. Teresa speaks of classmates who are logging in and going back to sleep and Souradip, who in Bangalore could rustle up everything from luchi to mangsho-bhat, needs a refresher course in cooking after being out of practice for so long.
As for Ritankar, he has volunteered to do the dishes and laundry just to make himself feel useful in a home where he need not do any chores at all.
Tele-learning
Several professionals felt learning on the job becomes difficult from miles away. "Now I have to make a call for a trivial problem I could have solved by just looking over my shoulder to a colleague's screen," observes Aniket.
Subham agrees. "The volume of work has increased since, for instance, right now four out of my team of 15 are down with Covid. Every interaction is a call now and with so much work piled on, it is tough to find a free slot when a colleague and I are both able to talk," he shares.
Friends wanted
Teresa misses hanging out with pals in her Patna campus and feels like time has stopped for her. "We still talk over phone but it's not the same," says the law student who was bored enough to run off to college for a bit earlier this year.
Rudroprasad Bandyopadhyay had come for a vacation from Mumbai to BJ Block, after his Class X Boards last March. Since he had to stay back, he has taken admission in Hariyana Vidya Mandir.
Classes are on but the boy has never met a single classmate of his. "I only went to school once, to get textbooks, and saw the field outside, quadrangle inside but don't know when I'll be able to play there," he says. As for tuitions, his grandparents asked around neighbours for recommendations.
His mother Nivedita spends her time cooking and supervising Rudra's studies. "My husband, a doctor, is back in Mumbai and I, having never lived in Calcutta before, have no friends here to socialise with," she says.
New hobbies
Shubham was driving through New Town in October last year when he saw some people playing badminton on an empty plot near Pride Hotel. Desperate to play the game, he invited himself in and for the next few months the group played every night from 10pm to 12.30am.
"I would have to drive 10km to the spot and even then some nights it would be too windy to play. But I was happy enough to have some friends to talk to,"  says the man who applied for membership at a club nearby but was shown a lengthy waiting list. "This other club asked for two years' charges up front, which is unreasonable given how uncertain things are now. How and where else was I to make new friends?"
Others are trying to substitute friends with hobbies. Anwesha has started making crafts with her mother, Teresa is learning the guitar, German, French and Japanese.
Chandrasekhar Tawri, a science student who has cleared his online theory papers in an aviation-based course he is pursing from Delhi, has taken up BBA in a bid to learn something new. 
Ishan has settled for a film a day on Netflix. Minor glitches
After having lived independently for years, the home birds are now facing minor adjustment issues. Aniket says his parents want him back home by a certain time, Ritankar says his parents do not like him bringing friends over too late at night. "But then they have every right to criticise me as I have moved into their space and am sharing my life with them 24x7," Ritankar reasons.
Sumona cites the weather. "I never spent the noon at home as I would be away at work in an air-conditioned environment. Spring was always in the air in Bangalore. Now we cannot switch on the AC at home because father has fever," say Sumona.  But this, she points out, is a "minor inconvenience".
Missed opportunities
Chandrasekhar is missing his Delhi campus dearly. "Early 20s are the time to build our careers. We had enrolled at different cities for the exposure but are now stuck behind four walls," sighs the resident of New Town DB Block. "Initially I was happy being home but now I'm frustrated. I want to explore the world and fulfil my potential."
Anwesha Chaudhuri likes it at home but is nostalgic about the Gurgaon office environment. "I miss dressing up and going to work, I miss office parties…. Now we do talk to colleagues but it's only about work," she sighs.
Options open
Natasha and her husband still retain their place in Bangalore and look forward to moving back whenever lockdown rules are eased. "Even though I love home, I crave meeting my colleagues every once in a while. Some of the people I manage are fresh recruits I have never met in person. Face-to-face interaction still holds its own charm," she says.
Much as he would hate to leave the City of Joy, Souradip feels he may have to, someday. "My department handles confidential data that is too risky to be accessed from home in the long run," he says. This is why, instead of selling off his TV, fridge and the like in Bangalore, he had them shipped over to Salt Lake. "That way I won't have to buy them afresh if I am relocated elsewhere after the pandemic."
Poulami speaks of friends who have returned from their hometowns even before offices reopened. "They were finding it difficult to create office space in small apartments that was already occupied by their parents and siblings. It was worse if both husband and wife got calls at the same time," she says.
Additional reporting by Sudeshna Banerjee