Gym comes home as fitness gear sales soar
Coaches call for caution amid craze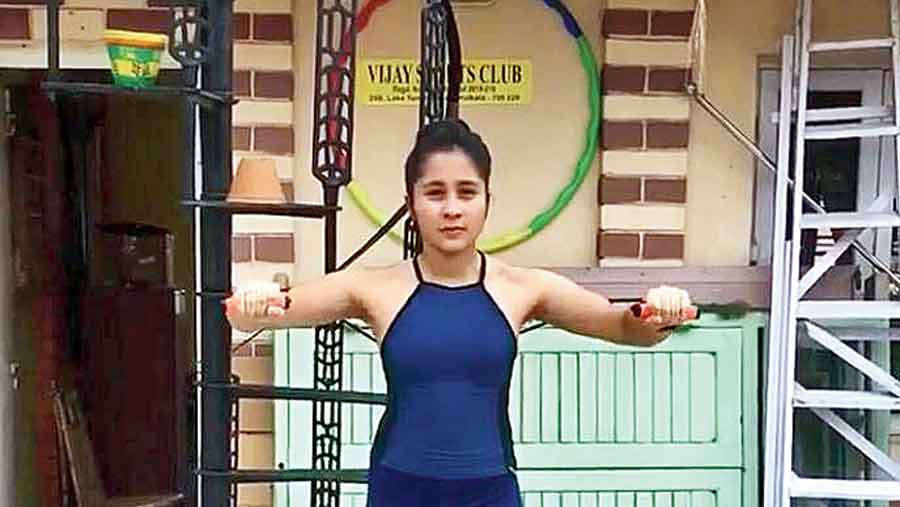 ---
|
Calcutta
|
Published 08.08.20, 03:36 AM
---
When you cannot go to the gym, bring the gym home.
The sale of fitness equipment and weights has seen a sharp spike for domestic use in the past few months, according to several retailers in Calcutta.
From treadmills and cycles to resistance tubes and dumb-bells, every equipment has takers.
"There has been an almost 40 per cent jump in the sale of equipment like treadmills, cycles and cross trainers. The sale of dumb-bells, barbells and folding benches have registered a near 60 per cent rise. All of them are domestic orders," Gagan Sachdev, the owner of Bodyline chain of stores, said.
The chain has four stores — in Ballygunge, Hiland Park, City Centre II and Avani Mall.
The spike has been visible since mid-April and has stayed so far, he said. Till March, Sachdev sold around 30 treadmills a month, from four stores combined. Since April, he has been selling over 50.
Gyms have been shut from mid-March. But it took fitness freaks a while to realise the shutdown will be a lengthy affair.
The trend is here to stay even after gyms reopen, according to retailers.
Aishwarya Krishnan, 20, a rower and fitness enthusiast, was a regular at a Ballygunge gym before the lockdown. "But I am not ready to head to a gym now. My parents, too, are concerned. They have asked me to get whatever stuff I need and work out on the rooftop. That is what I have been doing for the past four months," she said.
Her list includes dumb-bells, barbells, kettlebell and resistance tubes. On Friday afternoon, she did an hour's workout with resistance tubes on the rooftop of her Lake Road home.
Rajdeep Lahiri, a Tollygunge resident, ordered a treadmill in the second week of May. "I used to run for three 15-minute sessions at a local gym to lose weight. Since the gym shut down, I tried running at a park. But the number of people at the park kept increasing with every passing day. So, I thought of buying one."
Even those who are not fitness freaks have woken up to the concept of fitness, thanks to the pandemic, Adeep Kapoor, the third-generation owner of GK Sports, said. "They are ordering treadmills and cycles."
GK Sports has outlets on Ballygunge Circular Road and Park Street.
His stores have seen "an at least 50 per cent jump" in the sale of fitness equipment. Apart from treadmills and the usual dumb-bells, the hot-selling items include skipping ropes, toning tubes and twisters, Kapoor said.
Lifters are not to be left behind. Sukhdeep Singh, 22, bought a pair of dumb-bells and barbells. "I cannot do without my daily dose of workout. Gym is better but if not, home has to be acceptable," Singh, a Sinthee resident, said.
Amid the craze for ordering equipment, strength and conditioning coach Ranadeep Moitra had a word of caution.
"Any machine-based workout should be under the guidance of a trainer. Random use of treadmills and other equipment can lead to aberrations in muscles and injuries. If people are hesitant to step out, they can take the advice of trainers online," Moitra, the co-owner of Endorphins chain, known for training schedules that are not machine intensive, said.