Coronavirus, pregnancy, and in vitro fertilisation
Necessary to consider the impact that this disease may have on maternal and fetal well-being and eventual pregnancy outcome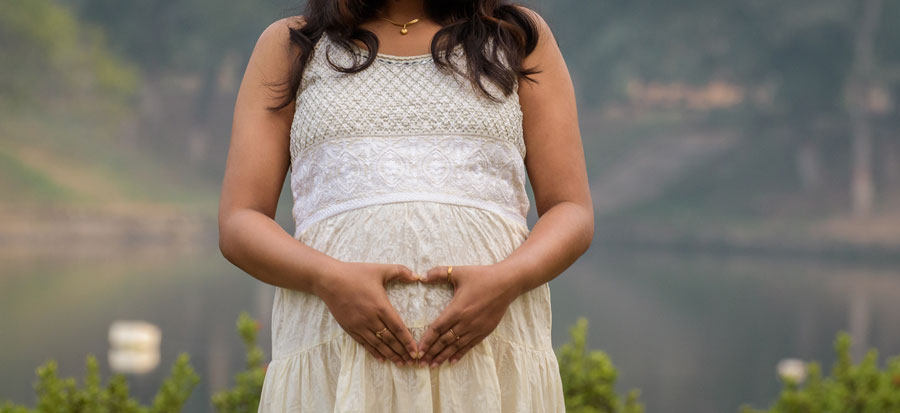 Pregnant women do not appear to be at increased risk to contract the infection when compared with the general population and they need to follow widely circulated preventive guidelines.
Representational image from Shutterstock
---
Calcutta
|
Published 28.03.20, 08:42 PM
|
---
The Covid-19 pandemic has impacted every sphere of life as we know it. Our understanding of the disease and its causative agent (the SARS-COV-2ssRNAb-coronavirus 2B) is limited.
However, it is known that several viral infections may have severe consequences upon pregnancy. Thus, it is necessary to consider the impact that this disease may have on maternal and fetal well-being and eventual pregnancy outcome.
Around 80 per cent of Covid-19 patients have fever and mild symptoms (with or without pneumonia). Severe disease, including dyspnea and lung, affects around 14 per cent patients and 5 per cent of patients are critical (respiratory failure, shock and multi-organ dysfunction). Mortality rate is 1-2 per cent. Most deaths appear to occur in the second week of illness and are associated with acute respiratory distress syndrome (ARDS).
Covid-19 is a novel infection and thus host immunity is minimal in our population.
Therefore, it is more contagious than the flu, impacts the lungs differently, with a mortality rate that is 10-15 times that of the flu. Its transmission dynamics are still not fully understood and recent evidence seems to indicate possible transmission by the faeco-oral route.
There is no vaccine and no specific medications yet, and treatment is supportive.
The current advice and guidelines published by nodal professional bodies in the UK and the US are based on a combination of good practice principles, expert advice and scientific evidence, where available.
These are likely to evolve as data is accrued, and healthcare professionals would do well to stay updated over the coming weeks and months.
This article is primarily meant to benefit women who are pregnant or contemplating pregnancy and hospital administration, and provide healthcare professionals with an introduction to this emerging clinical scenario.
Pregnant women do not appear to be at increased risk to contract the infection when compared with the general population and they need to follow widely circulated preventive guidelines. The majority of pregnant women with Covid-19 are likely to be asymptomatic, or exhibit mild to moderate flu-like symptoms, occasionally including cough, fever or shortness of breath.
However, immune-adaptation of pregnancy may result in more severe symptoms in a sub-set of women, particularly after 28 weeks of gestation in the third trimester. These may include pneumonia or hypoxia and require prompt medical intervention.
There is no evidence to suggest vertical transmission to the fetus at present. All recommended measures to prevent human to human transmission must be strictly followed in healthcare set-ups offering care to pregnant women.
There is currently no evidence to suggest an increased risk of miscarriage, early pregnancy loss, second trimester loss, or congenital defects in the fetus. However, there have been reports of pre-term births in Covid-19 positive women, although further studies are required before any conclusive associations can be established.
Ante-natal and post-natal care of pregnancy is an essential service and must continue as scheduled between the pregnant woman and the doctor, unless she meets the criteria for self-isolation of individuals or households with symptoms such as cough or fever. Online or phone appointments for providing such care may be utilised with caution to reduce the number of in- person visits, where appropriate.
In suspected or confirmed cases of Covid-19, routine appointments should be delayed until after the required period of self-isolation. Urgent appointments (fetal medicine indications, high risk pregnancies etc.) need to be individualised and reviewed by obstetricians in order to ensure appropriate management. When visits to the doctor are necessary, the patient should be encouraged to use private vehicles and met at the point of entry by staff wearing personal protective equipment (PPE).
The patient should be taken to an isolation room for consultation or investigation. Such an isolation room should be equipped only with minimum essential equipment (including ultrasound machine), which should be suitably sanitised following every visit.
Symptomatic women should be tested for Covid-19 according to guidelines and treated as infected until test results prove otherwise. In case of severe symptoms of Covid-19 in a pregnant patient, chest X-ray and CT scan of the chest should be performed with abdominal shielding, and not delayed because of fetal concerns.
During an obstetric emergency, staff must wear PPE and isolate the patient from other pregnant women first and then manage the obstetric emergency as a priority, without waiting for the Covid-19 test.
Intra-partum care for women with current or suspected Covid-19 in labour should take place in isolation rooms following a multi-disciplinary team approach involving a medical or infectious disease specialist. Healthcare workers should wear PPE during delivery of care.
Maternal vital signs should be recorded periodically and electronic fetal monitoring is recommended, where available. Any sepsis should be treated according to current protocols and Covid-19 should be suspected. The number of staff members or family members around the patient should be minimised. Mode of delivery should be determined by obstetric indications.
There is no evidence yet to suggest that steroids for fetal lung maturation are contra-indicated in the context of Covid-19.
The Royal College of Obstetricians and Gynaecologists (RCOG) do not currently recommend separation of the newborn from the Covid-19 positive mother. Breast-feeding is also currently permitted based on risk-benefit analysis, if proper precautions are followed. These include hand-washing, avoiding coughing or sneezing while feeding, preferably wearing a face-mask, thorough cleaning of breast-pumps and preferably requesting a relative to feed expressed milk to the baby.
In the Indian context, it is perhaps best to tailor these decisions on an individual basis following discussion between the doctor and the patient.
Because of unknown impact on fertility and early pregnancy, the American Society for Reproductive Medicine (ASRM) recommends suspension of all new in-vitro fertilisation (IVF) stimulation cycles as well as elective surgeries and non-urgent diagnostic procedures.
Furthermore, it urges IVF practices to strongly consider cancelling both fresh as well as frozen embryo transfers for the time being. However, stimulation cycles already in progress may be completed, as well as patients who require urgent stimulation or cryopreservation cycles because of cancer therapy.
It is clear that medical practice looks set to change forever in our post-Covid-19 world.
Doctors belonging to all specialities need to maintain constant surveillance for possible transmission of infection and be trained in infection control and prevention measures. Obstetricians, gynaecologists and fertility specialists are no exceptions.
Sources: RCOG guidelines on Covid-19 in pregnancy Version 4; ASRM guidelines for patient management and clinical recommendations; The Lancet (Infectious Diseases); Nature Medicine; US CDC COVID-19 guideline
The writer is a visiting academic at Cambridge Endometriosis and Endoscopic Surgery Unit (CEESu), and associate researcher at the University of Cambridge Strategic Research Initiative (SRI) on Reproduction, and research director at GD Institute for Fertility Research