Monday closure for Baguiati markets
Move to let civic workers spray disinfectants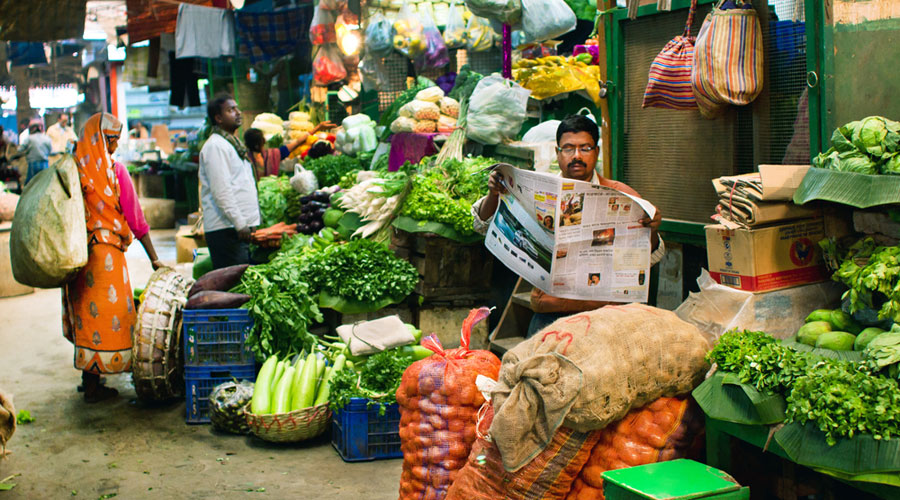 ---
|
Calcutta
|
Published 17.07.20, 02:51 AM
---
All markets in Baguiati, off VIP Road, will remain closed on Mondays to let civic workers spray disinfectants, an official of the Bidhannagar Municipal Corporation (BMC) said.
Temporary stalls near the markets will be shifted to nearby fields to ensure social distancing.
All traders in the Baguiati market complex, along VIP Road, VIP Supermarket, AC Market, Baguiati Purana Bazaar and Chawl patty Bazaar and a couple of temporary markets have been asked to keep their shops closed every Monday for sanitisation, the civic official said.
Every morning and evening, hundreds are converging at the markets, which sell everything from vegetables to electronic toys. The 1km-stretch from the Baguiati bus stand on VIP Road till the AC market remains clogged with shoppers in the morning and evening.
The markets are all located along narrow roads, which have been made narrower by vans selling fish and vegetables.
All 41 wards of the BMC are witnessing a spike in the number of coronavirus cases. A large number of fresh infections have been reported from pockets along VIP Road such as Baguiati, Kestopur and Teghoria.
The markets along Baguiati Main Road and stretches of VIP Road were closed on Thursday as civic teams sprayed disinfectants. Four teams with spraying units were deployed.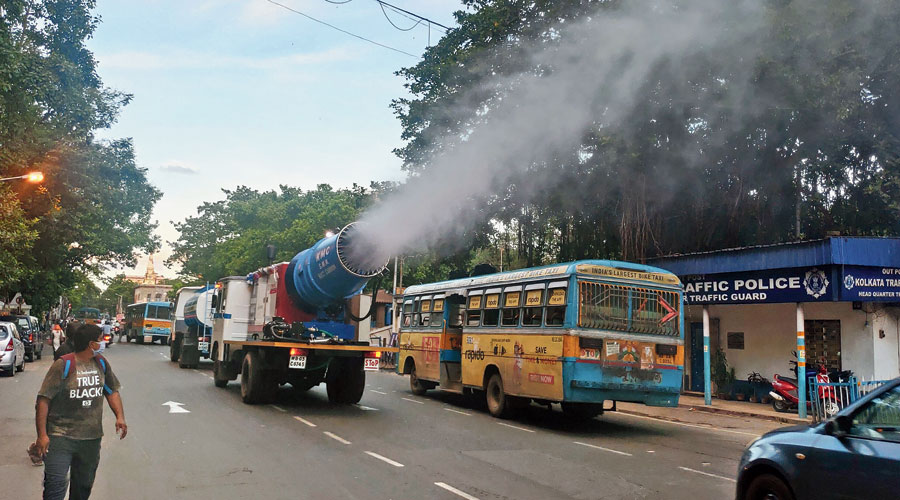 "Shoppers are ignoring social distancing norms. Repeated announcements have failed to make any difference. So has drawing circles for people to wait for their turn in front of shops," the civic official said.
Another official of the civic body said they would depute teams that would go around the markets making announcements urging people to maintain physical distancing. The civic body has also sent a circular to all market committees advising traders against entertaining customers not wearing a mask.
Swapan Kumar Mondal, the secretary of the VIP Supermarket Shopkeepers' Association, said they were going to buy portable sprayers and chemicals to carry out disinfection drives. He admitted they were having a tough time controlling shoppers every day, many of whom were without masks.
"Although shops have "No Mask No Goods" boards displayed in front of them, many people are turning up without masks," Mondal said.
The gates of all markets have sanitisers and taps to wash hands beside them, Mondal said.
The Telegraph had reported in April that 160-odd stalls had been shifted from their usual spots in Baguiati to a field nearby, where they had been set up 5ft apart from each other.