Calcutta doctor's appeal to juniors
'Confused, frightened, fleeing soldiers fall in battlefields not the valiant, protected fighters'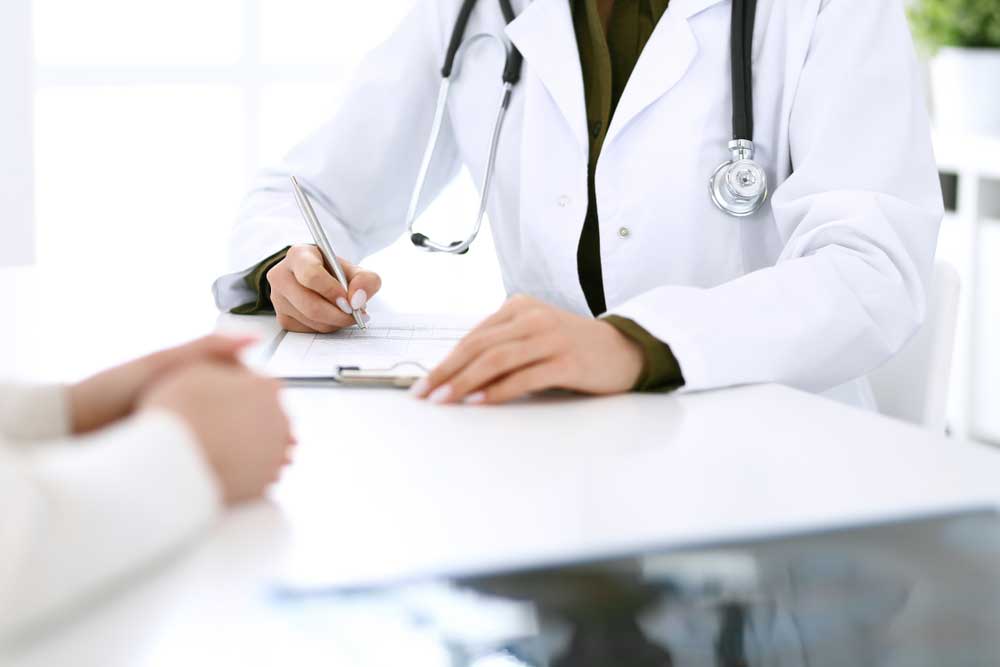 Chowdhury appealed to the medical students to keep the diagnostic facility of SSKM running.
(Shutterstock)
---
Calcutta
|
Published 11.05.20, 09:12 PM
|
---
A 61-year-old government doctor has written to his junior colleagues urging them to shed their misplaced fears and "self-concern" and work at a time when "humanity is facing a crisis".

Abhijit Chowdhury, in the forefront of Bengal's Covid-19 management team, has urged his colleagues not to treat the mail it as a "sermon from a patriarch" but "an appeal from a volunteer and a scientific activist", who is "troubled, pained, anguished and perturbed" seeing them "getting downed in unscientific fear, myths and utterly unfounded self-concern at an hour of crisis for humanity".
Chowdhury is the professor and head of the department of hepatology in the School of Digestive and Liver Diseases at the Institute of Post Graduate Medical Education & Research, SSKM Hospital.
Metro obtained contents of the email from SSKM sources. The sources said Chowdhury wrote the mail on Monday, after several PhD fellows of the department stayed away from the hospital saying they or their family members were unwell.
The mail, which had a copy marked to the director of the institute, mentioned how some doctors were not attending patients on the pretext of age.
"Age (I am 61 and am jumping around in a frenzy of madness), family troubles, difficulty in transportation, personal illness are excuses that are being put by some while a large chunk of our students are already at work. I would request the frightened and lame excuse-savvy lot to come out of their shells and join immediately," Chowdhury wrote.
He is also part of the medical task force set up by chief minister Mamata Banerjee to fight Covid-19 in Bengal.
Chowdhury confirmed to this newspaper that he had sent the mail and added: "It is for internal circulation."
The Telegraph reported on Monday how a section of doctors attached to private hospitals and clinics in Calcutta was not seeing patients for fear of infection. Hospital officials said many doctors had switched off their phones and patients and hospitals were unable to reach them.
Chowdhury's mail revealed that the problem exists in government hospitals, too.
"Do not consider this as an imposition of draconian rule but a request to behave with sanity and semblance of responsibility at a time when you are required. Let me tell you that many ornamented loud-mouthed people decorated as scientists are behaving exactly similar to what some of you are doing in being wary of avoiding responsibility," the mail said.
"Scientists all over the world and our country, except unfortunately those in some big institutes in this state, are putting up a brilliant participatory endeavour at this moment."
"As students of science, you may kindly be driven by truth and fact, rather than by fear and myth," the mail added.
Chowdhury appealed to the medical students to keep the diagnostic facility of SSKM running.
"We will need your service for running the diagnostic facility at SSKM Hospital. You are capable, trained, have derived lots of benefits (I mention — this was your right, nobody gifted you this) and now it is a responsibility to deliver and shun your hide and seek attitude (if at all you have)...," the mail stated.
Chowdhury reminded his colleagues that "Covid infection and death are not synonymous." He wrote that only 3 per cent of the infected are critical.
The veteran doctor also pointed out in his mail that personal protective equipment would be given to all doctors.
"Let me tell you that healthcare workers who have been infected so far are mostly those who were caught unawares. As you know, confused, frightened, fleeing soldiers fall in battlefields — not the valiant, protected fighters," the mail stated.
SSKM sources said a number of doctors promised to return to work after getting the mail.
Health department officials admitted that they were facing problems of doctors, including junior doctors, expressing their unwillingness to resume work.
At many government-run medical colleges, doctors have staged protests over lack of personal protective gear.
They said that in other countries, such as the US, doctors from areas not much affected by Covid-19 were volunteering for hospitals in affected areas.
Doctors from all streams, including cardiology, gastroenterology, neurology and general surgery are being trained in Covid-19 treatment protocol and treating coronavirus patients in the US after their colleagues are getting infected.