Internet survey before IIEST session
Institute's bid to take suitable measures to bridge the digital divide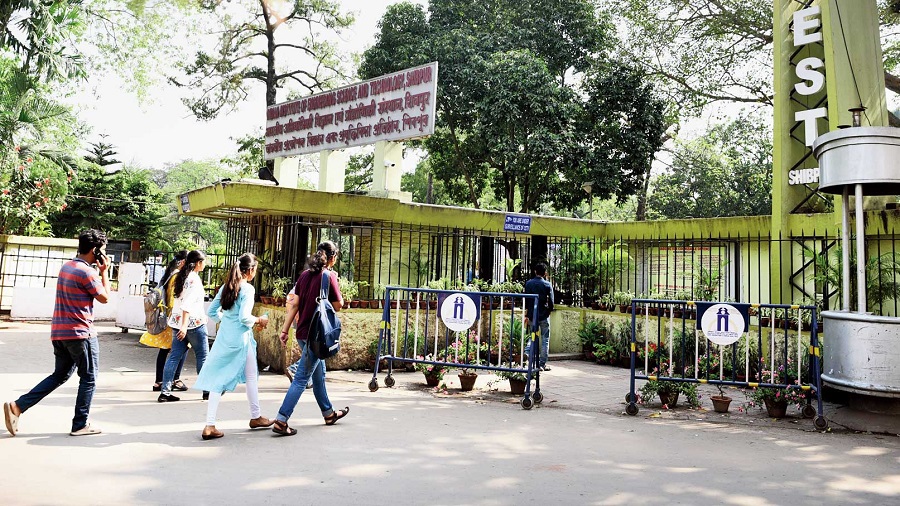 ---
|
Howrah
|
Published 01.08.20, 03:07 AM
---
The Indian Institute of Engineering Science and Technology (IIEST), Shibpur, will carry out a survey to find if its students have Net connectivity issues that could come in the way of attending online classes
The institute's senate that met this week decided to start autumn semester online classes from August 24 and resolved to undertake the study and take suitable measures to bridge the digital divide.
The university has worked out varied models and these will be applied according to the extent of the problem, an official said.
Sudip Kumar Roy, one of the deans and the chairman of the Covid task force on the campus, has said in a notice on the institute's website: "Students of this institute come from a wide spectrum of geographical locations from across the country, ranging from urban areas to semi-urban ones to remote places where Net connectivity is not always up to the desired strength."
A member of the senate said the institute had created a central repository to supplement the online teaching-learning process.
The repository has a section where course materials, including lecture notes, resources and assignments, will be uploaded by members of the faculty.
"Students in remote areas, who are unable to attend online classes, can download study materials when the connection is strong and go through them offline at a convenient time," the senate member said.
The repository will contain prerecorded audio and video lectures.
Director Parthasarathi Chakrabarti said the institute would help students who don't have access to a laptop or computer.
"Our alumni have raised a corpus of Rs 50 lakh to help students who have been inconvenienced by the pandemic… a part of the funds will be used to buy them devices. We would decide on the kind of help after going through the applications collected during the survey."
When asked if the institute planned to bring students facing Net connectivity issues back on the campus, he said the institute would think of it only after travel restrictions were eased.
At the Shibpur institute 50 per cent of the students are from outside Bengal.
An IIM Calcutta official said online classes would start for the two-year MBA course from August 10 and that the institute had devised models for students encountering network problems.
These include providing students with recordings of a missed class, an opportunity to interact with instructors after class and additional tutorials.
The institute is identifying service providers in places where second-year students come from and sharing details of the students with the providers to tide over Net issues.