The first flight bringing back stranded Indians from the US to Calcutta landed at the city airport on Tuesday afternoon.
Part of the Centre's Vande Bharat mission, 195 people, including children, flew in on an Air India flight from New York via Delhi.
A flurry of activity was seen outside the airport's Gate No. 5A as the flyers stepped out one by one wearing masks and face shields and got into cars sent by various hotels where they will stay in quarantine.
The Telegraph had earlier written how people stuck in the US and other countries were unable to return to Calcutta because Air India evacuation flights were not operating to the city from these places.
A small crowd of relatives of those returning to the city on board the flight had gathered at the airport well before the flight landed.
The Telegraph spoke to some of the flyers and a few relatives.
The long way home
Eesha Tekriwal, 22, had finished an undergraduate course in economics from the University of California. She said she was relieved to be "finally back in Calcutta".
As there are no direct flights from California that is on the west coast, she had to first fly to Phoenix from San Diego in California that took more than hour, she said. From Phoenix, she took another flight to New York that took nearly five hours before boarding the flight to Calcutta.
"I had no option but to do this. All my friends who are studying in the US reached earlier simply because flights to cities like Bangalore, Delhi and Hyderabad had started," Tekriwal said.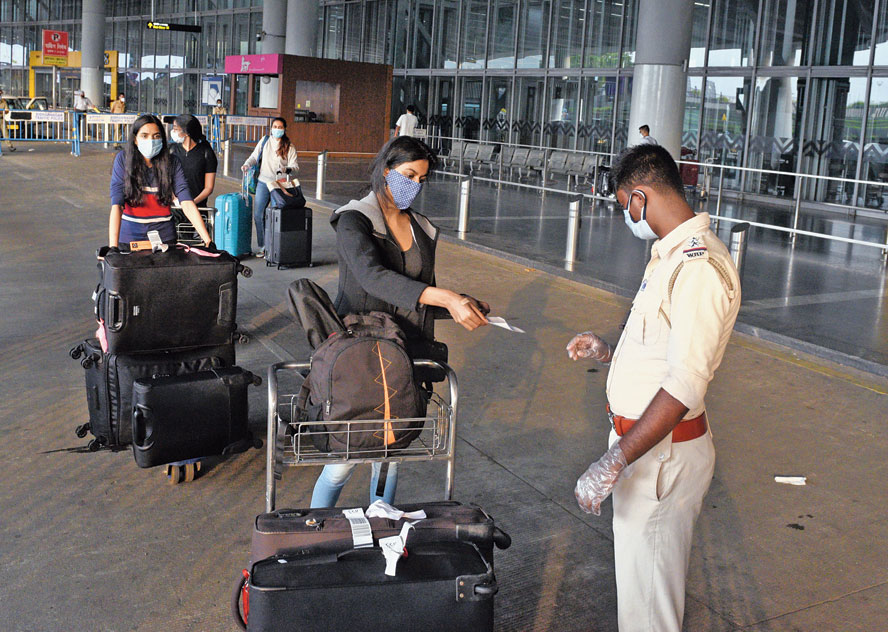 Passengers from US come out of the airport on Tuesday
The Alipore resident she kept praying for a flight to Calcutta as her university hostel had shut down because of the pandemic. She stayed at a rented apartment but its lease was about to end, she said. "I was finding it difficult to manage things there. But my friends helped me a lot. It's a big relief to be finally back in the city."
She has chosen to remain in quarantine in a hotel opposite the Alipore zoo.
Tweets to get her back
Sandeep Bedi, a merchant navy officer, said he had been constantly tweeting and tagging civil aviation minister Hardip Singh Puri, requesting him to start flights to Calcutta from the US to get his daughter Meghna back.
When Meghna, 19, came out of the airport gate, he found it hard not to hug her.
Meghna is a student of Bringhamton University in New York and was last in Calcutta during Christmas.
"My parents were quite worried and were in constant touch over Skype and Facebook Messenger. It feels great to be back although I have to remain in quarantine in a hotel for several days before I can finally go home," she said.
As Meghna got into the car sent by her hotel, her father and mother waved at her and followed her to the hotel in another car.
"We won't be able to stay with her. Although it is a star property, I want to ensure she is comfortable…. I will go there to check if she needs anything before heading to our flat in Hiland Park," Bedi said.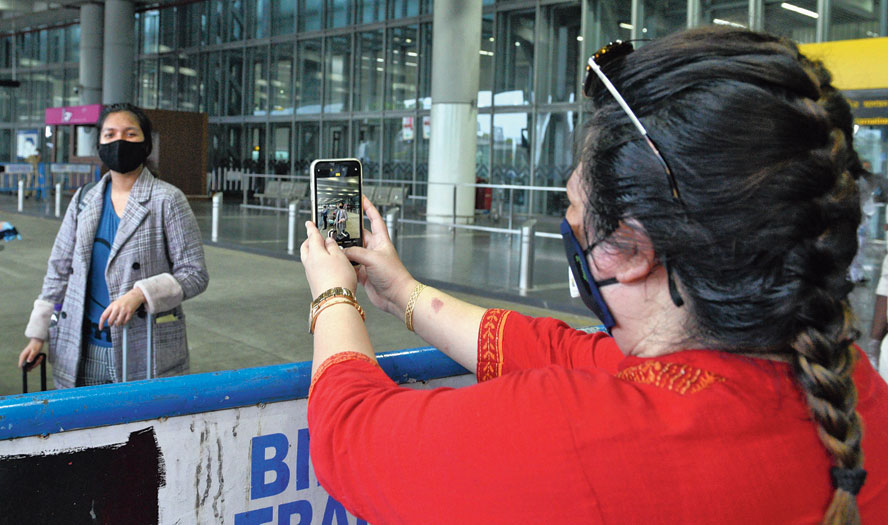 Rubai Bedi clicks a picture of her daughter Meghna at the airport
Career can wait
Sayan Ray, who graduated in mathematics and computer sciences from Virginia State University, said he was looking for a job in the US but he decided to return.
"For now, it is important to be alive. Moreover, my father who is a doctor was getting extremely worried and asked me to return," he said.
Ray, an alumnus of South Point School, was staying in Virginia and one of his friends drove him to Washington. The drive took more than three hours. He then boarded a train to New York from Washington.
His father Samir, a doctor, was at the airport to see him.
He advised him to have lots of warm tea and take a hot water bath as soon as he reached the hotel in Dum Dum where he would remain in quarantine.