Virus fear sees jump in private vehicles around the city
The rise in numbers has also brought to the fore parking problems in some areas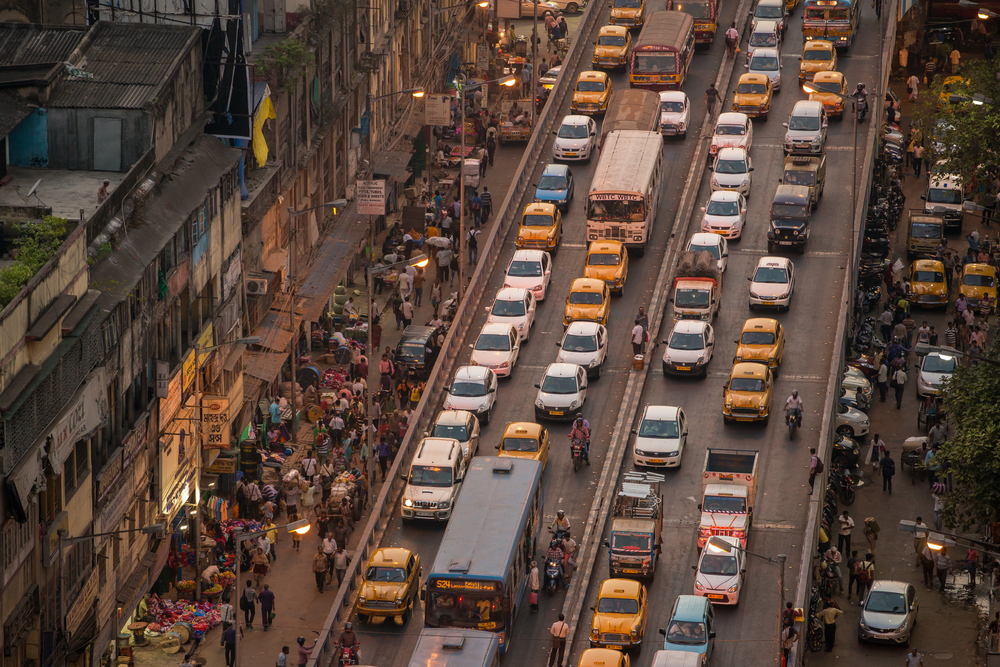 ---
|
Calcutta
|
Published 21.06.20, 02:35 AM
---
The city's roads have witnessed an almost 30 per cent rise in the number of two-wheelers and private cars in the past 10 days, police said on Saturday.

The main reason: people want to avoid public transport for fear of contracting the coronavirus. Earlier, two-wheelers and private cars comprised about 20 per cent of the traffic volume each on major roads, the police said. The number for each has almost doubled during rush hour in the morning and evening.
The rise in numbers has also brought to the fore parking problems in some areas.
Several officegoers The Telegraph spoke to said they had worked out a monthly deal with parking attendants. "I had to settle for Rs 2,000 a month for parking my car. Otherwise, it was getting difficult to find a place to park my car," Niladri Chakrabarty, a senior pharma company manager with his office on RN Mukherjee Road, said.
Chakrabarty who lives in Kasba said he used to take an auto and the Metro to reach office. "But that was before Covid happened. I can't risk it anymore. A little extra amount is still fine."
The number of private cars was highest in the first three days of the week in Dalhousie, Esplanade, Shyambazar, and on Rashbehari Avenue and SP Mukherjee Road, the police said.
"Between Monday and Wednesday, the number of private cars and two-wheelers arriving at the central business district in Dalhousie was almost 50 per cent of the total number of vehicles on the roads in the area," a traffic police officer said. "It is same in other parts of the city as well."
Officers from at least three traffic guards along the Bypass said the number of private cars and two-wheelers in the north-south corridor has gone up by almost 35-40 per cent compared to the pre-lockdown days when private cars comprised 20-25 per cent of the traffic volume and two-wheelers around 20 per cent.
The bulk of motorists and two-wheeler riders from Garia and Park Circus mostly used the Chingrighata flyover to reach parts of Salt Lake, including Sector V.
"Earlier, I used to take a Tata Sumo from Behala to Sector V, along with six others. The shuttle service cost Rs 60," Dipak Sengupta, a data security expert with an accounting company, said. "Now, I drive down the Parama flyover. I have children and I can't risk contracting the virus by travelling with others in shuttle vans."
Many private vehicles are reaching the Bypass from BT Road, Lake Town, Jessore Road and VIP Road as well, the police said. Motorists and two-wheeler riders from Sinthee, Chiria More and Dunlop used to travel on buses and shuttle cabs to reach the Bypass. They now use their cars and two-wheelers.
If more private vehicles mean fewer pedestrian crossovers on roads, it also means steep parking fees as attendants struggle to accommodate new cars and two-wheelers.
Parking lots along Strand Road, Brabourne Road, near India Exchange Place and its adjoining areas in Dalhousie have been witnessing huge rush of cars and two-wheelers over the past week-and-a-half.
"I have decided to go for monthly parking fees of Rs 1,800 on RN Mukherjee Road. The daily cost of parking would be Rs 100 otherwise," Mitali Das, a Sodepur resident who works in a private bank on NS Road, said. "I am not ready to travel by bus or taxi. The parking fee is still a small amount compared to the risk involved in sharing a seat with someone on a private bus."