Evacuees from Dubai head to quarantine without discord
The state government has made it mandatory for all those flying back from abroad to spend a week at a paid facility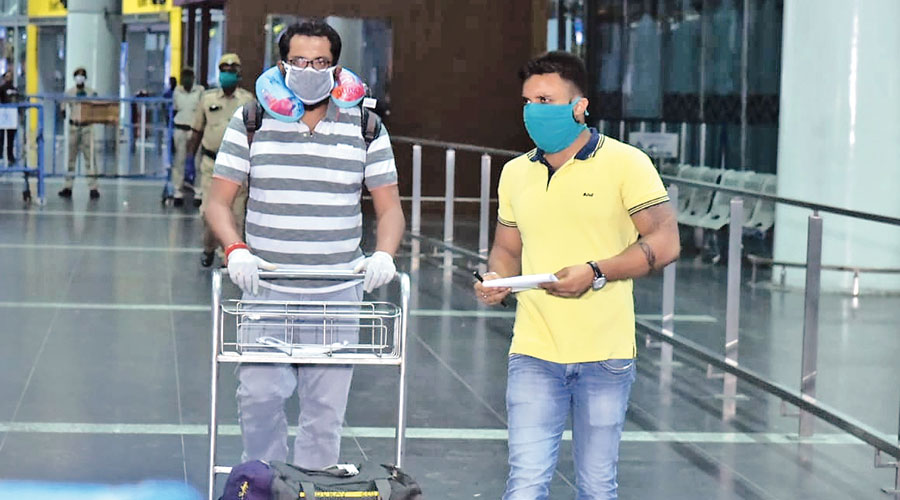 ---
Calcutta
|
Published 06.07.20, 03:31 AM
|
---
An evacuation flight from Dubai landed in Calcutta on Sunday evening with 174 people.
Of the evacuees, 70 have opted for paid quarantine at hotels, said officials. Nine have been exempt from institutional quarantine on medical grounds and the rest, most of them small-time workers in the construction and jewellery sectors who lost their livelihoods because of Covid-19 curbs, went to government quarantine centres.
The IndiGo flight 6E9121 landed at 6.14pm, airport officials said. It was the first evacuation flight to Calcutta from an international destination since July 2, from when the state government had asked the Centre to stop such flights to the city unless it ensured passengers had booked paid quarantine facilities for themselves before boarding.
The trigger was reports that hundreds of fliers arriving on such evacuation flights had refused paid quarantine and went home from the airport.
The state government, in an attempt to restrict the spread of Covid-19, has made it mandatory for all those flying back from abroad to spend a week at a paid quarantine unit and another week thereafter in home isolation.
Now, evacuation flights can arrive in Calcutta only if the state government gives the go-ahead after being satisfied that all passengers would go for quarantine without creating any problem after landing in the city, said officials.
The Dubai chapter of the St Xavier's College (Calcutta) Alumni Association, along with the Purvanchal Pravasi Milan, UAE, collaborated with the Indian high commission, the Bengal government and other central agencies to organise Sunday's flight and logistical support, including ticket fares.
"Out of these 174, over 120 are people who worked in the construction, jewellery and manufacturing sectors. They lost their jobs because of the pandemic. Apart from them, the list of fliers included two pregnant women and four senior citizens and some who needed to return on medical grounds," said Saptorshi Datta, the secretary of the Dubai chapter of the alumni association.
Nuruddin Sheikh, 31, was one of the fliers. Sheikh, who hails from Bishnupur, is an out-of-work mason. "I was stranded jobless for close to three months. My employer stopped paying me. I would not have survived without help from outsiders," he said after arrival.
Mohammed Manohar Alam, a 51-year-old cook from Tiljala, too lost his job. "I am glad I could finally return home, something I had given up hope on," said Alam.
Like Sheikh and Alam, many people on the plane had run out of savings. "We arranged for their food and shelter and other basic needs during the lockdown," said Saikat Bakshi, the chairman of the Purvanchal Pravasi Milan and a member of the former students' association of St Xavier's College.
"We are grateful to the state government for allowing the flight," said a member of the former students' association in Calcutta.
"Any Jesuit institution teaches its students the values of supporting others apart from imparting formal education. I am glad that the alumni association of our college, based in both the UAE and Calcutta, have come forward with much required help in this time of global crisis — by arranging repatriation of the stranded Indian labourers, especially belonging to the eastern part of India," said Father Dominic Savio, the principal of St Xavier's College.
On June 26, Bengal chief secretary Rajiva Sinha had written to the civil aviation ministry, asking for a bar on international evacuation flights to Calcutta unless the Centre ensured passengers had booked paid quarantine facilities for themselves before boarding a flight.
The letter was sent after hundreds of fliers from Malaysia and Kyrgyzstan had left for home after landing in Calcutta, saying they did not have the money to stay at a paid quarantine centre.
The Telegraph had reported how over 140 fliers from Malaysia refused to go to any paid quarantine centre and, instead, headed home after landing at the airport on June 25 evening. The passengers were mostly labourers who had been out of work for months because of Covid-19.
But on Sunday, there was no fracas. The evacuees underwent thermal scans and other formalities before being sent to paid and government quarantine centres.