House work, tech anxiety, financial crisis too much to bear
Covid stress tells on schoolteachers
In several city schools, heads of institutions or counsellors are reaching out to tutors to boost their morale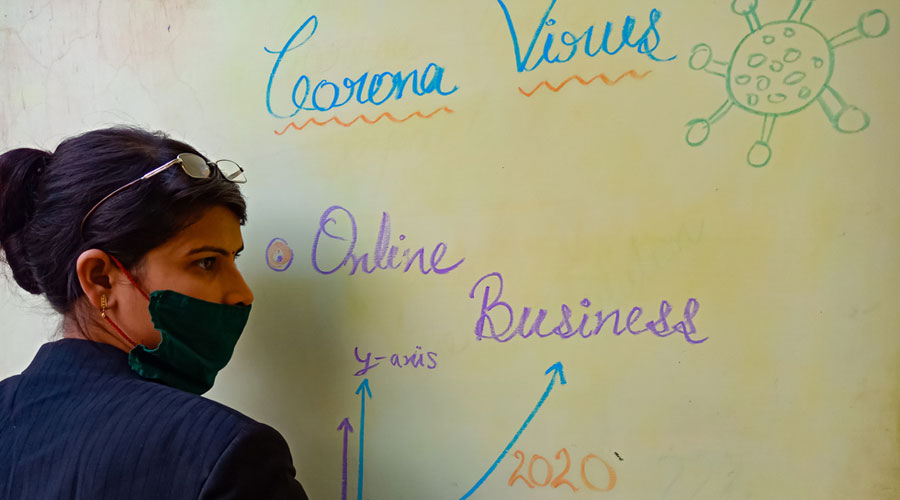 Many teachers are bringing up issues of balancing work and home as boundaries have blurred: a psychotherapist
Representational image from Shutterstock
---
Calcutta
|
Published 06.07.20, 03:32 AM
|
---
In this Covid-hit world, it's the schoolteachers who are reaching out to counsellors in their institutions and outside to cope with the stress during the pandemic.
Some of the teachers are cracking up over work stress and balancing work and home, anxiety over technology, financial crisis when partners are losing jobs or facing pay cuts and worries over the health of the elderly at home.
In several city schools, heads of institutions or counsellors are reaching out to teachers in groups or individually to boost their morale.
In one city school, a teacher has quit as she was unable to take online classes because her family expected her to do all the household chores. A three-week break from work did not help.
Another teacher in her 50s was on the verge of giving up when she had to start interacting online with the class after the summer break. Till then she was only uploading assignments, a process she had managed to learn. It was only when another teacher volunteered to go teach her how to take an online class that her nerves calmed.
"Many teachers are bringing up issues of balancing work and home as boundaries have blurred. Everybody is not tech savvy and technology can give more stress because it is evolving every day and not everyone can deal with it," said Farishta Dastur Mukerji, a psychotherapist and counsellor at Calcutta International School.
"At Calcutta International School, the mental health team provides supportive intervention to teachers where they are offered individual solutions by tapping on the positives and overcoming the limitations. We give teachers a space to vent out and empathise with them," said Dastur Mukerji.
But the problems are no longer online teaching — the uncertainty of the situation is proving to be equally tormenting.
Many schools have not received the fees for the first quarter and the slogans outside school gates or messages such as "No school no fees" doing the rounds over social media is adding to the stress. Many teachers also have to pitch in for their partners because of the financial crisis at home.
In one school, where there has not been any salary cut so far, teachers have been asking their head whether non-payment of fees will impact them.
"Many teachers have to run households and pay EMIs and school fees of their children. The financial crisis is taking its toll on their mental health, too," said a counsellor in a city school.
School counsellors said teachers at school have a routine to follow and time to unwind, but at home they need to work "overtime and round-the-clock".
"Teachers' life now is no different from someone working in an IT firm or a private company. In regular times they would go back home and relax but now that has changed and it is no longer a 8am to 2pm job. We have addressed teachers in groups on how to cope with the stress but many of them reach out individually to discuss their issues," said Ranjana Roy, a counsellor at Sushila Birla Girls' School.
South City International School has also made their counsellors available for teachers.
"It is stressful for teachers with respect to time management because they have to take classes, submit reports and also attend webinars," said John Bagul, the principal of South City.
The director at Indus Valley World School is writing to the teachers and talking to them at regular intervals.
"We are communicating more frequently with teachers than we would do during regular school and sharing articles or links with them that would keep them motivated. We are also talking to them and lending them an ear that helps them to come out with their problems. It has been hard on some of them because they do not have the privacy or the space to take classes and we have reduced their work load temporarily to ease some of the pressure," said Amita Prasad, the director of the school.