Buffer or clean zone? Find out online
Until now, only containment zones had been identified online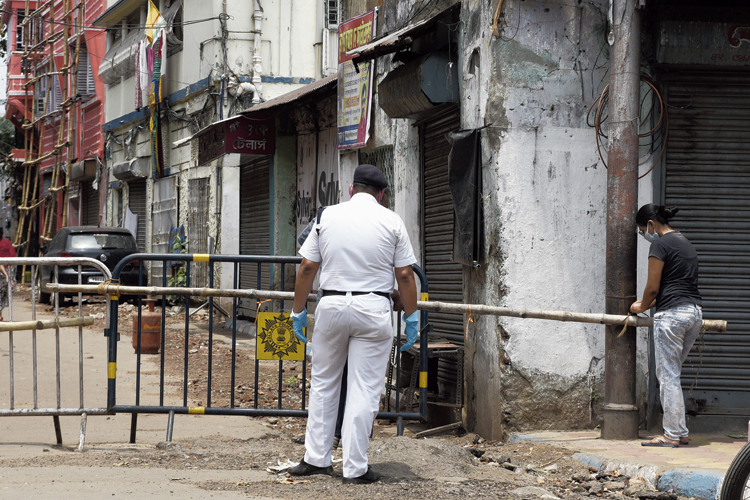 ---
Calcutta
|
Published 06.06.20, 08:13 PM
|
---
A list identifying all Covid "affected", "clean" and "buffer" areas in the city has been uploaded for the first time, helping Calcuttans figure out the specific restrictions and relaxations applicable to them and others at a time the lockdown is being eased.

The list of affected, clean and buffer areas can be found on wb.gov.in> district wise affected areas and buffer areas> know more> Kolkata.
Similar lists for the districts are also posted on the website.
Until now, only containment zones had been identified online. Now, the additional categories of "clean" and "buffer" are also specified.
The Bengal government has divided a Red Zone (any district from where at least one Covid-19 case has been reported) into affected areas, buffer areas and clean areas.
An area from where no Covid-19 case has been reported in 21 days is tagged clean, while one from where at least one case has been reported during this period is tagged affected.
The immediate vicinity of an affected area is called buffer area if it is not clean.
Relaxations of lockdown restrictions depend on whether a locality is in a clean, buffer or an affected area. No shop can be opened in an affected area/ containment zone and no one can enter or leave that area without a valid reason.
On the other hand, a large number of activities are allowed in clean areas. In buffer areas, all activities that are allowed in a clean area are permitted, but with 25 per cent staff strength.
Officials of the Calcutta Municipal Corporation (CMC) said the expanse of an affected area had been reduced for the benefit of people in the neighbourhood. As many offices have opened, the civic body and the police have jointly made a plan to ensure as few houses are sealed as possible.
If someone living in a housing complex with multiple towers test positive, only the tower where the person lives will be considered a containment zone or affected area. People living in this tower will remain confined in their homes for 14 days. Those living in other towers of the complex can go out for work, said an official.
The entire housing complex will be considered a buffer area.
For a large standalone building, the entire building where a person tests positive will be classified as an affected area but not the lanes around it or adjacent buildings.
In some cases, police and the CMC are considering only the flat or the floor as an affected area. Here the buffer area will include 10 buildings on all sides.
For a small standalone building, the entire lane will be classified as an affected area if the building where someone tests positive is in a small lane.
If the lane is quite long, five buildings on all sides will come under affected area. Ten buildings on all sides will be part of the buffer area.