Bill nudge to private hospitals
Govt nod to satellite facilities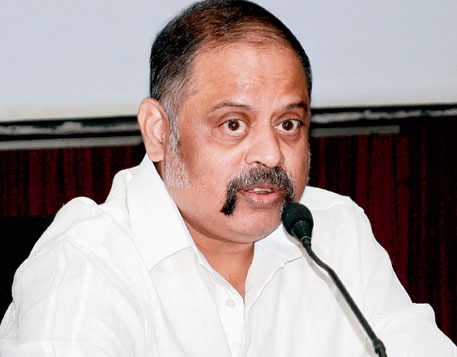 Bengal chief secretary Rajiva Sinha
File picture
---
Calcutta
|
Published 19.06.20, 03:38 AM
|
---
The Bengal government has asked private hospitals to conduct the Covid-19 test at the lowest possible rate, not to overcharge patients for personal protective equipment (PPE), display the number of Covid beds available daily and not refuse any patient.

At a meeting on Thursday, chief secretary Rajiva Sinha asked officials of private hospitals to work out the modalities for conducting the test at a cheaper rate.
Covid test rate
"The charge for a Covid-19 test at most private hospitals and laboratories ranges between Rs 2,800 and Rs 4,500. This is in accordance with the maximum rate fixed by the Indian Council of Medical Research. I told the hospitals if someone is doing the test at Rs 2,800, others also can bring down the rates," Sinha said.
Now, swab collection for the Covid-19 test is allowed at outpatient departments. Which means patients need not get admitted for the test. The number of tests is increasing, too. On Thursday, 9,315 tests were performed across the state.
Some private hospitals said it would be difficult for them to reduce the rate.
"The hospitals and laboratories that have lowered the rate are doing tests in large numbers. We are testing on a smaller scale and so, it will not be viable for us to bring down the cost," said an official of a private hospital, which is charging Rs 4,500 for each test.
PPE charge
At Thursday's meeting, the chief secretary referred to allegations that a section of private hospitals was overcharging patients for PPE.
"I told the private hospitals if there are 10 healthcare personnel at an operating theatre conducting surgery on a patient, they are charging that patient for the PPE cost of all 10 persons. That is causing a huge burden on patients," Sinha said. "I suggested the hospitals consider how a portion of the cost can be borne by them," he said.
According to sources, some hospitals said the procurement price of PPE was high. Sinha reportedly told the hospitals to try and procure PPE from local manufacturers in Bengal, who fall under the micro, small and medium enterprises (MSME) category.
"The consumable cost has gone up by 40 per cent for the hospital because of additional expenses of providing masks, gloves, hand sanitiser and PPE kits. The chief secretary has asked us to look into procuring PPE kits from small and medium scale manufacturers. If we can procure PPE at lower prices, we'll definitely do it," said Rupak Barua, Group CEO, AMRI Hospitals. Patient refusal
Private and government hospitals will have to upload on the state health department's portal the number of dedicated Covid beds available on a daily basis.
The process will start on Friday, Sinha said.
"This will help a patient who is going for admission to know where a bed is available. Gradually, we have plans to have a system of real-time update of the figure," said Sinha. Also, every hospital will have to display the number of Covid beds available on a board in its compound.
Sources said the meeting took up the issue of a particular hospital refusing to admit a doctor who had tested positive for Covid-19.
"Under the clinical establishment act, private hospitals cannot refuse to treat a patient," Sinha said.
Satellite facility
The state health department on Thursday said private hospitals were allowed to set up satellite facilities where patients testing positive for Covid-19 but are asymptomatic or having mild symptoms can be kept for observation.
The hospitals can hire rooms on rent in its vicinity from a private enterprise. "Such a satellite facility will be designated as observation ward of the hospital," the health department has stated.
Patients staying there will undergo medical check-up every day. Hospitals can charge room rent and other charges like consultation fees and nursing charges, a health department official said.
Such facilities will help lighten a hospital's patient load and make more beds available for Covid patients with severe symptoms, he said.