Week-long course in Covid care
Govt's move aimed at creating a pool of trained personnel by the time HDUs are opened in some of the Calcutta hospitals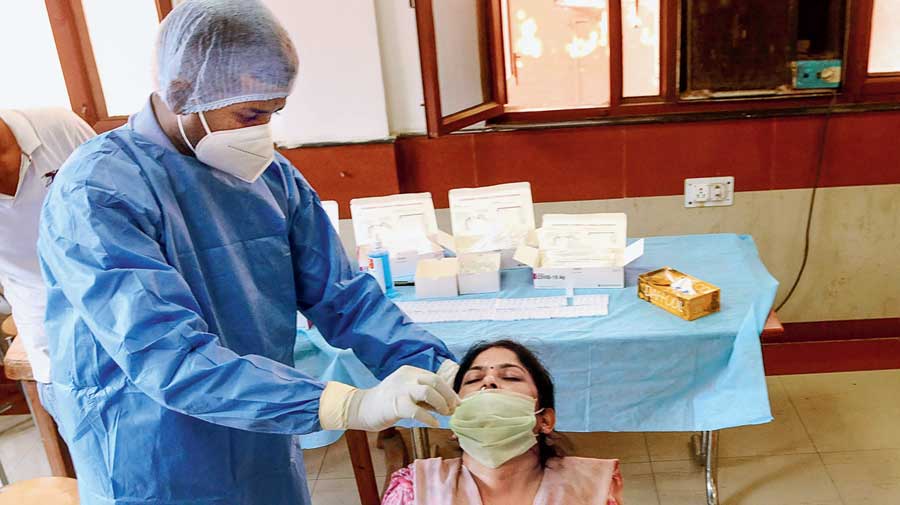 ---
|
Calcutta
|
Published 21.11.20, 03:10 AM
---
Bengal's health department has sought a list of junior doctors and young nurses from the superintendents of hospitals in districts close to Calcutta who can be trained in handling Covid-19 patients in high dependency units (HDUs).
Since most of these hospitals lack nurses and doctors trained in critical care, the government has decided to run a week's course so that a pool of trained personnel is ready by the time HDUs are opened in some of these hospitals.
A team of senior doctors and nurses is conducting the crash course across medical colleges  and other hospitals in Calcutta, including MR Bangur Hospital in Tollygunge and SSKM Hospital.
"Doctors and nurses are being trained. Soon after they complete training, they will be sent to hospitals where high dependency units will be opened," a health department official said.
"While there is a dip in the number of Covid patients with moderate symptoms opting for hospitalisation, an increasing number of patients with the coronavirus disease are turning up at hospitals in a critical state. It is of utmost importance that we have a pool of trained health-care workers for critical care and high dependency units, especially in suburbs," said a member of the team of experts set up by the health department to suggest Covid management policies.
What kind of training is being imparted to junior doctors and nurses?
Officials said nurses and junior doctors were being trained in hemodynamic monitoring, putting patients on mechanical and non-invasive ventilator, airway management and infection control.
Hemodynamic monitoring, doctors said, refers to measurement of pressure, flow and oxygenation of blood in the cardiovascular system.
There are different types of hemodynamic monitoring, including invasive and non-invasive. In case of Covid patients who are critically ill, hemodynamic monitoring is a vital exercise that requires adequate knowledge and training, experts said.
"Sasthya Bhavan (the headquarters of the state health department) has sought a list of energetic nurses who need not be very experienced but are ready to take the challenge of attending to patients in HDUs," said a senior official of the health department in North 24-Parganas. "A similar list of doctors has been sought, too."
With critical care beds filling up fast in all Covid hospitals, including medical colleges, the state government has decided to create more facilities closer home, especially in suburbs.
The health department has drawn up a plan to open a 40-bed high dependency unit at Balaram Seva Mandir State General Hospital in Khardah, in North 24-Parganas and around 19km from the heart of Calcutta, by next week.
This will be followed by a 40-bed high dependency unit at Naihati State General Hospital and a 30-bed unit at Ashoknagar State General Hospital, both in North 24-Parganas.
Health department officials said each batch would comprise around eight-10 nurses and seven doctors. The number of training sessions are scheduled to go up with more participants being pooled in from other districts close to Calcutta.
Officials said those who have undergone training would be regularly monitored for their performance at the HDU units. "Setting up an HDU involves capital investment. We would like to understand if the facility that has been created is being fully utilised," an official said.
"The participants are being told not to worry. In case they have any question while on duty, they can always contact a group of experts who will be ready to answer their questions," another official said.