Vaccine on campus for private hospitals
Decisions were communicated to the healthcare facilities by the secretary of the state govt's health department at the meeting called to discuss the implementation of the Swasthya Sathi scheme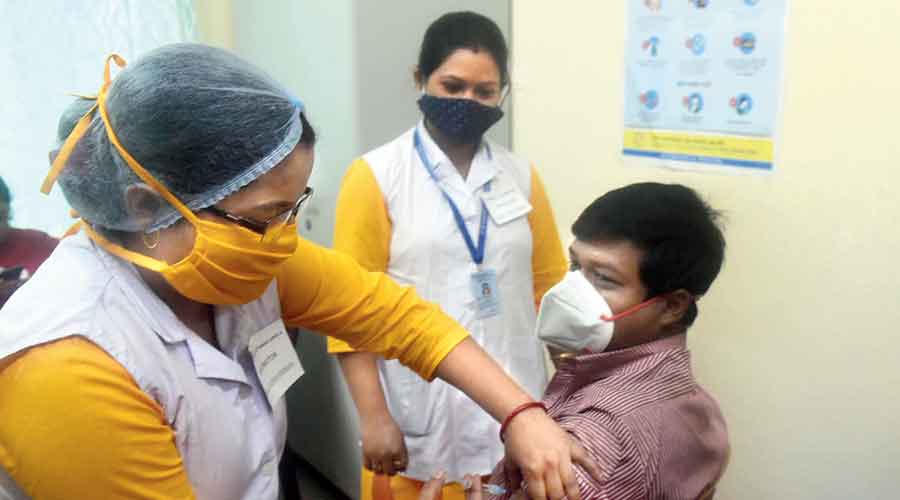 ---
|
Calcutta
|
Published 10.01.21, 02:24 AM
---
Private hospitals in the state can vaccinate their doctors, nurses and other healthcare workers on their campus using their own manpower, the Bengal government conveyed to the heads of private hospitals at a meeting on Saturday.
The state health department will begin training vaccinators in private hospitals to administer the Covid-19 vaccine from next week. The department will also be choosing the private hospitals that can be made vaccination sites for their staff.
The decisions were communicated to the private hospitals by the secretary of the state government's health department at the meeting called to discuss the implementation of the Swasthya Sathi scheme, a cashless health insurance project of the state government.
"The health secretary told us that private hospitals will be used as vaccination sites. The state government will soon reach out to us with the details," said the chief executive officer of one hospital.
Narayan Swaroop Nigam, the secretary of West Bengal government's health department, told Metro: "The private hospitals will be selected as Covid-19 vaccination sites only to vaccinate their own healthcare workers. Our team is mapping the hospitals that can be used as vaccination sites. We will also start training vaccinators in the private hospitals from next week."
Another official said the health department had already decided to use the medical colleges in Calcutta as Covid-19 vaccination sites for the healthcare workers.
At Saturday's meeting, the private hospitals were assured that the government would look into their demands for revising the rates for procedures under the Swasthya Sathi scheme. Chief secretary Alapan Bandyopadhyay chaired the meeting.
"The government asked us to nominate members from private hospitals who would be part of a committee that will discuss the rate revision. They acknowledged that our demand that only patients requiring tertiary care come to super speciality private hospitals is practical and logical," said Rupak Barua, the president of Association of Hospitals of Eastern India.
"The committee will meet health department officials regularly to discuss problems that crop up and look for solutions. It was a positive meeting," added Barua, who is also the group CEO of AMRI Hospitals.
Another private hospital CEO said that the government assured them of prompt payment.
The state government on Saturday iterated that no private hospital should refuse anyone with a Swasthya Sathi card.