Stringent lockdown rules in Barasat
Government takes steps to check rise in cases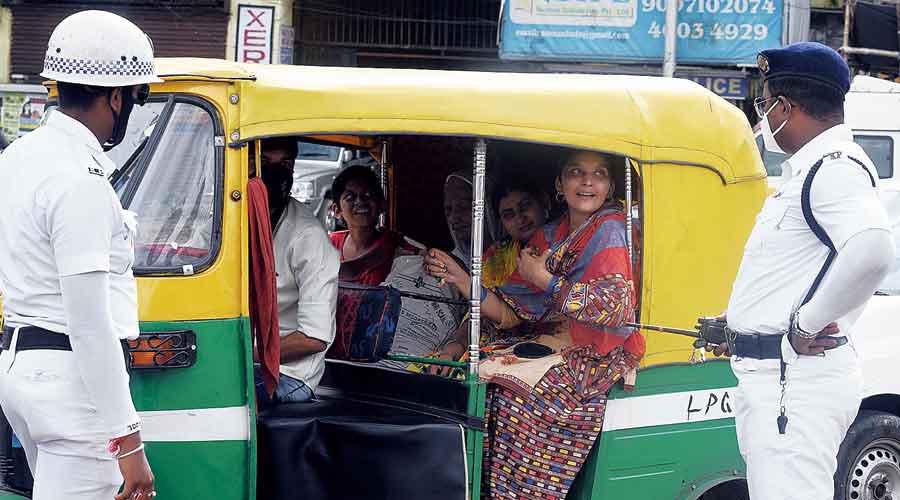 A policeman asks women travelling in an auto to wear masks at Park Circus Seven-Point crossing on Tuesday
Pradip Sanyal
---
Barasat
|
Published 15.07.20, 02:29 AM
|
---
The state government on Tuesday announced stricter enforcement of lockdown norms in the entire Barasat town in North 24-Parganas because of a rise in Covid-19 cases.
Places where people gather in large numbers such as tea stalls and paan and cigarette shops will be shut down across all 35 wards of Barasat Municipality from Thursday.
Retail markets and standalone shops will remain open between 7am and 1pm, officials said.
Barasat Municipality is run by a board of administrators, whose members were councillors in the previous board.
The town, around 21km north of Calcutta, is home to two-and-a-half lakh people.
The board members met on Tuesday and decided that apart from standalone shops and retail markets, the wholesale fish and vegetable markets would remain open on alternate days for four days in a week. Autorickshaws can ferry up to three passengers and battery-operated rickshaws up to four. No one will be allowed to buy anything from a shop without a mask.
Barasat had nine containment zones when the state government had announced lockdown from July 9. But from Thursday, the entire town will be under lockdown, said officials.
Nine patients with comorbidities, who had contacted the virus, have died over the past few weeks in Barasat, which has only one private healthcare facility for such patients.
"The number has been rising over the last few weeks. Earlier, it was around seven and eight cases a week. Now, it's 20-22," said Champak Kumar Das, one of the board members and a former member of the chairman-in-council of the Barasat Municipality.
The health department has been receiving complaints about slack monitoring at markets in Barasat with people refusing to abide by the norms of social distancing. Efforts by police to enforce social distancing  had failed in most parts of the township.
The wholesale fish market on Jessore Road, off Chanmpadali More, in Barasat has over 300 stalls and attracts a large number of buyers every day. "This market will operate between 3am and 6am on alternate days so that we can sanitise it," said Asani Mukherjee, former vice-chairman of the municipality. "The wholesale vegetable market will remain open between 4.30am and 6.30am on alternate days."
The board also decided to set up a "safe home" facility at the Barasat stadium.
At least 50 patients with mild symptoms will be accommodated at this facility from next week.