Rains trigger severe traffic congestion in central Calcutta
Police blamed a 300m waterlogged stretch at the crossing of Central Avenue and MG Road for the traffic snarl 5km away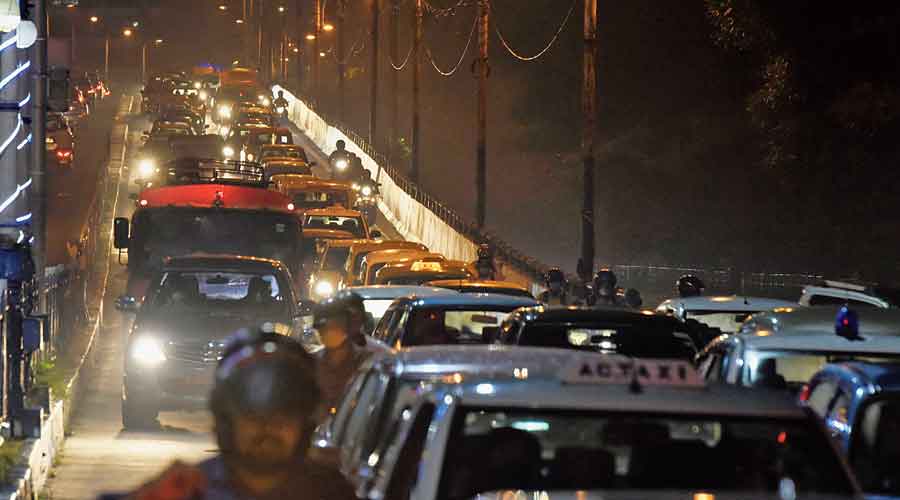 Vehicles stuck on Park Street flyover around 7pm on Monday
Sanat Kumar Sinha
---
Calcutta
|
Published 25.08.20, 02:11 AM
|
---
Tens of thousands of vehicles were stranded in central Calcutta on Monday — the picture reminiscent of the days before the lockdown when commuting in the heart of the city was often a nightmare.
A Lake Gardens resident started for Esplanade, about 9km away, from her home around 5.10pm. She reached her destination at 6.55pm. It takes about 30 minutes otherwise to cover the distance during the lockdown.
Police blamed a 300m waterlogged stretch at the crossing of Central Avenue and MG Road for the traffic snarl 5km away.
Ranjan Sarkar who had boarded a bus for Park Street from Minto Park around 5.30pm said he was stuck in the bus for more than 45minutes to cover the distance that he usually does in 15 minutes.
Traffic police officers said waterlogging at the crossing of MG Road and Central Avenue was responsible for the snarl.
"Once there is waterlogging on roads, vehicles tend to avoid that stretch and start moving in a single file… and their speed automatically drops. Waterlogged footpaths mean pedestrians, too, walk on the roads," a traffic police officer said.
A bus that broke down near Howrah bridge apparently hit traffic on MG Road and the ripple effect was felt on Central Avenue as well, another officer said.
Traffic moving on one flank made matters worse for commuters. The north-bound flank was waterlogged; so, the south-bound traffic was not affected that much, the police said.
A person who was waiting for a bus at the KC Das crossing said vehicles approaching from the side of the Park Street flyover were moving "very slowly". "There was no waterlogging in sight. But all vehicles were moving at a very slow pace. As far as I could see, there were vehicles lined up all over this flank of Central Avenue," he said.
A professional who was headed home said he had to wait for 40 minutes at Esplanade before he could get a Barrackpore-bound bus.
Tarak Singh, a member of the Calcutta Municipal Corporation's board of administrators, in charge of drainage, said the area had received more than 40mm rain in an hour and the place was prone to waterlogging. "But we have done our best to clear it. All the water was drained out by 7.30pm," Singh said.
The number of vehicles on the roads has gone down in the past few months because of the lockdown. Several police officers posted on Central Avenue, Park Street and in the Park Circus area said the volume of traffic on Monday was greater than other days during the pandemic.
"It (increased traffic) could be because it was the first weekday after four days of consecutive holidays last week (two days of complete lockdown before the weekend)," a traffic police officer said.