Pent-up pressure on non-Covid beds
Resumed, local trains bring many patients who were unable to travel during lockdown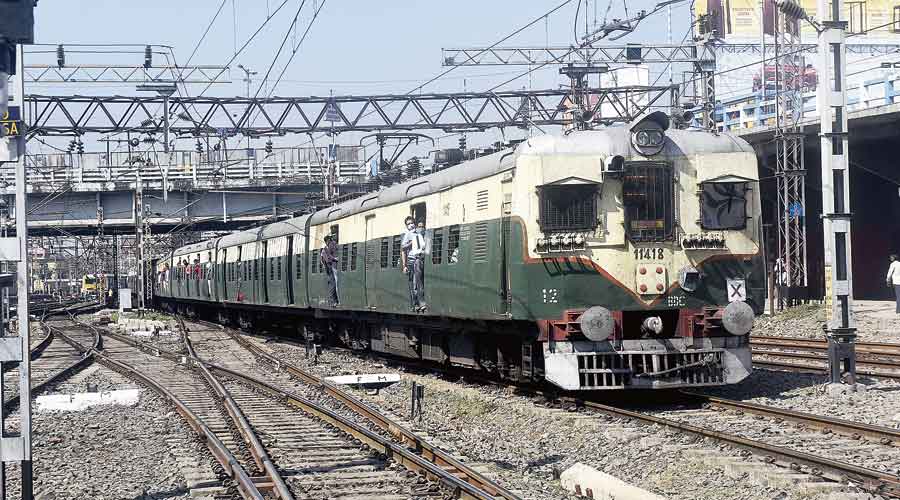 ---
|
Calcutta
|
Published 25.11.20, 03:12 AM
---
The resumption of local trains has led to a manifold increase in the number of people coming to Calcutta from districts for treatment and hospitals are realising they would soon run out of non-Covid beds.
Several private hospitals in Calcutta said the footfall at the outpatient departments had gone up by several hundreds since November 11, when suburban train services resumed. The services had been suspended in March to slow down the spread of Covid-19.
Haripada Bhowmik, 66, a small-time farmer from Mahishadal in East Midnapore, suffers from a chronic cardiac ailment. "I used to go to Calcutta regularly for check-up. But since the lockdown, I could not visit Calcutta as buses and trains were not running," Bhowmik said on Tuesday.
"I tried hiring a car but operators were demanding Rs 4,000 for a one-way trip, which I could not afford."
Last week, Bhowmik took a train to Calcutta and went to the RN Tagore International Institute of Cardiac Sciences for a check-up.
The hospital at Mukundapur, off EM Bypass, was having around 600 patients at its OPD every day on an average before November 11. Over the past couple of weeks, the number has gone up to 800 daily, said officials of the hospital.
Admission of non-Covid patients has also gone up by 20 to 25 per cent.
"Owing to resumption of train services, we have seen a sudden jump in the number of patients from districts. Patients from as far as South Dinajpur, apart from East and West Midnapore and Burdwan, have started coming in larger numbers compared with pre-Puja days. We are glad these patients are now able to travel to Calcutta
for treatment," said R. Venkatesh, the regional director of Narayana Health, of which the RN Tagore hospital is a flagship unit.
The CEO of a private hospital said patients suffering from chronic ailments had been staying away from hospitals in the initial months of the pandemic for fear of contracting Covid. "They have been coming for some time, but the resumption of train services has led to a manifold jump in the number of such patients," the CEO said.
At Peerless Hospital, the number of daily patients at the OPD has jumped from around 250 to 400 in the last two weeks, officials said. Around 60 per cent of the patients at the hospital are from districts, including the two 24-Parganas, Howrah, Hooghly, Burdwan and Murshidabad.
"Patients with chronic disease such as diabetes, kidney ailments and cardiac diseases, who could not come for several months, are now coming to the OPD in large numbers," said Sudipta Mitra, the chief executive of Peerless Hospital.
"Also, those patients who had their surgeries scheduled for April or May and got deferred because of the pandemic are coming to the hospital for fresh dates and routine pre-surgery check-ups," said Mitra.
"With the demand for non-Covid beds rising, we are already facing a shortage. The resumption of suburban train services may lead to more and more non-Covid patients visiting our hospital from districts. If that happens, we may have to request the state government to allow us to reduce the number of Covid beds," said Mitra.
At AMRI Hospitals too, officials said the number of OPD patients at its Dhakuria and Mukundapur units had gone up from around 250 daily to more than 350.
"We saw a sharp rise in the number of OPD patients, especially in the cardiology, gastroenterology and neuro departments, immediately after the resumption of local trains," said Rupak Barua, group CEO, AMRI.
Surgical oncologist Gautam Mukhopadhyay said the patient count at his clinic had increased by 20 per cent over the past couple of weeks. "Earlier, these patients were having video consultations with me. But it is extremely important to clinically examine a cancer patient," Mukhopa-dhyay said.
One of his patients, Manik Bera, 66, who suffers from colon cancer, was unable to come to the clinic in Calcutta from his home at Sankrail in Howrah. "I work at a school and can't afford a private vehicle. Now that trains are running, I will visit the doctor within a few days," said Bera, 59.
Railway officials said the number of passengers had been increasing since November 11. Eastern Railway ran about 800 trains on November 11, ferrying about 11 lakh passengers. The spokesperson for Eastern Railway said 956 suburban trains ran on Monday, ferrying nearly 13 lakh passengers.
South Eastern Railway ran 81 trains with 1.77 lakh passengers on the first day. On Monday, it ran 95 trains and ferried 2.5 lakh passengers.