No health centre run by BMC administered jabs till Sunday
The only vaccination centre run by the government for all the 41 wards is at the Bidhannagar Sub-Divisional Hospital near City Centre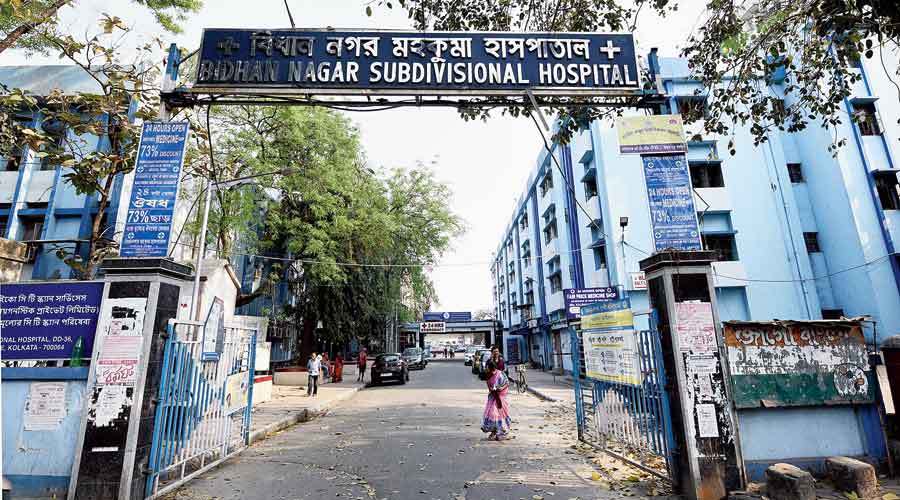 The Bidhannagar Sub-divisional Hospital in Salt Lake where the Covid-19 vaccination drive is on for those above 60 years of age and those between 45 and 59 years with comorbidities
Gautam Bose
---
Salt Lake
|
Published 08.03.21, 01:25 AM
|
---
Not a single health centre or health clinic run by the Bidhannagar Municipal Corporation  administered Covid-19 vaccines to those above 60 years or older and those aged between 45 and 59 with comorbidities till Sunday.
The only vaccination centre run by the government for all the 41 wards under Bidhannagar Municipal Corporation  is at the Bidhannagar Sub-Divisional Hospital near City Centre.
On Sunday, a senior civic official said that they were planning to open vaccination centres at several places, including Matrisadan Hospital in Salt Lake's EE Block, Deshbandhu Nagar Hospital in Rajarhat, Vidyasagar Matrisadan also in Rajarhat and at primary healthcare centres in Jhautala and in Ashwininagar near Baguiati.
"We will start vaccination for the two categories of general population in these centres," the official said.
Till Sunday, the Bidhannagar Sub-divisional Hospital was catering to the citizens of the  41 wards under the civic body spread across Salt Lake, areas under the erstwhile Rajarhat-Gopalpur municipality including Baguiati, Teghoria, Kalindi, several stretches of Rajarhat and even some areas under the erstwhile Mahisbathan-II gram panchayat.
The sub-divisional hospital in Salt Lake is more than 8km away from Baguiati while from Teghoria it is at least 10km.
Krishna Chakraborty, the chairperson of the board of administrators of the Bidhannagar Municipal Corporation said they could not start the vaccination drive for people above 60 and those aged between 45-59 with comorbidities as many frontline worker were yet to be vaccinated.
"Our centre at Duttabad is only catering to frontline workers. Many have not yet received their shots so we are concentrating on them," said Chakraborty.
Pranay Kumar Ray, another member of the board of administrators, who is in charge of health services, said they were planning to start administering vaccine to senior citizens and to those aged between 45-59 with comorbidities, soon.
"We want to extend the services but right now there are too many frontline workers as well as polling personnel who need to get inoculated," said Ray. Several residents who wanted to register for the vaccine at government-run health care centres said that it was hard for them to fathom that the civic body was not operating a single health clinic that could administer the doses.
Shreyoshi Bhattacharya, resident of HB Block,  said she had gone to sub-divisional hospital in Salt Lake with her elderly parents after registering their names on the Co-Win2.0 app but had to return as the queue was too long.
"While my father is above 60 my mother is 54 and has several health disorders, including high sugar. We saw a very long queue in front of the hospital and chose to return as it was too hot and my parents were feeling uncomfortable," said Bhattacharya, a software engineer.
Ranjan Paul, 65, a retired engineer who stays in a housing complex off the Rajarhat Main Road, said he had wanted to get himself inoculated at a government-run centre but chose not to as the drive from his home to the hospital in Salt Lake would have taken more than 40 minutes. "It is unbelievable that there is no government-run vaccination centre here," said Paul.
The superintendent of the Salt Lake sub-divisional hospital, Dr Partha Pratim Guha said that on an average they were administering more than 600 vaccines per day.
"We are having long queues but we are not turning anyone away. We are helping senior citizens register for the vaccines and get them inoculated the same day,"said Guha.