Mamata thanks Shah Rukh for Covid-19 help
Actor pledges rs 2.5 crore and protective gear to boost virus fight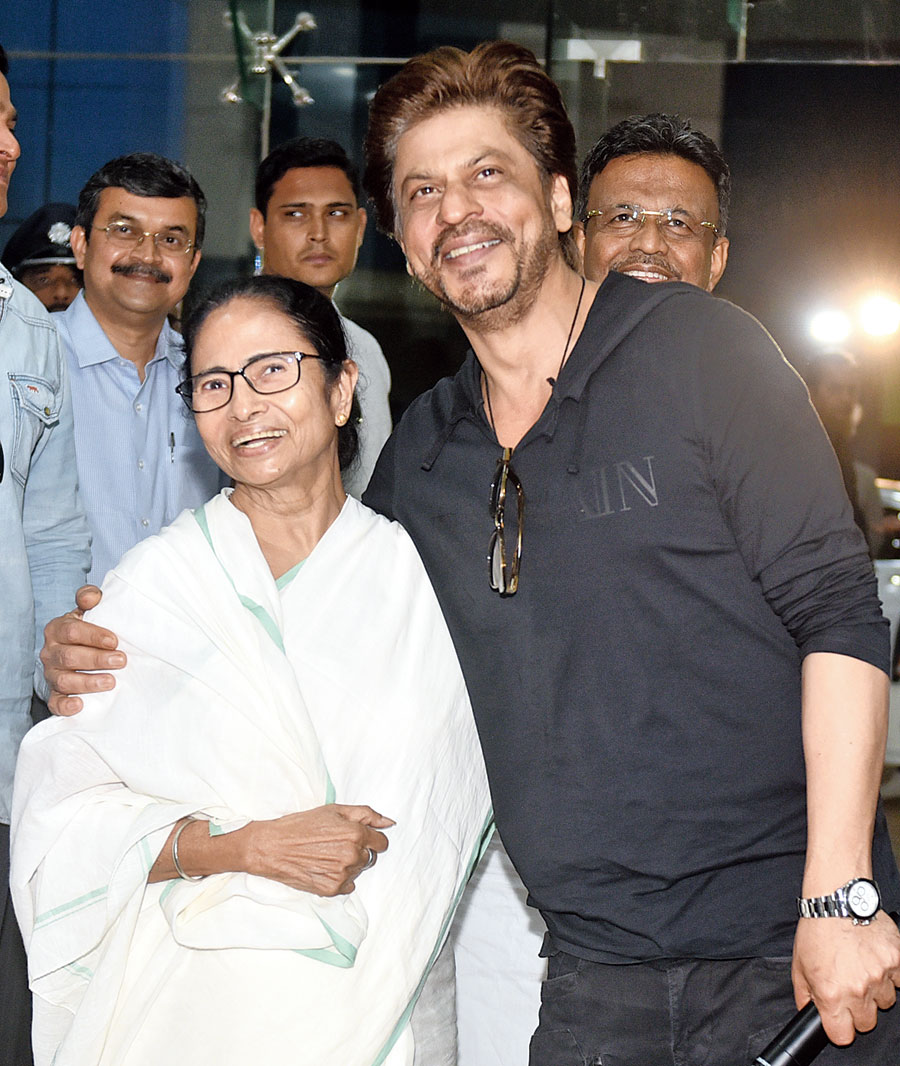 ---
|
Calcutta
|
Published 04.04.20, 08:15 PM
---
Mamata Banerjee on Saturday thanked actor Shah Rukh Khan for his decision to contribute to Bengal's fight against the coronavirus pandemic.
The chief minister tweeted her statement in the morning, after Shah Rukh, according to sources in the government, pledged Rs 2.5 crore to the state's fund to combat the Covid-19 outbreak, besides other assistance. The sources said the superstar, also Bengal's brand ambassador, had called up Mamata on Friday night and spoken to her about his offer.
"Thank you @iamsrk, your contribution will help assist a lot of distressed people during these challenging times," Mamata tweeted.
"Such humane benefaction will keep inspiring millions in this country who look up to you as their role model with respect and reverence," she added.
Later in the day, Shah Rukh replied to Mamata's post in a tweet that had a smattering of Bengali.
"Didi, apnar nihshwartho manobik kaaje, ekti bhai hoye haat barano amar kortobyo (Didi, extending my hand to support your selfless humanitarian work is my duty as your brother)," he wrote.
"Aami Kolkata (I am Calcutta), we believe... 'I slept and dreamt that life was joy. I awoke and saw that life was service. I acted and behold, service was joy' — Rabindranath Tagore," Shah Rukh added in English.
Mamata replied: "So nice of you and your sweet words @iamsrk, I am indeed blessed to have someone who always tries to keep up and fulfil his duties of a brother.
"All of us in Bengal love you and pray for your good health. Keep up your good work, stay safe and take care of your family."
The sources said Shah Rukh has promised 50,000 units of personal protective equipment (PPE) to Bengal and Maharashtra, besides promising to help with getting more contributions. According to the sources, the actor also pledged Rs 2.5 crore during his conversation with Mamata.
"He told her this was just the beginning and he was going to come forward with further assistance…. She was very pleased with the gesture," a source said. "They share a bond... have great mutual love and admiration. This was not unexpected."
While thanking Shah Rukh, also the co-owner of the Kolkata Knight Riders cricket team, Mamata had been responding to an earlier tweet by the actor announcing the steps he was taking to support government efforts.
"In these times it's imp to make everyone around u working tirelessly for u… not related to u…
perhaps even unknown to u... to feel they are not alone and by themselves. Let's just make sure we all do our little bit to look after each other. India and all Indians are One Family," Shah Rukh had tweeted.
SRK has pledged support to the governments of Bengal, Maharashtra and Delhi. He will also contribute to the PM-CARES Fund.
The actor has also expressed his keenness to support the first responders, such as healthcare professionals, and help the underprivileged, especially in Calcutta, Mumbai and New Delhi.