Gloves come to aid of leather trade
Manufacturers, reeling from fall in demand for luxury goods, find alternative revenue source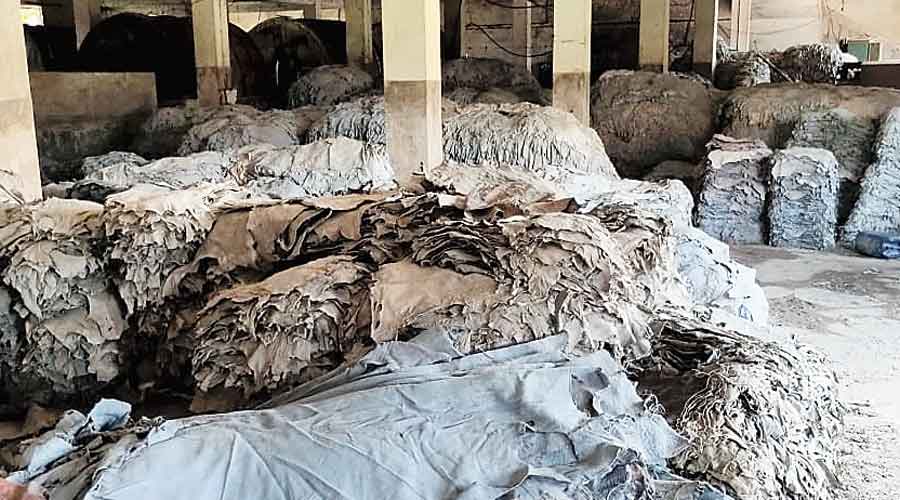 Fine quality leather for luxury goods inside a factory
Telegraph picture
---
Calcutta
|
Published 21.09.20, 01:38 AM
|
---
Demands for luxury leather products are still much lower compared to what they used to be but Covid-19 has triggered an increased demand for industrial safety gloves, which many leather goods manufacturers and tanneries in Calcutta said was helping them run their units.
Several leather goods manufacturers, who would earlier produce wallets and bags for big luxury brands in Europe, Canada and the US, are now producing industrial safety gloves. The tanneries which were processing better quality leather for bags and wallets are now also processing inferior quality leather needed to produce gloves.
According to the leather industry sources, there is a 20 per cent growth in the demand for the industrial leather goods across the world compared with last year. The gloves are used mainly by workers in the mining industry, chemical factories and units where hazardous and sharp objects are handled, said leather manufacturers.
The mining industry has been declared as an essential sector by governments in Canada, South America, South Africa and other regions.
Calcutta produces the largest number of industrial safety leather gloves in India, followed by Chennai, said leather industry sources.
Many tanneries said the processed leather meant to be shipped to Europe and other countries is still lying with them.
"Malls and stores in Europe and other countries have opened but the demand still has not picked up like it was in the pre-Covid times. Also, the air freight charges have gone up by almost three times. So, exports are still low by almost 50 per cent compared to last year," said Zia Nafis of Zia Hide Skin Agency.
Nafis said tonnes of processed leather had been lying at his Bantala manufacturing unit since March because importers in Italy were not ready to collect the consignments. Big brands manufacturing shoes and other luxury leather items there have slowed down productions.           
Officials at the Calcutta airport's cargo division said usually about 4,000 tonnes of leather goods like bags, wallets and belts and finished leather used to be exported every month. In July, the volume was around 1,500 tonnes and in August, around 2,300 tonnes.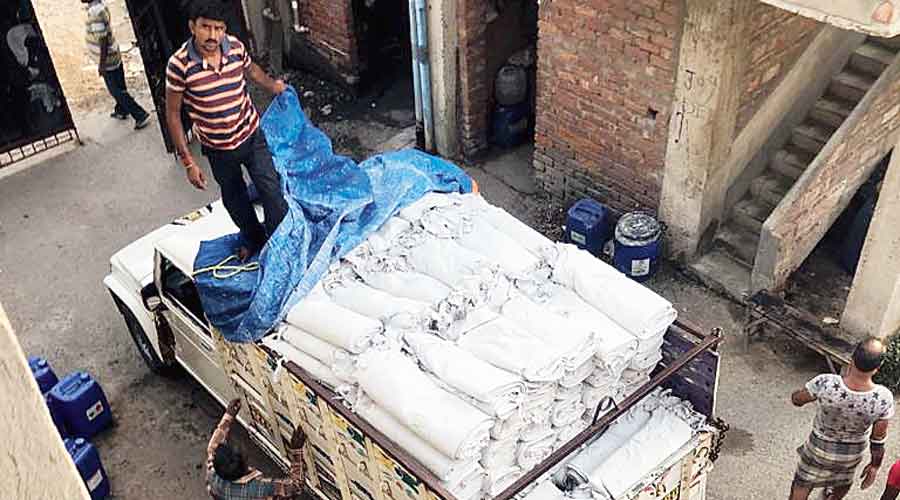 "The freight has gone up from Rs 100 a kg to more than Rs 300 a kg. Earlier, passenger flights would take the products to Europe and the US. Now, cargo aircraft are carrying the goods and so the charges have gone up," said an official.
Since July, Nafis has been processing low quality hides for gloves manufacturers in Calcutta. "I have processed 2 lakh square feet of leather since July for the industrial gloves manufacturing units. But the price is much lower," said Nafis.
He said the superior quality of leather, used to manufacture bags and wallets, costs Rs 50 per square feet. "The cost of leather used to manufacture gloves is Rs 14 to 15 per square feet. But because of high demand, I am being able to pay wages and meet other overhead costs," he said.
Nehal Zafar, owner of ANS Leather, exports industrial safety gloves. "We could not export because of the lockdown. After that shipments have started moving. There is a 20 per cent increase in demands also," said Zafar.  
Md Amir of AN Exim said earlier his unit would process 30,000 to 40,000 square feet of high quality leather meant for bags and wallets. "But there is hardly any demand now for high quality leather. So, I have started processing low quality leather for industrial gloves," said Amir. In the last six months his unit processed barely 10,000 square feet of fine leather.
"I had to shift to process leather for industrial gloves because I have to pay 30 workers. I have processed one lakh square feet of leather for the gloves over the past month," he said.  
One manufacturer said that around this time of the year, they would be busy arranging for shipments of wallets and bags to Europe and the US for Christmas and New Year. But this time, they are still manufacturing because of the slump.
"Importers are apprehensive in Europe and the US about a second wave of Covid. So they are reluctant to place bulk orders," said the manufacturer.