Elderly miss second jab as units run out of Covishield doses
The Centre has promised Bengal three lakh doses of Covishield in a couple of days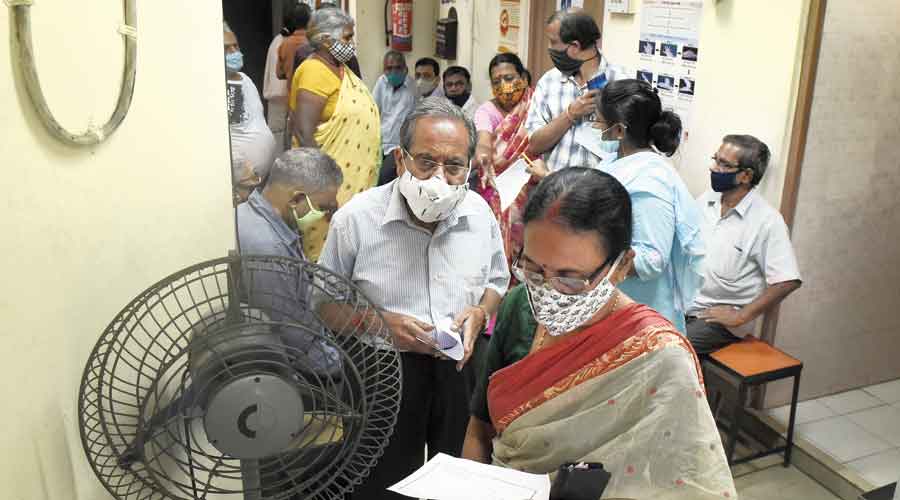 People wait to get vaccinated at the ward clinic at Raja Subodh Mullick Square on Tuesday morning. People who went to the clinic in the afternoon were asked to come the next day
Sanat Kr Sinha
---
Calcutta
|
Published 14.04.21, 01:08 AM
|
---
Several private hospitals in the city on Tuesday deferred administering the second dose of Covishield because of shortage of doses, officials of the healthcare units said.
The Centre has promised Bengal three lakh doses of Covishield in a couple of days and state health department officials said the booster - or second - dose would be administered after the arrival of the consignment.
Hundreds of elderly people and those with comorbidities, whose second dose of Covishield is due from Tuesday, are calling up or turning up at hospitals but are being told that doses are not available.
The state government has told private healthcare units that for the time being only Covaxin should be administered to those who are turning up for their first dose, while Covishield should be reserved for those who took it in their first dose and are turning up for the second.
Most people who took the shot at private facilities were administered Covishield.
Covid vaccination for senior citizens and people above 45 with comorbidities started on March 1. The first booster dose for those who had taken Covishield on March 1 is due from Tuesday.
The booster dose of Covishield should be given at least 42 days after the first dose.
However, because of a shortage of Covishield doses, a number of hospitals in Calcutta could not administer the second jab on Tuesday.
At AMRI Hospitals Dhakuria, around 60 people who arrived for their second dose of Covishield were turned back because of non-availability of doses, said officials.
"We could administer the second dose of Covishield to only 21 recipients on Tuesday," said an official of the hospital.
"Around 550 people are scheduled to take the second jab of Covishield between April 13 and 15 and many of them called up the hospital asking whether they would get it. We told them the hospital would inform them when to come."
Vaccination at the hospital chain's Salt Lake and Mukundapur units is suspended for several days because of lack of doses. "At the three units together, more than 850 recipients are waiting for the second dose," said an AMRI official.     
Belle Vue Clinic sent messages to those who were supposed to get the second dose of Covishield on Tuesday, asking them to visit the hospital on a later date.
"We sent messages to around 250 people who were supposed to get the second dose of Covishield today. We have been assured by the state government that we would get Covishield on Wednesday and then we can administer the booster dose," said Pradip Tondon, the CEO of Belle Vue.
At Narayan Memorial Hospital in Behala, no booster dose could be administered on Tuesday, said an official.
"We sent back four people who had come for their second dose and there were many who we informed over the phone not to come on Tuesday. We have been promised fresh doses on  Wednesday," said the official.
Several other hospitals said they did not start administering the second dose of Covishield because they had run out of stock.
"We have got calls from nearly 300 vaccine recipients who are scheduled to take the second dose. But due to lack of stock, we can't vaccinate them before April 16," said Sudipta Mitra, the chief executive of Peerless Hospital.
The hospital will call the recipients as and when doses are available, said Mitra.
An official in the state health department said the Centre had promised three lakh doses of Covishield and two lakh doses of Covaxin in the next two days. Bengal's chief secretary Alapan Bandyopadhyay had written to the Centre and also called a senior official in Delhi, asking for vaccine doses on an emergency basis.
"Once we get the fresh doses, we are expecting that the crisis of Covishield will be resolved," said an official.
Case count
The number of active Covid cases in Bengal rose by 2,519 to 29,050 on Tuesday. The state recorded 4,817 new infections and 2,278 recoveries during the day.