Dialysis refusal finger at private hospital
A spokesperson for Apollo said the hospital was 'merely following protocol'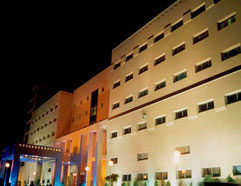 ---
|
Calcutta
|
Published 29.04.20, 10:24 PM
---
A 60-year-old woman was on Tuesday refused dialysis at Apollo Gleneagles Hospitals because she was a Covid-19 "suspect", her son has alleged.
A spokesperson for Apollo said the hospital was "merely following protocol".
"The beds reserved for Covid-19 suspects and confirmed cases were all occupied. There are other patients in the dialysis ward. They will be at risk if a suspect is kept in the same unit. That is why her family members were asked to shift her," the spokesperson said.
The woman was later taken to MR Bangur Hospital, a designated Covid-19 treatment centre, where she was admitted in the isolation ward. Her swab test results are awaited.
The same day chief secretary Rajiva Sinha said the state government would issue an advisory to private hospitals and nursing homes urging them not to deny treatment to patients.
"We will issue an advisory to the private hospitals…. The private hospitals have to be more energetic as many patients are returning without treatment. People are facing problems. Please see that this does not happen," Sinha had said at Nabanna.
The woman, a Lake Town resident, has been undergoing dialysis at Apollo thrice a week for 18 months, his 26-year-old son told The Telegraph.
"On Tuesday, her health worsened…. We rushed her to Apollo before noon for dialysis," said her son.
Some tests were conducted in the emergency department. "A doctor said my mother had a chest infection, which made her a Covid-19 suspect. I was told to take her to MR Bangur Hospital and get the necessary tests done," the son said.
"If the test result is positive, she will be kept there. If the result is negative, you can bring her back for dialysis or any other treatment," the son quoted the doctor as telling him. Apollo Gleneagles Hospitals is a designated Covid-19 testing centre.
Fire and emergency services minister Sujit Bose helped the family shift the woman to MR Bangur. "I had a word with Apollo officials. They said no bed for Covid-19 suspects and patients was empty," he said.