Delivery of fruits of labour
Lives of others: A smiling man with a very large basket balanced on his head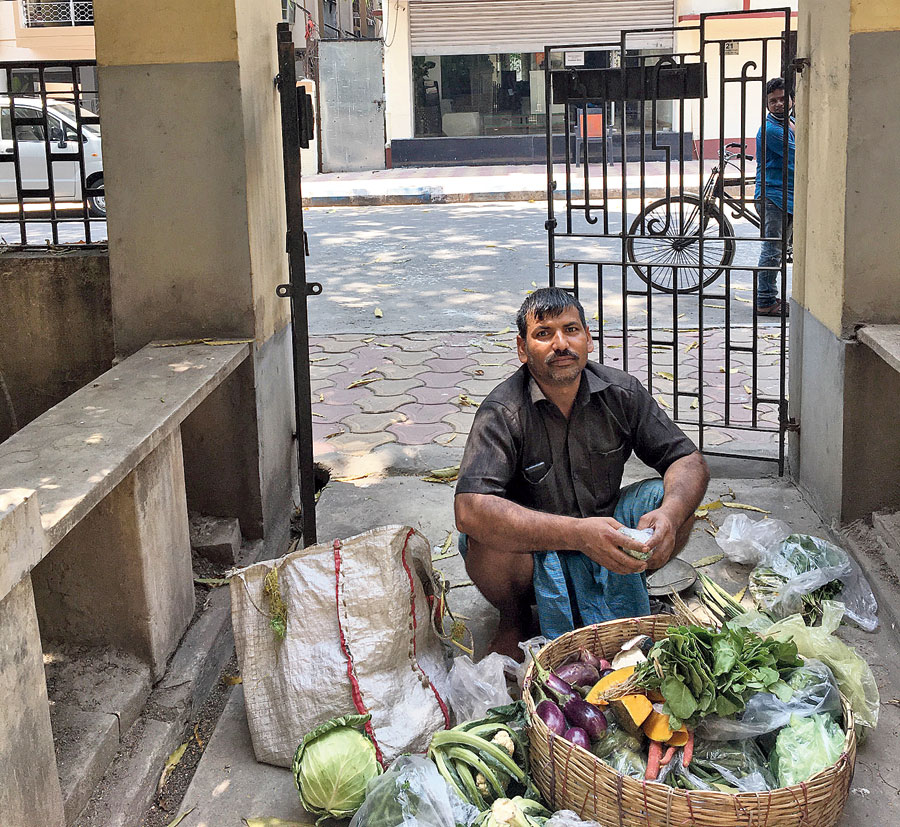 ---
|
Calcutta
|
Published 05.04.20, 08:33 PM
---
The battle against invisibility is killing us. But we need vegetables. So it's a great pleasure to see Jitendra Sau coming into the neighbourhood every morning, around 8am.
Sau, about 40 — he is not absolutely sure about his age — is a vegetable seller who goes from house to house in the neighbourhood of Ballygunge Place every day. He has been doing so for decades, since he came to Calcutta as a small boy from his village in Siwan district of Bihar, where his family lives.
A smiling man with a very large basket balanced on his head, he keeps his cool in the presence of the most demanding buyers, the sort who claim a special knowledge of vegetables.
For some of his buyers now, he probably provides the only real social interaction of the day. As the woman downstairs in a building buys a huge amount of carrots and sweet potatoes, a plastic bag descends from the first floor, into which Shau stuffs in a few cucumbers, and then, thoughtfully, a handful of green chillies, a lemon and a small bunch of coriander leaves. Ah! You see the green salad!
Sau was always greeted into the neighbourhood with pleasure. But before the coronavirus crisis, a few buyers would grumble a bit.
Given the recent explosion of global cuisine everywhere, Sau would fall rather short of local expectations. He would always smilingly, but stoically, refuse to have anything fancy in his basket. Not even mushrooms. Only the basic: potatoes, tomatoes, cabbage, cauliflower, bitter gourd, pumpkin and potol. Lots of potol. In fact, not even spinach or coriander leaves on some days.
Now the neighbourhood is only grateful. He stays till around 11am or so, by which time his basket is emptied.
Sau is around because he could not go back home to Goreakothi, his village in Siwan, where his wife lives with their three daughters and a son. His greater family lives there too.
"What can I do? I couldn't leave for my village," he says, "after the sudden announcement of the lockdown," says Sau, who lives in a neighbourhood house where he is also the caretaker.
"Since I didn't leave, I decided to keep selling the vegetables every day."
He doubles as the neighbourhood sattuwala, selling savoury sattu mix and sattu sharbat from a neighbourhood street till around three in the afternoon. Rather, he used to, till the lockdown.
But his days remain as busy.
Sau came to Calcutta in 1992, with his father and elder brother from Goreakothi. "So I hardly went to school." His father had been living in the city since 1962. He also sold vegetables.
In Calcutta, Sau and his brother shared a room with their father in Christianpara off Bondel Road, very near Ballygunge Place. But young Sau had once dreamt of bigger places.
When he was around 20 — by that time he had already been married for a few years — he left for Delhi. He stayed near Mehrauli, selling tomatoes.
"I used to sell a cart full of tomatoes every day. About 100 kg-150kg tomatoes." But life was too expensive. "Twenty years ago I would spend Rs 60 on a plate of chhole bhatore."
So he came back to Calcutta, to live with his father again. They had to move out of Christianpara in 2008 when a promoter took over the plot they were living in. Sau's father was paid Rs 1 lakh to move. That was when father and son moved into the Ballygunge Place house.
In the years to come, Sau worked two shifts; selling vegetables in the morning and sattu in the afternoon. His father helped him with selling the sattu.
"The business was good. We earned about Rs 450 to Rs 500 every day from selling vegetables and sattu," says Sau. All the money went home. "Food is taken care of by the family with which I stay. I spend nothing."
He does not have time for anything that requires money: for films or any other entertainment.
His father left early this year for their village. Then all hell broke loose with the coronavirus looming on the horizon. Now his days have changed drastically.
"Previously after returning home in the afternoon, I would leave for Koley Market to buy vegetables for the next day." But now he leaves for Sealdah market at 3am, in a small van. He returns in the same van.
He asks me if he can buy train tickets for home on April 15. He has worries. His eldest daughter, who has finished school, was about to take a police service examination. He is insistent that she works, because a girl needs to; and a girl who works does not require a dowry.
"I hope I get to see them soon," he says.
And promises to get me a pack of mushrooms if he spots one.