'Fear triggering horrifying reactions...totally unreasonable'
Covid patients and relatives face hostility born out of confusion
Barricades installation, refusal to allow members to collect water from a common source grace family members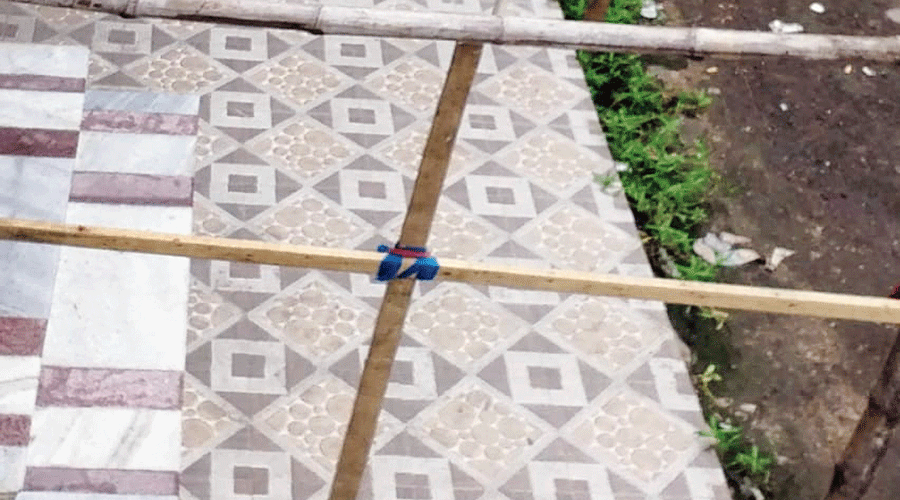 ---
|
Calcutta
|
Published 27.07.20, 02:29 AM
---
An informal survey by a group of doctors, healthcare professionals and people who have recovered from Covid-19 has revealed that the fear of the coronavirus is growing and stoking neighbours' hostile behaviour towards infected people.
Public health experts and doctors said there was confusion among people over issues such as how long a Covid patient sheds virus after recovery, how long a contact of a positive case should remain quarantined and how exactly the virus spreads. The confusions are mainly responsible for the social problems, they said.
Members of Covidcare Network, the group that conducted the survey, have found across the city that people are installing barricades with bamboo poles in front of houses of Covid patients, refusing to allow members of a patient's family to collect water from a common source and telling family members to keep the windows and doors of their house closed all the time.
"Despite awareness drives, the fear is triggering reactions which are not based on scientific reasoning. We are forgetting that we live in a society. The stigma is so strong in some parts of the city that it is horrifying. People are not even ready to touch a Covid patient," said Abhijit Chowdhury, a public health expert and mentor of the Covidcare Network.
Chowdhury and some other members of the group shared some of the experiences they had while visiting parts of the city after receiving complaints from Covid patients and their families.
Water woes
The family of a Covid patient staying in the quarters for group D employees of the Calcutta Municipal Corporation in Behala alleged that they were facing hostile behavior from some residents of the building after the 14-day quarantine period ended.
One of the three brothers in the family had tested positive for Covid-19 more than two weeks before and been admitted to MR Bangur Hospital.
"CMC employees said our quarantine period was over and moreover, we did not have any symptoms. But since last week, some neighbours have been abusing and threatening my mother and other family members whenever they are going downstairs to collect water," one of the brothers told Metro.
"There are four taps. We had requested the other families to allow us to collect water from one but they refused."
Covidcare Network members went to the building a couple of days back after receiving a complaint.
"A child told me don't go upstairs, there is corona! We spoke to all residents there and explained to them that there is little chance of infection once the quarantine period is over and we need to be more humane in our behaviour towards patients and their families," said Chowdhury.
The residents later agreed to allow the family to collect water and buy supplies.
What the doctor says
"Guidelines of the Indian Council of Medical Research states that family members who have been exposed to the patient need to stay in quarantine for 14 days. After that they can go out after taking protections, such as wearing a mask," said Chowdhury. "The fear and hostile behaviour are triggered by confusions over guidelines. In this case, the family members of the patient had spent 14 days in quarantine. But neighbours objected when they wanted to come out after that period. We explained to them that they would not be at risk of contracting Covid-19 if the family members step out wearing masks," he said.
Barricades
Residents of a pocket in Baranagar, in north Calcutta, have installed a bamboo barricade in front of the house of a Covid patient. Covidcare Network members spotted a similar barricade in front of a house in south Calcutta as well.
Metro has reported how residents of a Narendrapur neighbourhood had installed bamboo poles in front of the house of a doctor who had tested positive for Covid-19.
"We have received reports that in many places local councillors, under pressure from residents, are erecting such bamboo poles. Police are doing so, too, in some places. This has become a symbol of stigma. The family members feel outcast," said a member of the Covidcare Network.
What the doctor says
"There is a need to mark the containment area but that should be done by the administration after explaining to the affected families that this was being done for the safety of others. The problem will
then reduce," said Chowdhury.
Shut doors & windows
A state government official, who is a member of the Covidcare Network, had tested positive for Covid and been admitted to hospital. After her return home, a neighbour, who is a doctor, told her not to keep her apartment's door open.
"The doctor, who I am sure knows how the coronavirus spreads, asked me to keep the door closed after I returned from the hospital," said the official. "Residents of my building were avoiding the elevator when I was using it long after I had been cured."
Her father has tested positive and is in hospital. Her mother, who has tested negative, is staying with her.
"Some of our neighbours have told our help that if she works in our flat, she won't be allowed into their houses," the official said.
A doctor who lives in Kasba is staying in home isolation after testing positive for Covid.
"Whenever he is opening the windows, neighbours are telling him to close them. They are telling him that as a doctor he should know the safety protocol. The doctor is suffering from depression now," said a member of the Covidcare Network.
What the doctor says
"Maids should not go to the house of an infected person because they can get infected, too. But if the patient is in hospital and other members of the household have tested negative, maids can work after proper sanitisation. But
coming to work is completely up to the individual. He or she has to feel safe," Chowdhury said.