The Indian Council of Medical Research has distributed 7,500 kits among the five state-run laboratories in Bengal that are conducting Covid-19 tests, officials at Niced, the laboratory that is distributing the kits among government testing centres, has said.
Only 3,081 samples had been tested across the state till date, according to a bulletin issued by the Bengal government's health department on Tuesday.
"We have distributed 7,500 kits to SSKM Hospital, School of Tropical Medicine, the medical colleges in north Bengal, Malda and Midnapore," said Shanta Dutta, the director of Niced (National Institute of Cholera and Enteric Diseases).
Malda Medical College and Hospital is yet to begin the tests, sources in the health department said.
"We have 27,000 kits in reserve at Niced. If any of these laboratories want more kits, we can supply them immediately," Dutta said.
Yet, Bengal lags behind all states in number of tests conducted — less than 50 tested per million — according to data from the National Institute of Epidemiology, Chennai. Delhi has so far tested 840 people per million, the highest in the country.
The National Institute of Cholera and Enteric Diseases (Niced), under the Union health ministry, is the nodal body of the Indian Council of Medical Research (ICMR) for kit distribution in eastern India, including Bengal.
Several scientists and public health experts have said more tests are the need of the hour to identify asymptomatic carriers. Else, they would end up spreading the virus to more people, increasing the risk of community outbreak.
No state official was available to comment on the allegation that Bengal was not testing enough.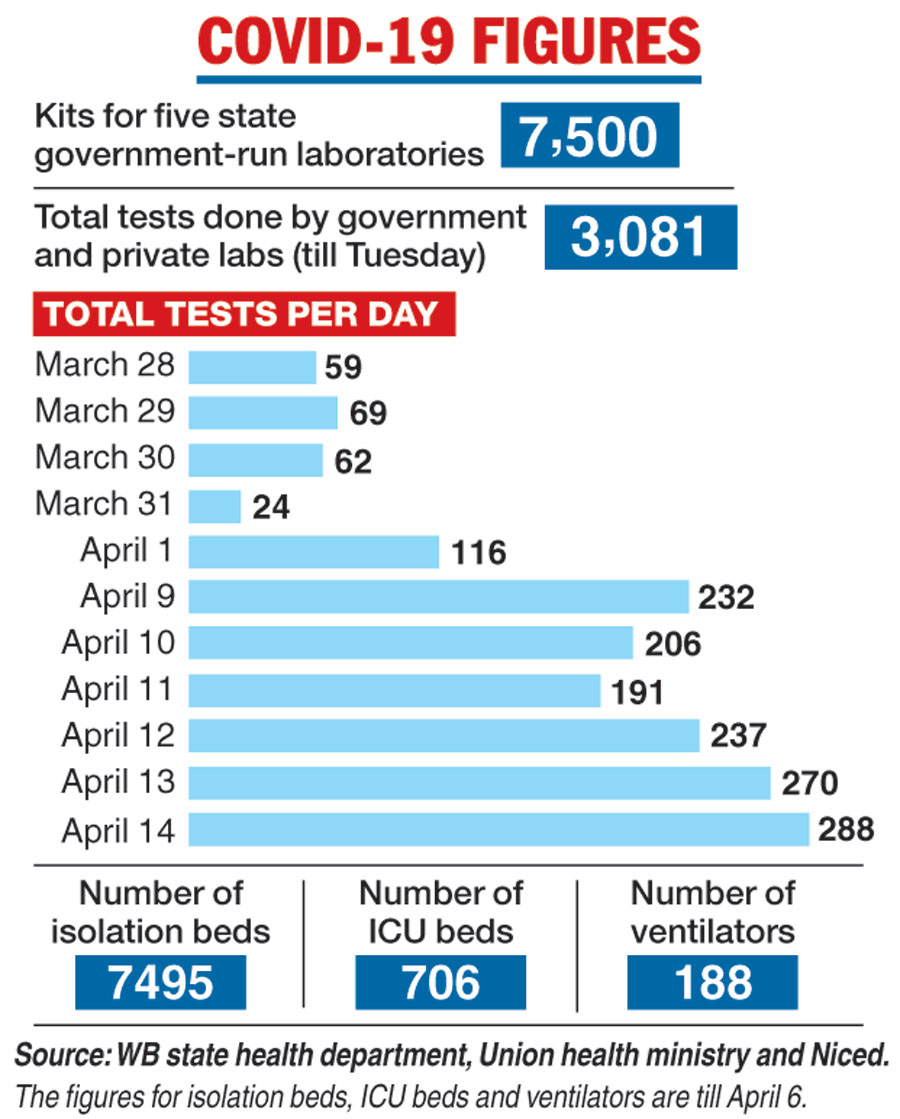 The Telegraph
Sources in the government said they were going by the ICMR protocol that says "all symptomatic people who have undertaken international travel in the past 14 days, all symptomatic contacts of confirmed cases, all symptomatic health care workers, all patients with severe acute respiratory illness (SARI), all asymptomatic direct and high-risk contacts of a confirmed case and all those symptomatic in a hotspot / cluster should be tested".
But several states have broken away from the protocol and are testing more aggressively
Partho Sarothi Ray, an associate professor at the Indian Institute of Science Education and Research, said only more tests can help identify and isolate silent carriers. "The asymptomatic carriers, if not isolated, can pass on the virus to others. A percentage of these newly infected people could need hospitalisation and intensive care. Some may even die," said Ray, who has specialised in molecular virology.
Ideally primary, secondary and tertiary contacts of any positive case should be tested even if asymptomatic, Ray said. Primary contacts are family members and other close contacts of a person who tested positive. Secondary contacts are contacts of primary contacts and tertiary contacts came in contact with secondary contacts.
Four state-run institutes conducting tests — SSKM, School of Tropical Medicine and the medical colleges in Midnapore and north Bengal -- together can conduct about 200 tests every day, a source in the health department said.
Niced, too, is conducting Covid-19 tests. So are Apollo Gleneagles Hospitals and Tata Medical Center.
Niced was doing close to 100 tests in the initial days, a health department source said. But the number of tests has gone down since. "We have done more than 90 tests in a day. But we are receiving 17 or 18 samples nowadays. It is up to the state government to decide where they want to send the samples," Dutta said.
Shahid Jameel, who heads an independent public charity that funds research in health and biomedical sciences in India, said the Centre should be asked why Bengal got only 7,500 kits when there is no shortage of kits. He said more tests would enable the state to frame a strategy for now as well as for the post-lockdown period.
Antibody-based blood tests that have been approved recently by the ICMR are yet to start. "Kits for rapid tests have not yet arrived," Dutta said.
There are seven laboratories conducting tests in Bengal now. A few more private laboratories - AMRI Hospitals Salt Lake, Peerless Hospital and Suraksha Diagnostics -- have received ICMR's approval to conduct tests. Three government-run facilities - RG Kar Medical College, Murshidabad Medical College and Command Hospital - are yet to get approval.