No parity in school tests: students
Covid: Assessment mode worry for ISC, CBSE examinees
Students consider if their results would reflect the effort they put into preparing for a board exam or if they will be 'unfairly judged'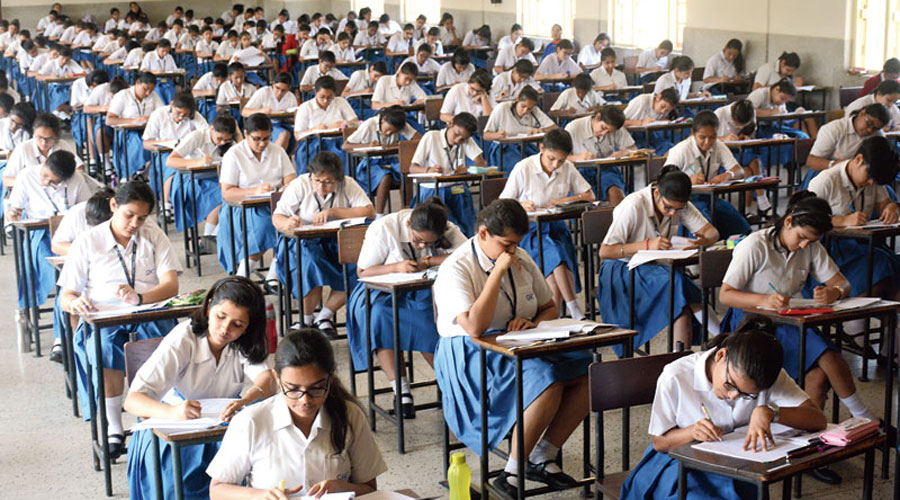 A grave concern is how well the schools have kept the records of all the tests and exams that students have taken in the last two years.
File picture
---
Calcutta
|
Published 03.06.21, 01:29 AM
|
---
After ISC and CBSE cancelled the Class XII exams, thousands of students are worried if their results would reflect the effort they put into preparing for a board exam. Many fear being "unfairly judged" on the basis of their performance in Class XI, when they might not have been as focused.
Students are worried because some of them have missed school exams, some appeared for on-campus exams and schools have been stingy with awarding marks in a bid to harden them before the finale. Some of them feel they had put in the last-gasp effort to excel and that will not count anymore.
Another grave concern is how well the schools have kept the records of all the tests and exams that students have taken in the last two years.
The ICSE council has asked schools to submit the average marks of subjects scored by Class XII examinees in Classes XI and XII and has said that the "results will be processed on a mechanism which will also include the internal examinations conducted by the schools".
The CBSE has so far only said that assessment will be made as per "objective criteria in a time bound manner".
Schools had also devised their own ways of assessing students over the last year, which have made students and parents believe there is "no parity" in the method with different marking schemes and types of questions in the exams.
The Telegraph spoke to students, parents and teachers about their concerns.
Missed school exams
Across schools there are students who missed a terminal exam or a test in the last two years.
Some missed a test because they were unwell. The medical advice given to parents and students was to not take a risk or put others at risk and this was followed strictly.
Even while the on-campus pre-boards were held, there were students who could not appear for exams because either they or their family members had been infected with Covid-19, school heads said.
Students are anxious whether an "absent" in one paper or more would have a bearing on their final results.
Several school heads said that they will be sending the marks of all the assessments that have been conducted in the school over the last two years.
"We will send the marks of all the assessments including theory, practicals and projects conducted by the school in the last two years," said Rupkatha Sarkar, the principal of La Martiniere for Girls.
Sarkar said that for those who have been absent for any reason, the school will consider the marks of the subjects they have appeared for.
Average students
In the last 24 hours, teachers have been receiving frantic calls from students telling them about "one exam" where their marks were low or how they could have done better in a board exam.
"Some of my students asked me whether there will be an option of another online exam where they could perform better," said Joeeta Basu, economics teacher at St Xavier's Collegiate School.
School heads, while computing the data to be sent to the council, have also been worried about the average students who could have done better in a board exam.
"The academically strong students would not find it difficult because they usually maintain consistency. But we are concerned about the average students who might lose out because it is only the fright of an examination that makes students work harder and their board performance is much better," said Jessica Gomes Surana, the principal of Loreto Convent Entally.
Teachers also said that in Class XI, students usually take studies "lightly". They are more serious when they enter Class XII.
Record keeping
Many students are worried about whether the schools had been particular when keeping a record of the marks scored in all the tests and exams they wrote.
"There could be schools who are particular about keeping all the records digitally. But there are smaller schools who enter their marks manually and that is also only for the terminal exams and not all the tests," said the head of an ICSE School.
Stingy school marking
To prepare examinees for the boards, many schools are particularly strict with their marking, something that can now go against their students.
If a student scored in the 70s in the school exam, they would easily score above 90 in the boards, a school head said.
In some schools, teachers deduct marks on language in English and if the "working" is not shown in mathematics.
"The idea behind strict marking in school exams is because we are preparing students for the boards. Teachers do not want them to become overconfident," said Basanti Biswas, the principal of Calcutta Girls' High School.
Parents, too, feel students would suffer because of this.
"The question paper of my ward's school was notches tougher than that of many other schools. But now they will be judged by the same criterion as many others despite facing stricter marking scheme and a tougher question paper," said the mother of an ISC examinee.
Online-offline divide
In several schools, the pre-boards were conducted on the campus and while some made attendance compulsory, others had given the students a choice.
Teachers had told students it would benefit them to appear for the exams in-person for practice. Students had not attended in-person classes or written a paper in over a year and had to give the exams wearing masks.
"I wrote the exam from the school because my parents wanted me to. But I know of my friends who wrote online exams and have scored better in the pre-boards," said a student of a Christian missionary school. "Now, college admissions will depend on this. I am concerned whether I will be able to cross the cut-off set by colleges."
Inflated marks
Some teachers and students are worried that there could be schools who inflate their childrens' marks. "There could be schools who tamper with original marks. It is the integrity of schools that matter, too," said a teacher.