App failure on Day 1 of rollout
The health department left it to the respective health officials in Calcutta and the districts to decide on which days next week the vaccination programme will be held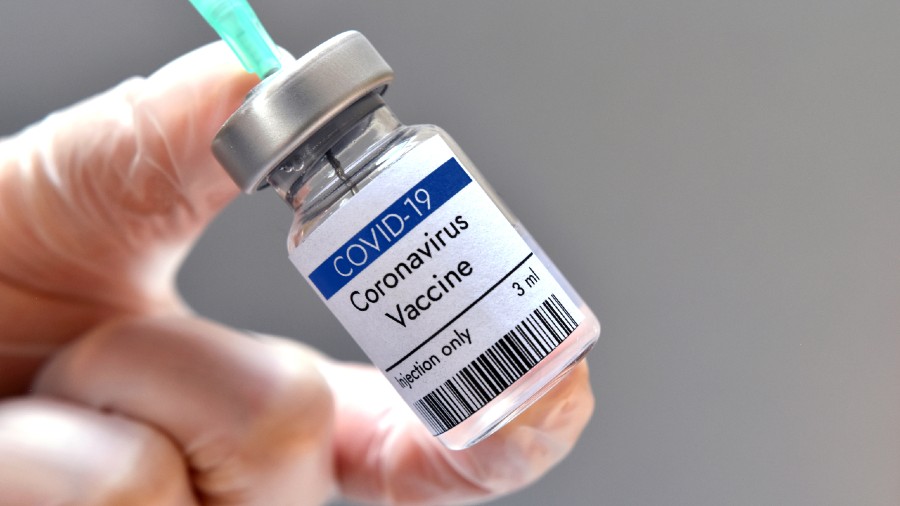 ---
|
Calcutta
|
Published 17.01.21, 01:26 AM
---
Over 1,700 frontline healthcare workers including doctors, nurses, group-D workers and security guards received their first jab of the Covishield vaccine across 19 centres in Calcutta on Saturday.
Only two recipients complained of minor adverse effects till late evening. Of them, one is a nursing staff from BC Roy Memorial Hospital for Children who was admitted to NRS Medical College and Hospital.
What left senior health department officials, who were monitoring the vaccination process on Day 1 from Swasthya Bhavan, on the edge were intermittent snags in the Covid Vaccine Intelligence Network or CoWin app. The app has been developed by the Centre to monitor and track the inoculation process.
The app remained mostly unresponsive through Saturday and at the end of the day, the health department left it to the respective health officials in Calcutta and the districts to decide on which days next week the vaccination programme will be held. Monday has been fixed tentatively with three other days yet to be decided, depending on how the CoWin app functions.
The CoWin app plays a key role in the inoculation process. It registers recipients, according to the data that it is fed, and allotment of date, time and venue is done through it. After administering the jab, a health worker has to upload details of the recipient on the app.
Ahead of Saturday's rollout, Swasthya Bhavan had collected a list of healthcare workers for each of the 19 centres in the city — 212 for Bengal — so that the data could be fed into the app to ensure SMSs would be sent to recipients for Saturday.
But the app developed snags through most of Friday and entering the list of recipients for the vaccination centres could not be completed.
"Our staff were awake through Friday night struggling to use the app to upload the names and mobile numbers. Finally, we decided to call each recipient and inform them about the venue and time," said a senior health department official.
Many recipients could not be contacted in time and didn't turn up to receive their vaccine.
In many centres including the Calcutta Medical College and Hospital and MR Bangur Hospital, a new list of recipients had to be drawn up on the spot, which caused inordinate delays. Vaccination at some centres continued well past 5pm, which was the scheduled deadline for wrapping up the day's process.
"To open a vial, you need 10 people with each receiving 0.5ml as intramuscular injection. Each vial contains 10 doses and once it is opened, it can't be stored half-used," said an official of the Calcutta Medical College and Hospital.
Venue & experience
All major medical colleges and hospitals in Calcutta had earmarked areas as "Covid vaccination centre" with separate rooms dedicated for receiving recipients, moving them to the vaccination room and then to a waiting room for the mandatory 30-minute wait period. Separate tables with covers had been readied for scanning details including identity checks. Guardrails had been placed in the compounds with police overseeing the queues. Private healthcare institutions had even bigger and more elaborate arrangements.
The five sites under Calcutta Municipal Corporation had comparatively smaller arrangements with partitions used to set up separate chambers where health staff from the civic body worked with trained inoculators. Firhad Hakim, the chairman of CMC's board of administrators, and health secretary Narayan Swarup Nigam went to one such site in Chetla to oversee the process.
"After our identities were checked, each of us were handed a card with the number of the vaccination site and a serial number. My number was 4. Once the process started rolling, it didn't take much time," said Priyanka Maitra Karak, an anaesthetist at the Calcutta Medical College and Hospital.
"We have been told that the next date will be informed over the phone. Till then, it will at least leave me feeling that science has found a breakthrough that we have all been waiting for during this pandemic," she said.