Advisory on reuse of Covid shield
The guidelines say use of N95 masks 'may be restricted to fever clinics, suspect and confirmed COVID wards'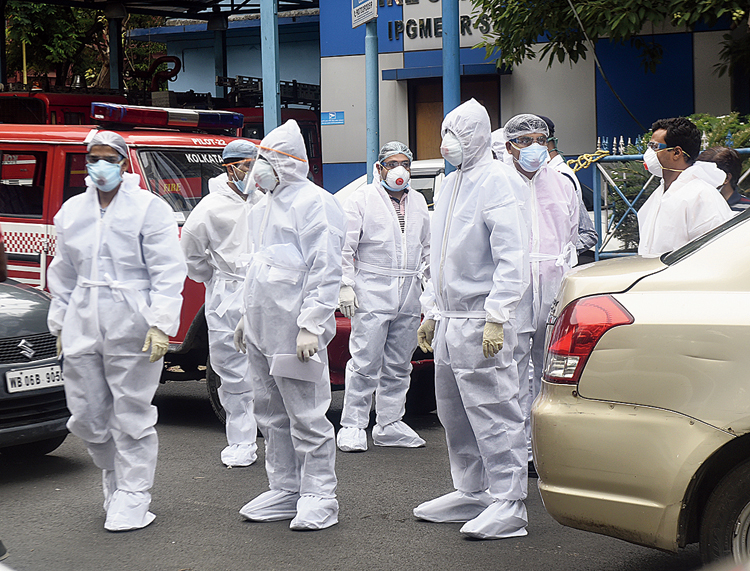 Health workers at SSKM Hospital.
Picture by Bishwarup Dutta
---
Calcutta
|
Published 25.04.20, 10:09 PM
|
---
The Bengal health department has asked the principals of all medical colleges to ensure reuse of coveralls, gowns, masks, face shields and personal protective equipment by healthcare workers and has drawn up guidelines on how to disinfect the gear.
The guidelines say use of N95 masks "may be restricted to fever clinics, suspect and confirmed COVID wards".
Health workers in these places have been advised to wear a surgical mask over the N95 respirator for better protection and to prolong the life of the respirator.
"The surgical mask will be discarded after 1 shift (8 hours) of usage and the N95 mask may be reutilised," the guidelines say.
"The protocol for 'reuse' has been drawn up after consulting professionals from the field of microbiology, medicine and tropical medicine," a senior official of the health department said.
A section of officials said the decision to reuse the protective gear was taken following an assessment that there was a shortage of these items.
"There is obviously a shortage of these items," said a senior official at Swasthya Bhavan, the state health department headquarters.
"The chief minister has said the state has received 2.7 lakh PPEs (personal protective equipment) for doctors and the supply of about 9 lakh PPEs is pending."
The guidelines say N95 masks can be utilised up to five cycles of usage if they are properly disinfected after every use.
As for decontamination, the guidelines warn against the use of alcohol and chlorine. The masks will have to be cleaned for reuse only with hydrogen peroxide vapour.
Cloth items such as gowns should be washed with soap and warm water or sent to autoclave machines before they are reused. Face shields and goggles should be cleaned in a solution containing 70 per cent alcohol.
"All chief medical officers of health in the districts, too, have been provided with a copy of the guidelines and the detailed reuse protocol so that there is no confusion among healthcare workers in state-run facilities," the health department official said.
Across medical colleges, doctors have complained of shortage of gloves, masks and PPEs.
"Despite repeated appeals, the Centre has sent only 5 per cent of our requirement for protective gear. The Bengal government has been trying hard to arrange the gear," said Trinamul Rajya Sabha member Santanu Sen, the immediate past president of the Indian Medical Association.