Mission to feed 100-odd strays
Saviours look for crowdfunding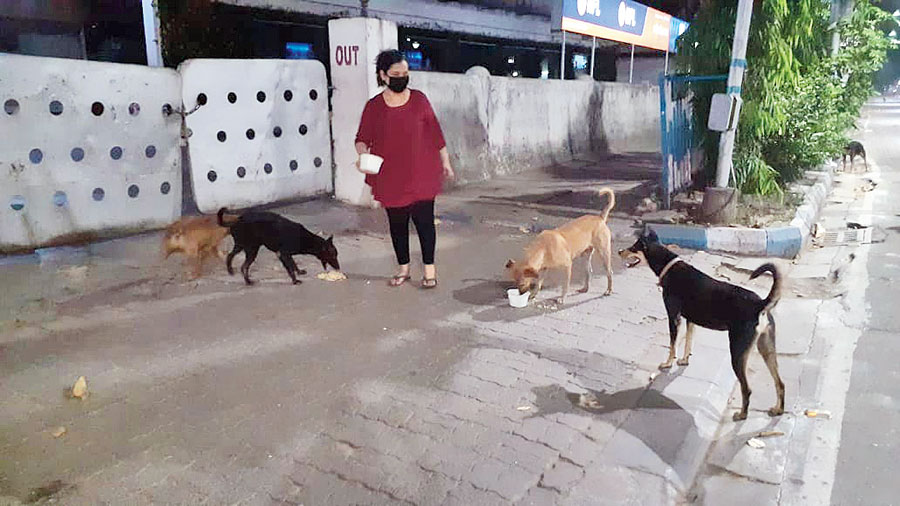 Stray dogs being fed
Telegraph picture
---
Calcutta
|
Published 11.04.20, 08:48 PM
|
---
A 51-year-old woman who lives on Lovelock Street in Ballygunge is feeding more than 100 stray dogs and cats in several pockets of the city during the lockdown.
Sandra Hendricks is splitting her time between taking care of her grandmother, looking after 11 rescued dogs at home and cooking for and delivering food to the strays.
Hendricks said she would feed around 40 stray dogs in her locality every day before the lockdown had kicked in.
After the lockdown was imposed, she realised that hundreds of animals who were earlier looked after by office-goers and street vendors were not getting any food and fighting among themselves for whatever little was available.
A former employee of Tata Steel, Hendricks called up two of her friends — Sucheta Sinha, who owns and operates a pet-friendly cab service, and Anuj Sharma, a professional dog walker — to help her out.
"Since I don't have a vehicle, I realised I alone would not be able to pack the food and feed so many animals," said Hendricks.
The three are cooking around 25kg of rice, 25kg of chicken or 200 eggs every day and feeding around 100 strays within a 5-km radius of her house.
The combined cost of the food and the cooking gas is coming to a few thousand rupees every day. The trio is also having to pay for fuel to carry the cooked food. "Each day, we complete a circuit of around 7km feeding the animals," said Hendricks.
So far, Hendricks and her friends have been covering their expenses from their pockets and donations from other friends and family members. Now, they are looking for crowdfunding.
"We are in need of funds or food items on an immediate basis and so we are considering crowdfunding.... Strangers have landed up in front of my house and left bags of rice and chicken at the doorstep," said Hendricks, who has started a crowdfunding page on Facebook.