Why they wait and how they are let down
It is easy to blame and ridicule people for crowding buses but some have literally life-and-death reasons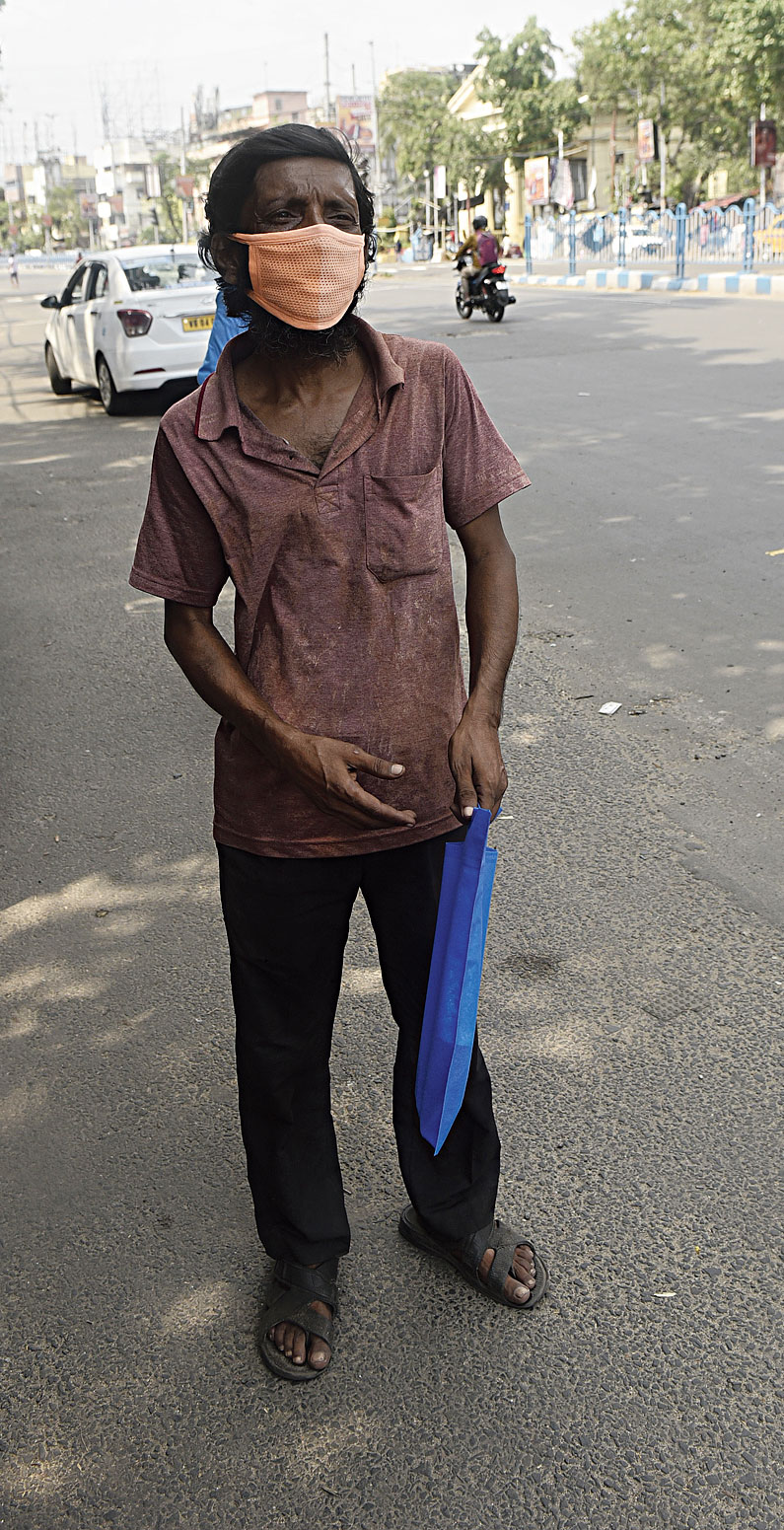 Biplab Banerjee, with two units of blood for his daughter's dialysis in the blue packet, waits for a bus at Hazra to reach a Bagbazar nursing home
Pictures by Bishwarup Dutta
---
Calcutta
|
Published 02.06.20, 08:26 PM
|
---
Who are the commuters who have been compelled to step out in the early days of Unlock 1 and wait long for buses? It is easy to blame and ridicule people for crowding buses but some have literally life-and-death reasons. Kinsuk Basu and Bishwarup Dutta meet some of the commuters on Tuesday

Biplab Banerjee
Spotted at: Hazra
Headed for: Bagbazar
Found a bus: After nearly 40 minutes
Biplab Banerjee paced up and down a bus stop at Hazra holding two units of blood in a plastic packet while waiting for a bus. It was around 2pm and in another two hours, his 15-year-old daughter's dialysis would start at a nursing home in Bagbazar.
Private buses were missing and the drivers of government-run ones chose to speed down the other side of the flank to avoid passengers at the stop. All buses were full to their seating capacity.
"If I get late, dialysis will be cancelled," the Bonhooghly resident said. "I had to come to south Calcutta to collect blood from a private blood bank. It was a struggle reaching here and now there aren't any buses."
A cook with a catering agency, Biplab had stepped out with his daughter early on Tuesday. After an hour's wait at the Bonhooghly bus stop, the father-daughter duo could board a bus to reach the nursing home for a pre-dialysis test.
"There has been no work for two months. I have been living on whatever little I had saved. Both kidneys of my daughter are damaged," Biplab said. "I can't afford a taxi ride. Er por je bus ta thambey, jhanpiye uthey porbo (I will jump and board whichever bus stops next)." He later told Metro over the phone that he could board a bus after waiting for 40 minutes. Shankar Kumar Shee
Spotted at: Opposite Ice Skating Rink in Ballygunge
Headed to: Andul, Howrah
Did he get a bus? He waited for 20 minutes and then kept walking towards Park Circus
Shankar Kumar Shee would not have stepped out of his Andul home in Howrah to reach Ballygunge had he not have just five months of service left.
The Hindustan Copper Limited employee had taken two rides in e-rickshaws from his house and walked down another half a kilometre to reach Nabanna on Tuesday morning. From there, he took a bus that dropped him at Rabindra Sadan.
After waiting for around 15 minutes, he decided to walk to his office, around two-and- half kilometres away.
"My retirement is due in November and I need to set my papers in order," he said around 3.30pm, while waiting at a bus stop. "Yesterday, on my journey back home, I rode pillion on a colleague's motorcycle till Rabindra Sadan. But I don't know how to go home today. Dekhi kichhuta haanti (Let me walk some distance)," he said on Tuesday afternoon. That was after waiting for a bus for 20 minutes. Mohammed Tahir
Spotted at: Deshapriya Park bus stop
Headed to: Santoshpur, in Budge Budge
Found a bus: After waiting for 15 minutes
When suburban trains used to ply between Budge Budge and Sealdah, Mohammed Tahir would get off at Lake Gardens station and walk to a salon on Sarat Bose Road, where he worked for Rs 7,000 a month.
Over the past two months, the man in his 40s has been out of job. On Monday, Tahir's employer had asked him to meet her. On Tuesday, he travelled by autorickshaw to Taratala and from there by another autorickshaw to Lake Market. The rides cost him Rs 30 each.
From Lake Market, he walked to meet his employer.
Tahir spoke to The Telegraph while waiting for a bus on his journey back home. "There is a government bus that drops me close to my house. I have been waiting for 15 minutes for that bus but there is no sign of it. The heat is unbearable," Tahir said around 1.10pm. "I will take this bus and break my journey several times," he said while waiving at another government bus. Jhontu Koley
Spotted at: Walking down AJC Bose Road near Rabindra Sadan
Headed to: Nagerbazar
Found a bus: After nearly 50 minutes
An employee of a confectionery chain, Jhontu Koley had to attend a meeting that his manager had convened at a store on Harish Mukherjee Road. The resident of Nagerbazar had waited for nearly an hour on his way to the store but failed to board any of the government buses that arrived at the Nagerbazar bus stop.
He finally ended up spending Rs 550 for a taxi ride. "I cannot afford another taxi ride," he said on his way home. Around 2.25pm, he walked to the Exide crossing, where he waited for almost 50 minutes before he could board a bus. Pakhi Dutta
Spotted at: Mudiali
Headed to: Lake Gardens
Did he get a bus? He waited for 15 minutes but no bus came
Pakhi Dutta had hitched a ride on his friend's cycle from Bhowanipore to Tollygunge on Tuesday afternoon. This was the first time he stepped out of his Lake Gardens home after 68 days, he said.
He had to open his shop at Jadubabu Bazar that his father had set it up immediately after Independence. Since 1984, Dutta has been selling incense sticks from the shop. "I had to step out today. Else, what do I eat?" he asked.
In the morning, he had taken a private bus from Lake Gardens to reach the market in Bhowanipore. By afternoon, all private buses on that route stopped plying and Dutta was stuck. "I have waited for 15 minutes. I will wait for some more time and then start walking," he said. Nandu Kumar Gaurab
Spotted at: KC Das at Esplanade
Headed to: Garia
Found a bus: After waiting for 45 minutes
Nandu Kumar Gaurab works as an air-conditioning mechanic for a retail chain that has a store at Esplanade. On Tuesday afternoon, as he waited to head home, he was reminded of his journey home a day after Cyclone Amphan struck the city.
On May 21, he had to walk along the railway tracks from Park Circus to Garia. Tuesday began on a lucky note. He had found a seat on a bus from Garia to reach office on time. But in the afternoon, Gaurab wasn't sure if he would be able to board a bus. "Na eley ora taka tao debey na (If I don't turn up, they wont pay me)," he said. His day's earning: Rs 450.