Testing time for small traders across Calcutta in what was peak season
All quiet at markets as lockdown and holy month coincide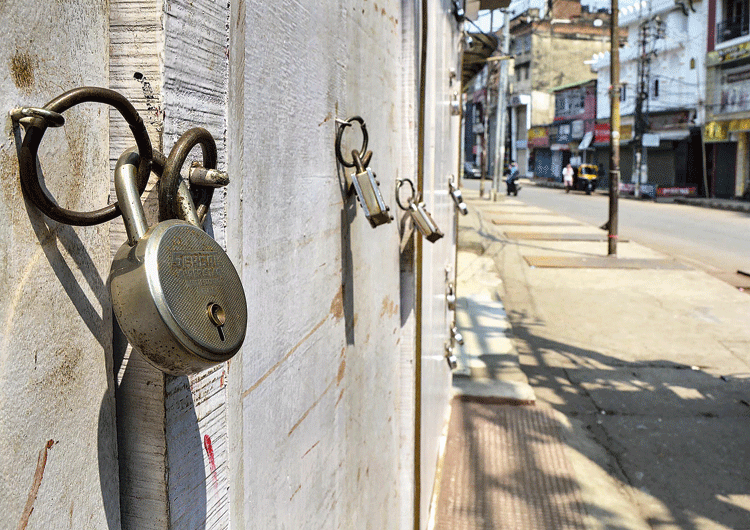 ---
|
Calcutta
|
Published 12.05.20, 09:32 PM
---
Mohammad Johar Ali would sell garments during Ramazan every year.

The money Johar earned, along with a friend, from a makeshift stall they put up on Market Street was enough for the family's Id shopping.
Ali, who works in a garments store, would take leave to set up shop as it would fetch him more than his monthly salary.
This Ramazan, Ali remains locked up at home. Market Street, which would be buzzing with shoppers in other years, lies silent.
Ali is not even thinking of buying new clothes, he is worried how to feed his family. "I know I will not be able to buy new clothes. We need to eat first," he said.
Mohammad Bilal Khan, a fruit trader at Mechhua, sold 10 tonnes of apples every day during Ramazan last year. This year, he has been able to sell 20 tonnes in a week.
A well-to-do wholesaler, Khan said he would manage with his savings but is not so sure about the hundreds of small retailers who buy from him.
The lockdown has robbed several small traders and day labourers of the opportunity of earning anything during Ramazan, considered peak season.
Community elders say there is a frustration, especially among the poor. "This is the time when the very poor sell odd things and make money. Besides, there are many small and medium-sized shops for whom the Ramazan month sales account for nearly half the year," said one of them.
Zakaria Street, Colootala Street and the entire Chitpore area would be teeming with buyers and sellers every Ramazan. But the shopping centre is now shut. So is New Market.
Hundreds of small traders set up shop on Zakaria Street and Colootala Street every Ramazan, selling everything from fried items, sewai, fruits and dates to jewellery and clothes and sundry other things. Most of these traders do not have permanent shops.
A community elder said many of these people are now completely dependent on food being provided by the government or help from NGOs or benevolent individuals.
Maidul Islam, an assistant professor at the Centre for Studies in Social Sciences in Patuli, said the immediate impact is on small seasonal traders who used to sell dates, fruits or delicacies. As the shopping centre in Chitpore is closed, these small traders have not been able to put up stalls.
"Fruits and dates are consumed while breaking fast. These businesses were the first to be hit. As the month progressed, the garment shops started feeling the pinch," said Islam. "The buying of new clothes usually starts about a fortnight before Id."
The impact is also telling on hotels that dot the New Market area. They have lost out on the stream of Bangladeshis, who come to the city every year to shop during Ramazan.
"The Bangladeshis come before Id and shop. And they come for vacation in large numbers after Id, stay in hotels in New Market and buy clothes and jewellery. That seems impossible this year," said Taher Faizullahbhoy, a member of the Oriental Chamber of Commerce.
The food stalls at Chitpore that sell delicacies like haleem only at this time of the year have not been set up this time.
The majestic Nakhoda Masjid, in the heart of Chitpore, would receive faithfuls from near and far. This year, the mosque doors are shut. A member of its governing body said the prayers are read aloud on loudspeakers.
"Every year we would announce the time of the next prayer at regular intervals so that people could join the prayers. This year, we have stopped announcements to prevent anyone from coming to the mosque," he said. Only the mosque staff are praying inside.
Maulana Mohammad Shafique, one of the imams of Nakhoda Masjid, said people have been asked to maintain distance during Friday prayers. "We are asking everyone to follow the rules set by the government, asking them not to congregate anywhere," he said.
Shafique urged everyone to feed and clothe the needy near their homes.
Across the city, the picture is the same. In Kidderpore, too, the small garment stores spring up at this time of the year are absent.
Shaikh Sohail, a resident of Kidderpore, said he would buy haleem once or twice a month for his family from local stores. "There is a store outside Fancy Market that makes very good haleem. I bought from them frequently. The big names may be selling haleem through delivery platforms but it is these small but good stores that are suffering," he said.
The lockdown has also had its impact on zakat or the act of charity. Abdul Quadir, who runs a jewellery business in the Canning Street area, said the beneficiaries usually include madarsas in rural areas. The caretakers of the madarsas come to cities to collect donations during Ramazan.
Zakat is usually calculated as 2.5 per cent of one's liquid assets. That amount of money is used for charity, said Quadir. "Because of the lockdown, maulanas and caretakers of madarsas are not able to come. Some of the bigger and established ones might get money via electronic transfers but a majority of them depend on small cash donations from individuals. They have to wait till the lockdown is lifted to be able to come," said Quadir.
No business for almost two months and an uncertain future has meant that other donations have also been impacted. "If someone donated Rs 10,000 earlier because of good business, this year the person would donate less because there is no guarantee when businesses would resume," said an elderly community member.