Some lanes sealed in Covid-19 fight
Particular places, not entire wards, being isolated; police will facilitate deliveries: Mayor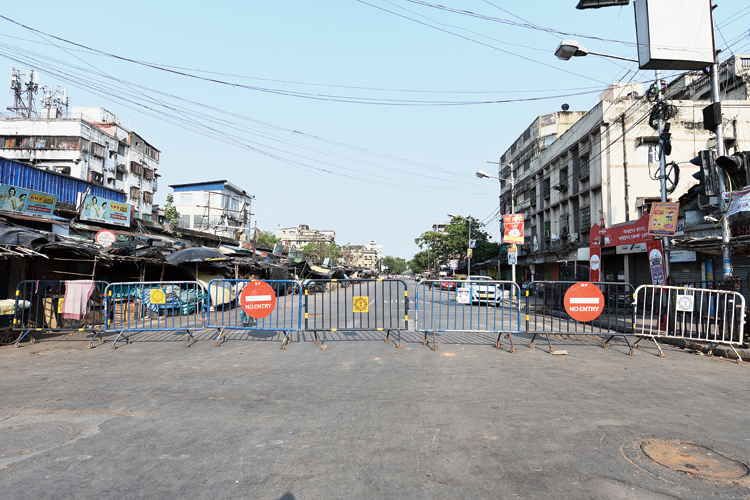 ---
|
Calcutta
|
Published 17.04.20, 08:40 PM
---
Some roads in Calcutta were sealed with guardrails on Friday to prevent vehicles and residents of the neighbourhood from coming out.
In these areas, police used loudhailers to announce that people should remain indoors and must not step out of the barricaded areas.
A section of police officers said that unlike the barricades in Howrah — where the government has imposed Section 144 of the CrPC — some of the barricades in Calcutta leave space for people to move out in case of an emergency. Some, however, have completely sealed the roads.
Calcutta mayor Firhad Hakim told Metro that entire wards would not be sealed anywhere in Calcutta. "We are sealing off particular places from where cases have been reported. For example, we have sealed three lanes in a Belgachhia bustee, two lanes in Ultadanga and one lane in Narkeldanga. Most of the places being sealed are around slums."
He added: "Police are erecting barricades in these places to stop people from going out. If the residents need grocery, medicines or any essential items, they can contact the police. The cops will make arrangements so that the essentials are delivered to them," he added.
A senior police officer said the attempt was more to create "a mental barricade" to keep people off the thoroughfares and to stop free movement of vehicles on the roads.
An officer cited an example to show how police have been helping residents in areas where the lockdown is being stepped up. An elderly gentleman needed to go to the bank to withdraw cash. "The police went to the bank for him," said an officer of south division.
Several pockets that otherwise remain busy — such as Picnic Garden Road, VIP Bazaar, Canal East Road, Zakaria Street, Scott Lane, Chetla Hat Road near Alipore, Padmapukur in Bhowanipore, CIT Road, Belgachhia, Narkeldanga Main Road and Rajabazar — bore a deserted look after the roads were sealed on Friday.
Despite the lockdown, which started three weeks ago, there has been a continuous string of prosecutions and arrests for violating the lockdown in the city, suggesting that a section of citizens has been coming out on the roads without any pressing reason.
The city had earlier seen such barricades only during festivals, big political rallies, Republic Day and Independence Day parades.
The police posted at the VIP Bazaar crossing were restricting the movement of all types of vehicles through the barricaded zone.
"If we are not strict from Day One, no one is going to take us seriously. We have been instructed to ensure that nothing can pass through these barricades," said an officer of the traffic police.
People in some of the vehicles that were stopped on Friday were returning home. They were not allowed through the sealed stretch.
Sumit Chowdhury, a resident of CN Roy Road, had to take special permission from Tiljala police station to take his motorcycle out and go to Jadavpur with food for his elderly aunt, he told Metro while returning home.
"Aajke prothom pishike khabar dite giye eto oshubidhe holo (today was the first time that I had to face so much trouble while taking food to my elderly aunt)," Chowdhury said.
Stretches such as Park Circus and Rajabazar, Picnic Garden, Bhowanipore and Padmapukur bore a "different" look on Friday.
"This area was teeming with people on the eve of Poila Baisakh — people were queuing up in front of meat shops as if there was no lockdown. On the contrary, only two medicine shops are open today," said a police officer in the Tiljala area.
The officer in charge of a police station in the port division tested positive for Covid-19 on Friday, said joint commissioner (headquarters) Subhankar Sinha Sarkar. Sources said steps were being taken to identify the people who had come in direct contact with the officer recently.
The slums along Chetla Hat Road, where people usually spend their afternoons chatting outside their dingy one-room homes, had all residents indoors.
A rickshaw-puller sitting idle said: "Corona hoyechhe boley, lokjon bhoy bhetore chole gechhe. Police rasta bondho kore diyechhe (People are scared of the coronavirus and have fled inside their homes. Police have blocked all the roads)," he said.
Around 2.45pm, two vehicles of the Calcutta Municipal Corporation entered the slum to fumigate the area.
At Padmapukur, the police had put up posters written in Hindi, making an appeal to the people to remain indoors and announcing that legal steps would be taken against those found violating the lockdown.
Entire Zakaria Street was sealed; a lone fruit seller was sitting on the pavement. The road to the Belgachhia slum, adjoining Belgachhia Metro station, was sealed on Friday afternoon.
"No one is allowed to enter or come out. If someone needs something, they can call us (police)," said an officer posted near Belgachhia Metro station.
"I have never seen a barricade in my locality before. Usually, people here are reluctant to follow traffic rules, too. But today, for a change, there were no bikes on the road," said a college student who lives in Ultadanga, close to Belgachhia.