Season tips for parents of teens
Psychiatrists warn against 'hollow reassurances'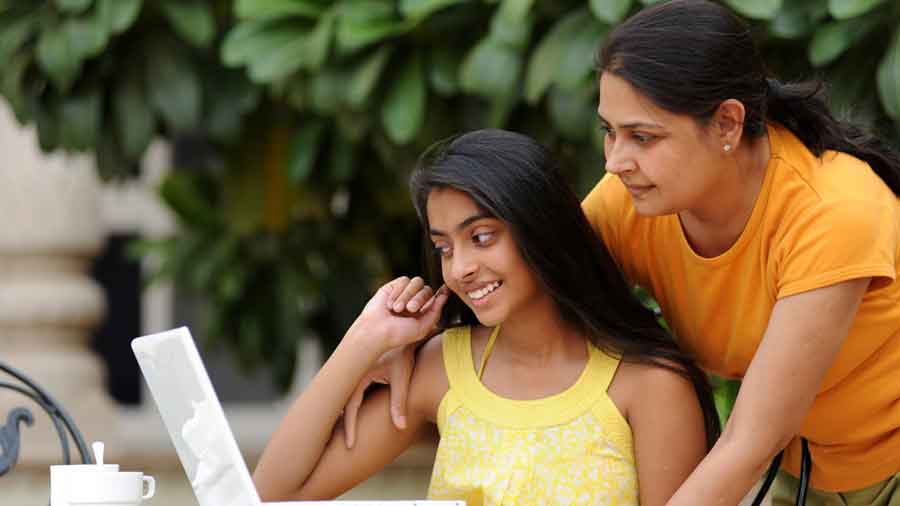 ---
|
Calcutta
|
Published 09.08.20, 01:35 AM
---
Treat your teenagers as grown-ups; do not react differently to situations if you are in a foul mood and do not make excuses for the child if he/she cannot attend online classes.
These are some of the advice schools and psychiatrists have for parents during the pandemic.
Students are well-informed and parents should not give them "hollow reassurances" that the uncertain situation will soon be over but instead talk to them, according to psychiatrists.
Parents are always the first teacher and now they need to be counsellors as well to tide over these unusual circumstances, several school heads have said. Children are upset to be at home and not being able to meet their friends and parents need to understand their situation and communicate with them.
"The parent has to tell them that these are difficult times and one has to make use of whatever is available and feel grateful. Don't say this pandemic will be fine and everything will be hunky dory. We don't know that…. Don't give hollow reassurances…. By doing so parents tend to underestimate the child's ability to be discerning and they disconnect and feel they are not being understood," psychiatrist Rima Mukherji told parents of students of Classes IX to XII at South Point High School on Friday.
She was speaking at a session on Parents as Counsellors: Special Guidelines during the Pandemic.
In several other schools, either counsellors or teachers are speaking to parents so that they can handle the situation more effectively at a time when they lose their patience easily because of stress.
The heads of The Heritage School, Apeejay Schools and South Point High School feel children have to be treated as grown-ups who have a mind of their own and involve them in family decisions.
"Parents treat children as they want to and according to their convenience. Instead they have to give children the confidence that their decision is valued. If they are given responsibilities they will never fail their parents," Seema Sapru, principal of The Heritage School, said.
The pandemic has thrown open many new challenges for parents.
"Many parents make the mistake of brushing aside their children but these teens have a voice and if there is a crisis they can help out and give suggestions, which are pertinent," Rupa Sanyal Bhattacharjee, principal, South Point, said.
This is a time for parents to tell their children that they "are resilient, developing patience and coping skills" despite so many challenges, psychiatrist Mukherji said.
"Don't make excuses for the child that there was no Net connectivity or he/she was sick if he/she is not attending classes," she said.
Sri Sri Academy has been advising parents to use the time to "bond with children" and not to "over monitor" them as it can leave them frustrated.
"Parents need to balance out the time they are spending with children… though they need to be watched and communication channels have to be kept open but parents should not over monitor," principal Suvina Shunglu said.
Parents are on the "front line", spending time with them at a time when teachers are not present face to face, Mukherji said. "They have to attend online classes; they are anxious about their careers and how long this would continue… parents have a role to play and for that there has to be better self-awareness."
The role of the parent has expanded during the pandemic. "Parents are the first counsellors for their children but there are occasions when they might go wrong and hence they need the help of counsellors to guide them," Reeta Chatterjee, administrator of the Apeejay Schools, said.
Counsellors have to help parents with certain skills, the counsellor at Calcutta International School, Farishta Dastur Mukerji, said.