Back to work in a new world
Familiar routines have become unfamiliar due to safety restrictions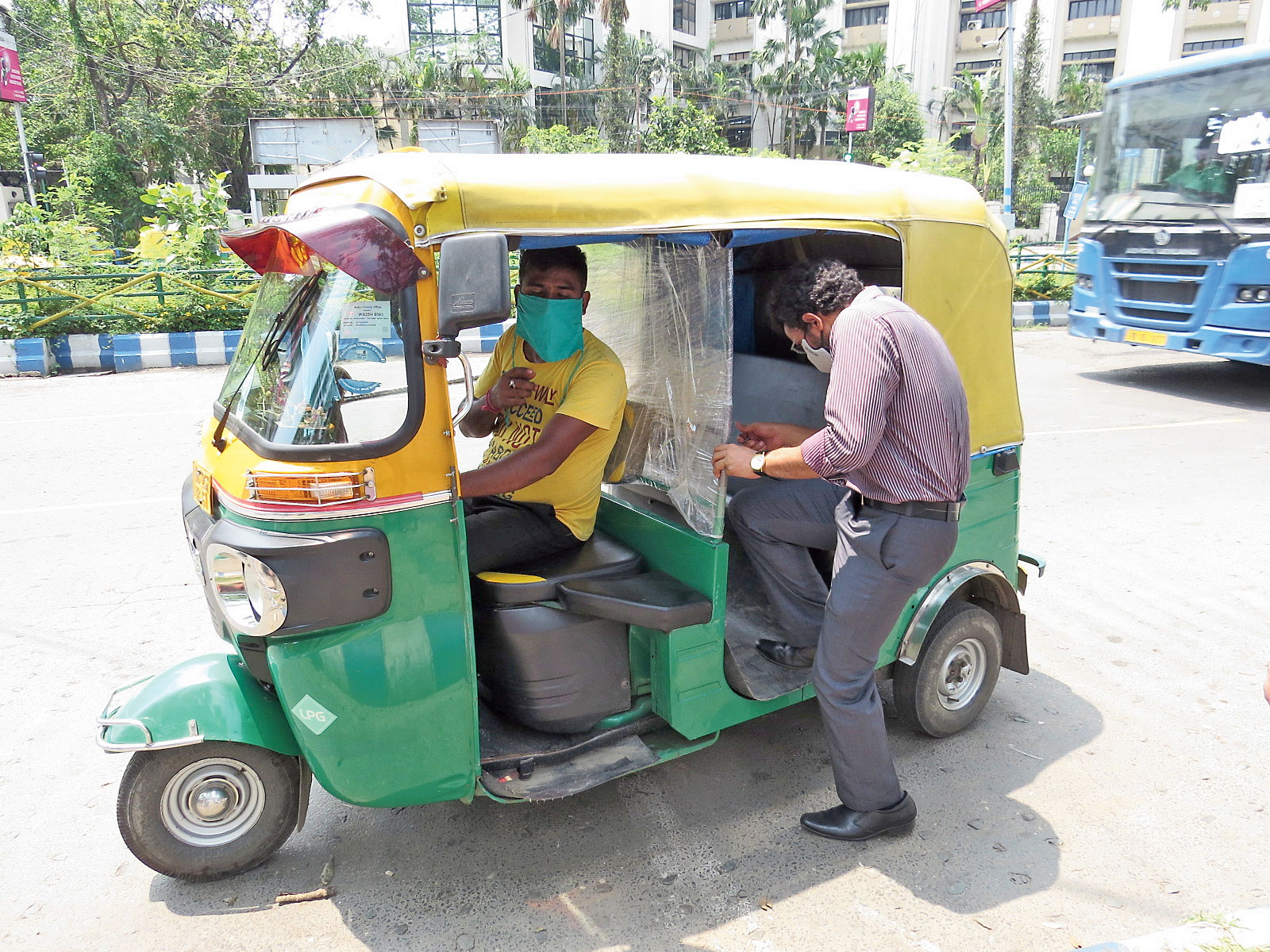 ---
---
If your office is in Sector V or New Town maybe it takes you 15 minutes to reach. But post lockdown the sanitisation procedure at the office entrance has become so thorough that maybe it takes you another 15 or 20 minutes to enter!
The first check at Shyamadas De's office is when the security guard asks to see the employee's phone. "He checks the status on our Aarogya Setu app and lets us in only if it says we are safe," says the HA Block resident, adding that at least one employee has been sent home as the app said he was only moderately safe.
Next, is the thermal gun, pulse and oxygen saturation checks. If the employee clears these, he walks through a "tunnel sanitisation" structure that sprays disinfectant from all sides. He steps out into a low bucket to cleanse his shoes. But either way he has to leave his shoes outside and walk into the actual office with only his socks on.
"My office, a construction company, is following the 'safety first' mantra and we feel safe with how fool-proof the entire procedure is," he says. Cars in the parking lot get sprayed with sanitiser and inside the office, the entire space gets sanitised every two hours. All washroom fittings have been made "contact-less" and any documents sent to them have to lie in isolation at the gate for three days before being allowed in.
Strange as this may sound, it's the new normal. Most offices are now implementing as many such safety protocols as possible to allow business to run in the backdrop of Covid-19.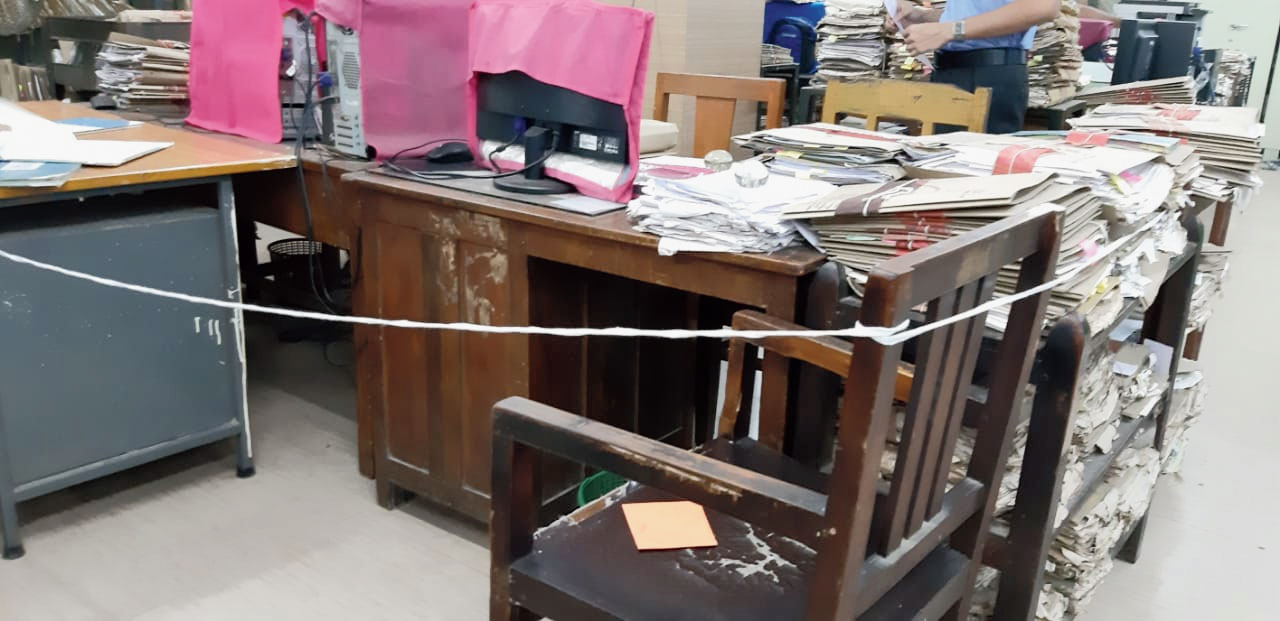 At arm's length
Often, employees themselves are going the extra mile to enforce social distancing. Basiakhi's Debojit Basu (name changed) says his friends who work at Bikash Bhavan have tied empty chairs around their seats and desks to ensure no one comes too close.
"Social distancing has forced us to sit so far apart that during meetings we have to shout to be heard," says Sumona Roy, another resident of Baisakhi, who works at a bank.
DA Block's Swarnava Mukherjee says his colleagues are using toothpick to press lift buttons. "I'm using tissue paper," he says. Like many others, returning to office for him has meant having to don jeans and trousers after months of the ever-comfortable shorts at home.
Mrinmoy Ghosh has been asked to stop using the lift altogether, as his office is only on the first floor. "No visitors are allowed in any more. Even my driver, who would previously help bring in my bags and files, has to stay out. The tea-served-in-the-room system has been abolished and we now have to pour tea ourselves from the vending machine," says the BC Block resident who works at an aluminium production facility.
Suffocating masks
The ubiquitous symbol of Covid-19 — the mask — has become quite a detested piece of clothing in office. "My phone's face recognition feature does not work in office as my face is half covered by the mask," says Swarnava. "Not only is it suffocating to wear all the time, but it's a barrier to communication too as we can't read one another's expressions."
Speaking of his friends at Bikash Bhavan, Basu says the mask has made small talk quite a challenge. "One cannot recognise another with the mask on, let alone determine if he is a junior or senior at work. It's rude to admit one cannot recognise a colleague but equally difficult to carry on a conversation without recognising him or her," he says.
Balaka Abasan's Rakesh Gupta says the mask gets so smelly upon constant use that he's tying a hanky around his face while at work now.
No country for foodies
Monika Roy recalls the lovely food she would choose from her office canteen before the lockdown. "Even the Dalhousie area, where my office is located, has great street food. But all that is out of bounds now," she says sadly. The resident of Eastern Grove is now taking biscuits for lunch. "Without a domestic help, I'm not getting a tiffin box and adding to the pile of utensils to wash myself!"
A resident of East Enclave, who works at a government office behind Jalasampad Bhavan, has been surviving on biscuits too. "I'm scared of bringing too many bags now-a-days lest I have to sanitise them all. It's better to finish a biscuit packet and dispose it right away," he says.
Many offices have banned food delivery services and the endearing practise of sharing tiffin has been shot dead too. "Now if anyone asks to share tiffin he is asked to show his Covid test result in jest," laughs Basu.
Commute challenge
For many, the commute is the toughest part of the day. Basu had to cycle from Baisakhi to his office near Rabindra Tirtha for a few days. "It was taking nearly an hour and it was too hot," says the man who hops on a bus now. "Still, my plight is nothing compared to a colleague who came from Dhonekhali by lorry! Seems the lorry was ferrying multiple passengers for a fare."
Sumona's father drops her to her Tollygunge office in the morning but she returns by bus in the evening. "The government buses are maintaining social distancing but the private buses are spilling over with passengers. We have to yell at the conductor to stop boarding more people," she grumbles.
AJ Block's Moinak Dutta has quit the auto and bus and now asks his driver to ferry him to work. So many employees have switched to commuting by private cars now that Roy says it has become difficult finding parking space near her office. "Besides, it's not cheap hiring a driver and paying for petrol to Dalhousie from New Town everyday," she says.
For the first few days, S.P. Bagla, chairman of a real estate company, gladly walked to office. "It felt great to be out in the open after prolonged confinement," he says.
Many cycles are out on the road too. In fact, a few weeks ago, a man sneaked into a CJ Block driveway, walked past the two parked cars, and rode off with their domestic help's son's bicycle. The entire episode was caught on CCTV.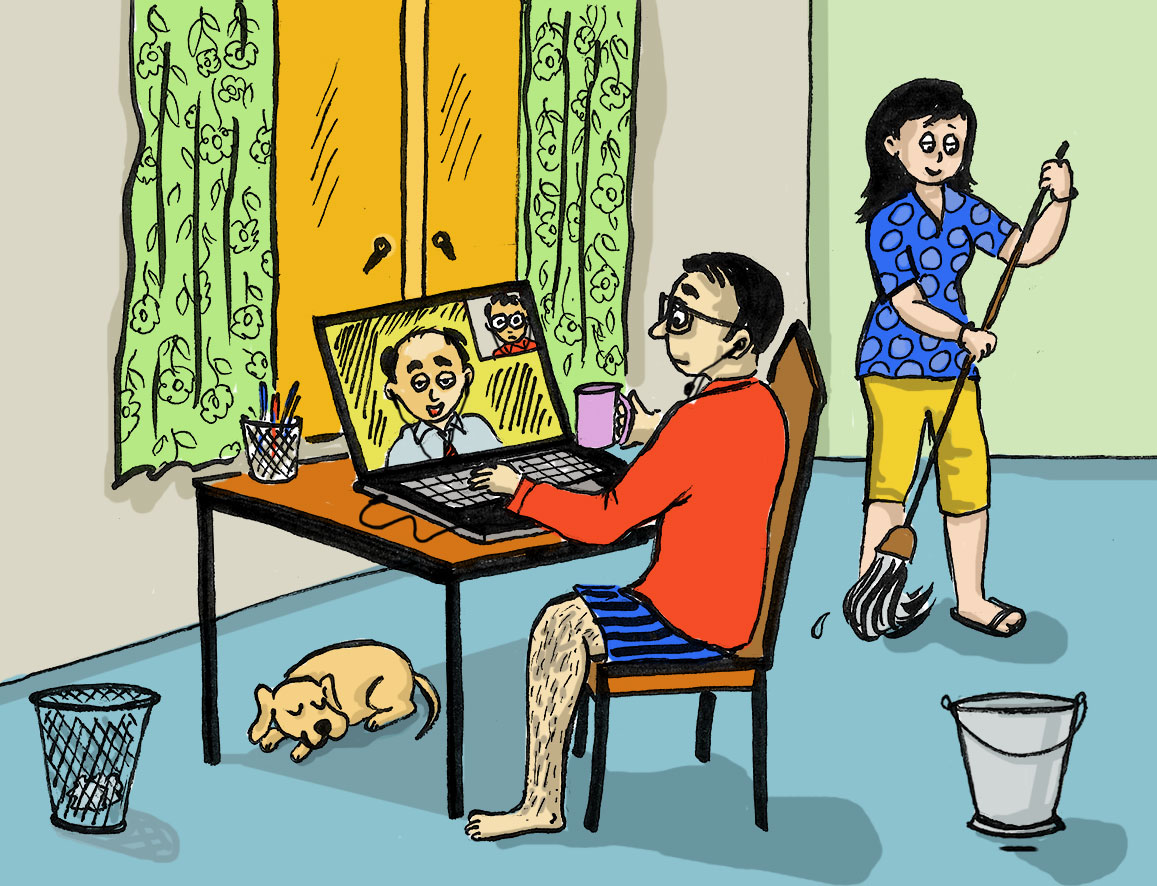 In the township, autorickshaws are travelling with a plastic screen separating the front seats from the rear. The screen has been mandated by the police to ensure social distancing. Each auto is allowed to carry two passengers, leaving the driver's side free. "It took me Rs 50 to buy plastic and tape to put up the screen. Since we are having to take less passengers we are charging Rs 20 in place of Rs 12 from SAI (Sports Authority of India) to Karunamoyee. The minimum fare of Rs 6 has also been increased to Rs 10," said Arpan Dey, an autorickshaw driver.
With passengers few and far between, the union has deivised a rotation policy so every driver has an income. "There are 118 autos on our route. Half of us are playing on Mondays, Wednesdays and Fridays in one week and on the other days the following week. Our income used to be Rs 1,000 to 1,400 per day earlier. Now we make barely Rs 300 to Rs 400," he added.
The auto drivers have heard routes in Calcutta reverting to the full passenger capacity of four. "But we are having a tough time getting two passengers per vehicle so we are not keen ourselves to take more per trip. Earlier, people took an auto to reach even short distances like SAI to AMRI (Hospitals). But with offices having become lax with punctuality many are preferring to walk rather than pay the increased fare," he said.
"People are not going out in panic. Also unless the trains start, we will not get enough passengers," said Amar Gupta, who drives on the Karunamoyee-Phoolbagan route.
Waste of time
"Fear of Covid has led to a dip in productivity," says a businessman of CF Block. "They are spending too much time talking about the disease and sanitising their hands, files and equipment."
Swarnava talks of what a bother it is to get home and sanitise his clothes, spectacles, phone, watch…
Jibadip Bhadury, who works for a digital marketing firm, explains how difficult it is working with 50 per cent attendance. "A standard piece of work requires a social media manager, designer, IT technician and client servicing personnel. Without all of them in the room, we have to make 10 calls to execute a simple task," he says.
Making it worse is the new work schedule. "Without a proper transport system, people are hitchhiking to work. They're reaching at 11, leaving at 4.30, so when will they sit to work? They are also finding it difficult to focus since they are constantly worrying about Covid and job losses."
Missing office
Aryama Sen was starry-eyed about flying to Gurgaon to do her internship this summer but has not settled for logging into her computer for work. "My colleagues are trying their best to keep me in the loop but I'm missing out on actual interface," says the engineering student.
Lawyer Chandrasekhar Bag has been a part of "virtual courtrooms" during the lockdown but he too, misses the real McCoy. "Digital hearings are possible for cases on intellectual property and corporate law as they rely heavily on paperwork. But for criminal law we need to make passionate speeches to the judge. The tiny phone screen doesn't allow us to read the opponent's expressions and body language and so we cannot prepare our next move accordingly," says the BK Block resident.
If nothing else, DA Block's Anushreea Paul wants to get back to office to meet her colleagues. "I miss human interaction. At home, I only meet my husband and in-laws and a 'break' only means switching from office work to chores. At my New Town office, a break meant relaxation. We would go to the 'jhoops' outside for tea and catch up with colleagues."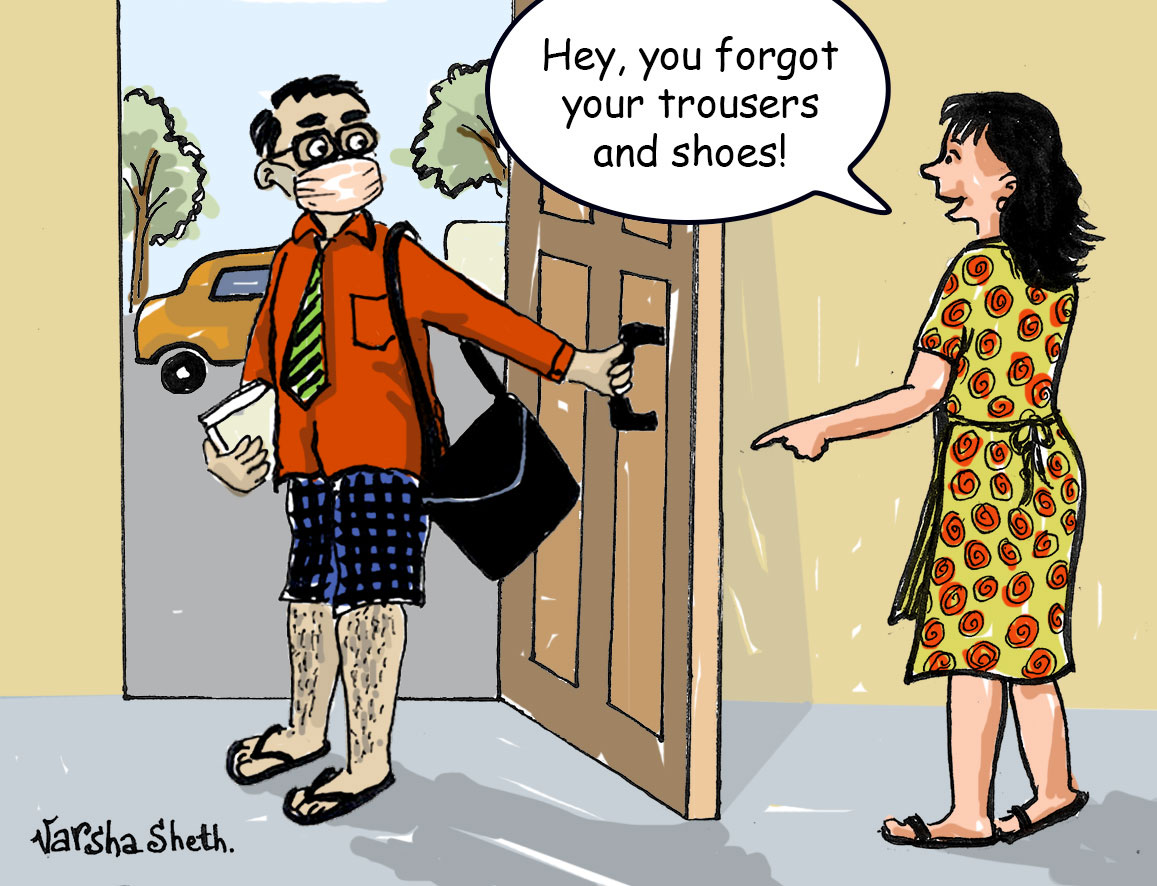 Future at work
Most people spoken to felt the lockdown had changed offices for good. "Before this, I never believed work could be done from home so smoothly," said Ashwini Kedia, who runs a sustainable woodwork company. "I always had an office corner at home but never used it till now and it's great!"
Swarnava notes that working from home allows offices to save on overheads and Mrinmoy feels offices might legitimately slash travel allowance as employees may not be required to commute any more.
"The cabs and autos are all charging extra post-lockdown. Why should we pay through our nose, and risk our lives stepping out, when our work can be from home," asks Ankita Baid, a BF Block-based lawyer who has been conducting virtual hearings the past few weeks. "Plus now that we have got used to this lifestyle, many of us are feeling lazy to go out again." Aryama, too, says going out after three months at home may require some getting used to.
Jibadip knows of companies that have started giving up sprawling Sector V spaces in favour of compact apartments in residential Salt Lake.
Then there are those like Rajib Roy, who have not only changed their lifestyle but even their profession to suit the lockdown. "When I was a consultant I would spend Rs 500 to 1,000 every time I went out for work. But from March 31, I began share trading. I hardly needed an investment, do not have to beg or bribe anyone to sanction my plans and don't need to step out of the house," says the AC Block resident. "This when my friends are having to go to work in the middle of this outbreak to save their jobs."
Additional reporting by Sudeshna Banerjee
How is your experience of return to work in the Unlock phase? Write to The Telegraph Salt Lake, 6 Prafulla Sarkar Street, Calcutta 700001 or email to saltlake@abpmail.com