Ration without queues for needy
Nursing student Gourab Das has been looking after over 100 impoverished families in his neighbourhood for over a month now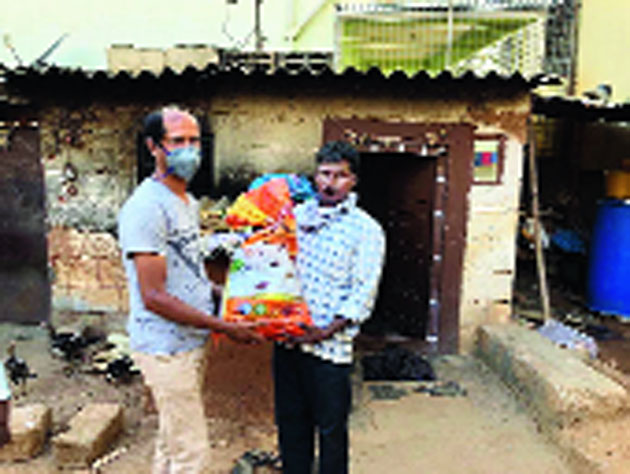 ---
|
Calcutta
|
Published 08.05.20, 11:02 PM
---
Nursing student Gourab Das, 25, goes around his village in East Midnapore every morning to reach out to families in distress during the lockdown.

Gourab has been looking after over 100 impoverished families in his neighbourhood for over a month now. He is the local coordinator of a pan-India network that has arranged ration for around 8,000 families in eight states.
It all started in Bangalore with author and entrepreneur Sudipto Das coming up with a distribution model that involves no crowding and queuing up for hours.
"Where I stay there are many migrant workers from Bengal and Odisha. I wanted to help them," Sudipto said. "I devised a plan where the local grocery shops would directly hand them a bag of ration and I would coordinate the distribution over the phone."
Sudipto identified distressed families in his neighbourhood and made an arrangement with local stores to hand out packets containing 2kg rice, 500 grams daal, potatoes, onions, and cooking oil to them. Families of more than five got two packets a week.
"I kept in touch with the beneficiaries over the phone. They were asked to send us pictures with the ration, their ID proofs and also a picture of their families to avoid malpractice," said Sudipto.
The labourers who Sudipto helped in Bangalore led him to their distressed families and friends in villages in Bengal and other states.
Sudipto's batchmates from IIT Kharagpur, Ramakrishna Mission, Purulia, and Ramakrishna Mission, Narendrapur, pitched in.
"We were able to reach out to a cluster of 1,500 tribals in Asansol, 200 ragpickers and artisans in Murshidabad and over 400 in Midnapore besides Delhi, Mumbai, Vijaywada and other places," said IIT alumni and IT entrepreneur Sagar Chaudhury, who is from Asansol.
The group, led by Sudipto, helped around 80 musicians from Calcutta, Howrah, Burdwan, Hooghly and other districts. "I personally use my network to track down musicians in distress. There are many. A friend of mine, a tabla player, was close to suicide because he did not have money to feed his son or take him to a doctor. I am trying to reach out to poor artistes, dhakis and even instrument makers who are now jobless. A whole lot of musicians would earn by offering tutions. There are no Zoom classes in the districts and villages. Most of them don't even have smartphones," said tabla player Kuntal Roy, an ex-student of RKM-Rahara and the coordinator among the musicians.
The group has already managed to raise Rs 21lakh. "Our beneficiaries and clusters are growing," Sudipto said.
Gourab, on his village tours, came across a mother and daughter in a neighbouring village who had gone without food for two days. "They work as domestic help and were without work. I ensured they got ration every week. I will personally visit them every week to check," he said.