Pension sum to help feed kids
Cannot let them die of hunger, says 70-year-old retired schoolteacher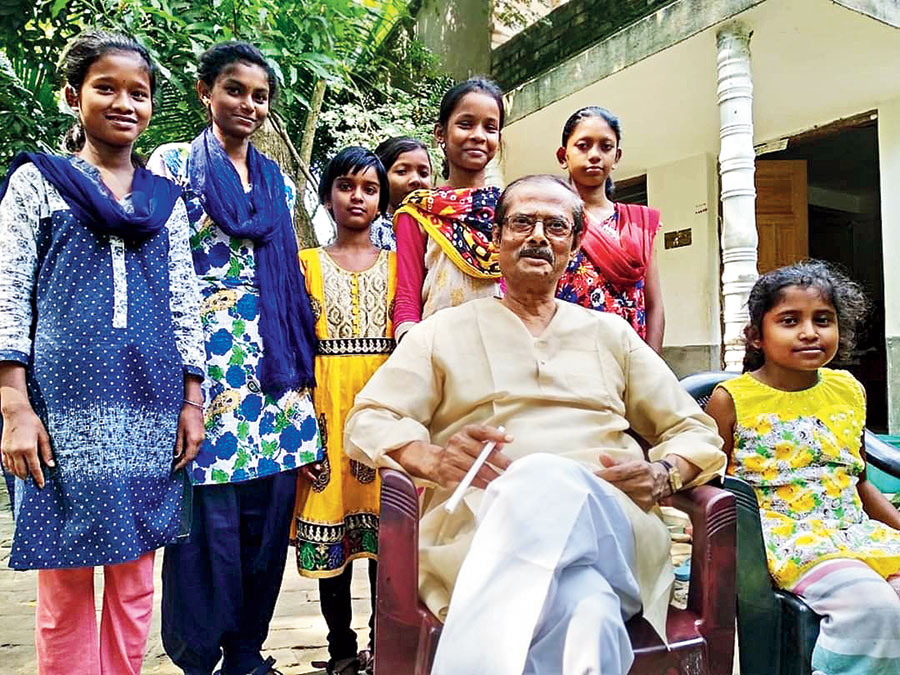 Sankar Prasad Hore with students at Howrah Vivekananda Siksha Kendra in Bagnan
Telegraph picture
---
Calcutta
|
Published 19.04.20, 08:31 PM
|
---
A 70-year-old retired schoolteacher has given Rs 20,000 to a study centre for underprivileged children in Howrah to provide them and their families with food during the lockdown.
Sankar Prasad Hore who lives alone in an apartment in New Town has kept Rs 9,000 and "something" for his own expenses from the "Rs 29,000 and a few hundred" he received as pension this month.
The children at Howrah Vivekananda Siksha Kendra in Bagnan are mostly first-generation learners from nearby villages. "These children and their families need food to survive and we have to help them live through this crisis… Rs 10,000 is enough for my monthly expenses," Hore said.
Hore was the chemistry teacher of the school's founder Tanmoy Patra. The retired teacher has helped the study centre financially as well as by giving chemistry lessons to students.
"When the lockdown started our first concern was to provide food to families of the children. Sir came forward within a few days and gave Rs 20,000… he said we have to help them for some months now till their income is regularised... he has always been like this… he took the first step for others to be inspired and to follow him," Patra said.
Hore listed his own monthly expense as Rs 3,000 for the domestic help and another Rs 2,000-2,500 for food in a month.
Parents of the children are mostly daily labourers, rickshaw-pullers, brick kiln workers or landless farmers, he said. "In many of these families, the man is the sole earner and his earning is wasted in addictions… it is mostly the mothers who run the family… they don't have any savings. If we don't support them now they will be ruined. Despite their background, many of the children score 80-85 per cent in exams… some even 90 per cent…. We cannot let them die of hunger."
Hore retired from Garden Reach Nut Behari Das Boys High School in 2009 after teaching chemistry for more than three decades. "While teaching these children I am relearning chemistry," he said.
His association with the Howrah school began about five years ago when his student Patra from the 1987 HS batch took him to this centre as his mentor. "I was touched," Hore said. Since then, he has been giving anything between Rs 10,000 and Rs 15,000 every month for the school's children.
Patra had founded the school in 2010.
"I have no liabilities. My students do tell me to keep something aside for any kind of crisis, especially any health need," Hore said.
But helping students is his old habit. He had supported many children when he was a teacher at the Garden Reach school. "I helped them with something."
But his student Patra has a different take. "We knew his salary would be over by the 15th of every month because he was helping many students continue with their studies; some with their engineering courses because they could not afford it."