NUJS students raise funds for support staff
Around Rs 70,000 has been kept aside for treatment if any of the employees get infected with the coronavirus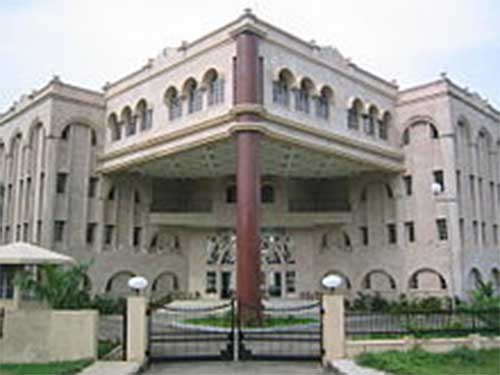 National University of Juridical Sciences
(Wikipedia)
---
Calcutta
|
Published 10.05.20, 09:45 PM
|
---
A group of students of the National University of Juridical Sciences (NUJS) raised funds to provide Rs 5,000 to each of the 80 members of the institution's support staff.
The students arranged the one-time monetary help to ease the employees' inconvenience during the lockdown to an extent, Prakhar Srivastava, one of the students, said.
Around Rs 70,000 has been kept aside for treatment if any of the employees get infected with the coronavirus.
Some of the employees are permanent while some are casual workers too. And their monthly salaries vary between Rs 8,000 and Rs 12,000. Many have a family of five to six to look after.
"They (employees) had to spend on protecting themselves from being infected with the coronavirus. They had to buy hand sanitisers and proper masks. Some found it difficult to buy these items," Srivastava said.
The students started a drive on April 12 to raise funds. "Many of these employees help us in various ways. They are like a family to us," another student said. "So, present students, teachers and the alumni came forward to donate generously when we told them about our initiative. We requested them to donate whatever they could."
By April 20, a corpus of Rs 4.54 lakh had been created. "A decision was taken to distribute Rs 5,000 to each of the 80 support staff," the student said.
Students managing the drive contacted each of the employees and collected their bank details. The money was transferred to their accounts in phases.
"More than 75 of them have already received the money. A small number of employees are still to receive because of some technical problems," Srivastava said.
Donations kept coming even after April 20. "So, we decided to keep Rs 70,000 aside for their treatment," Srivastava said.
The university is shut so the donors sent the money to Srivastava's account, from where Rs 5,000 was transferred to each of the employees.
In order to maintain transparency, the details of the transaction will be audited by the university's finance committee when the institute reopens after the lockdown.
If the money kept aside for the employees' treatment remains unused, it would be transferred to the university employees' welfare fund.