Most stalls shut across the city, cops ready code
Lack of clear orders from police about whether business could resume makes most hawkers decide against reopening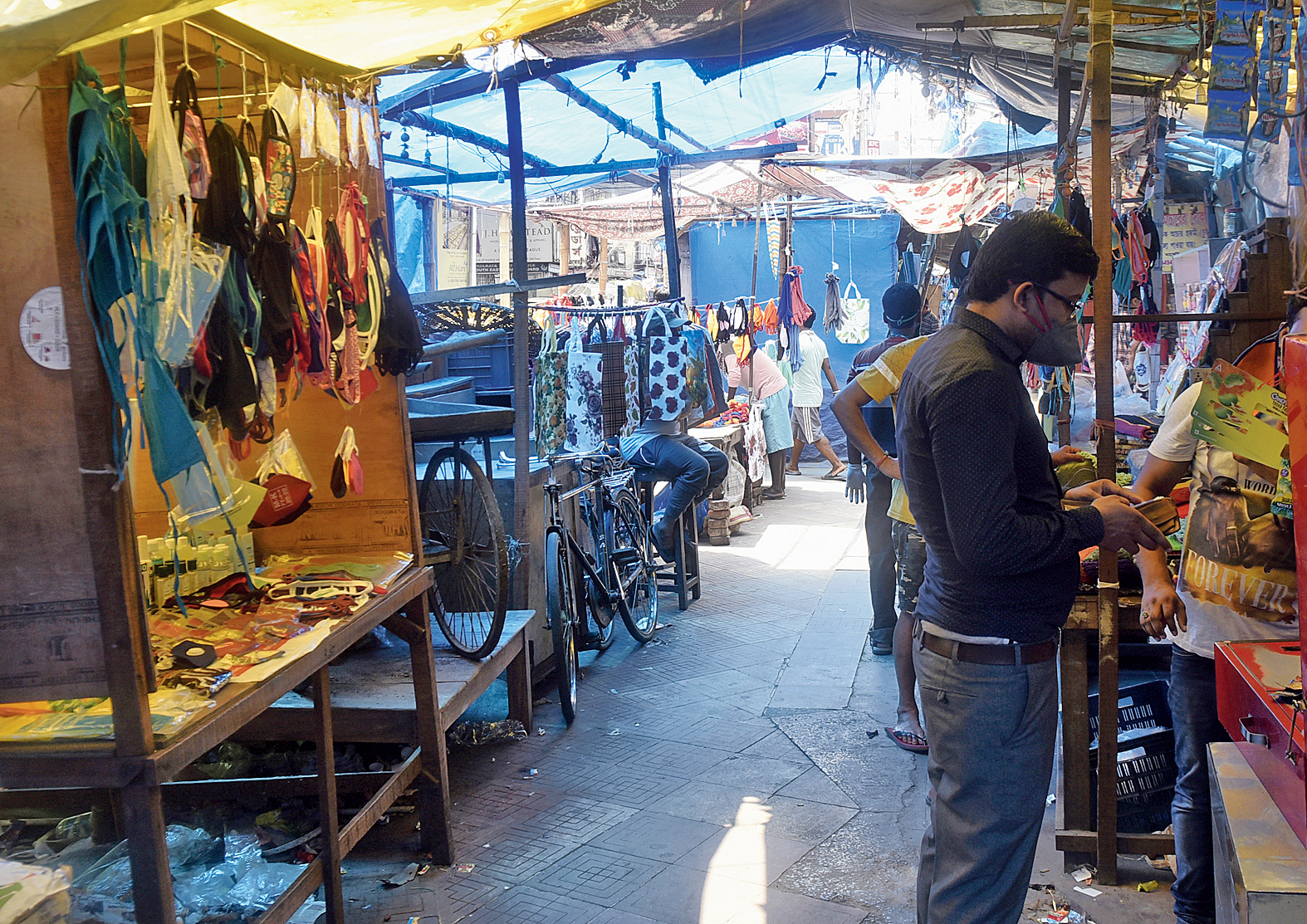 ---
|
Calcutta
|
Published 01.06.20, 09:01 PM
---
Hawkers in Gariahat were a divided lot — only around 45 of them reopened their stalls on Monday as police failed to issue clear orders on whether they could carry on with their businesses.

Scenes were no different across parts of New Market, Burrabazar, Posta, Brabourne Road and Bidhan Sarani. Only a few hawkers reopened their stores.
On May 18, chief minister Mamata Banerjee had said hawkers would be able to reopen their stalls on May 27 but suggested that they adopt the odd-even formula. The stalls with odd numbers and the ones with even numbers will open on alternate days to ensure social distancing.
The Telegraph had on May 27 reported that more than half the stalls in Gariahat had not yet been numbered.
On Monday, police said a list of hawkers in and around Gariahat had been drawn up. A team has been set up to verify every day whether the odd-even formula is being followed.
"But this exercise will begin only after we have received a formal clearance from the police headquarters that hawkers could reopen their stalls," said a senior police officer at Gariahat police station.
The city has about 2.75 lakh roadside stalls. Union leaders said there were about 5,000 hawkers in and around Gariahat — between Ballygunge and Deshapriya Park and Golpark and Pantaloons.
In the Hatibagan area, the count stands at 2,500 — between Star theatre and Shyambazar, along Bidhan Sarani.
"We met police officers and asked them why our brothers can't open their stalls from Monday?" asked Debraj Ghosh, a hawker union leader in Gariahat. "They asked us to wait for a few more days."
Outside New Market, only a few hawkers opened their stalls. The majority of the hawkers in the central Calcutta pocket turned up early but finally decided against opening their stalls.
Some of the hawkers said officers from New Market police station had asked them to wait for a few more days before resuming their business.
"Footfall has come down drastically and hawkers have been the worst hit. If the government can't decide when to allow hawkers to operate, let it transfer a small amount to their bank accounts," said Shaktiman Ghosh, a leader of Hawker Sangram Committee.
Senior officers at the city police headquarters in Lalbazar said final touches were being given to a uniform code on how to ensure social distancing once hawkers are allowed to operate across Calcutta. This will be passed on to all police stations so that officers know how to enforce it.
"We hope that by June 8, a clear set of instructions will be ready and hawkers will be allowed to run their businesses," said a senior police officer at Lalbazar.