More state buses, few cabs on Calcutta roads
A good number of drivers of the city's 11,000-odd taxis have left the city; some owners willing to drive if there is demand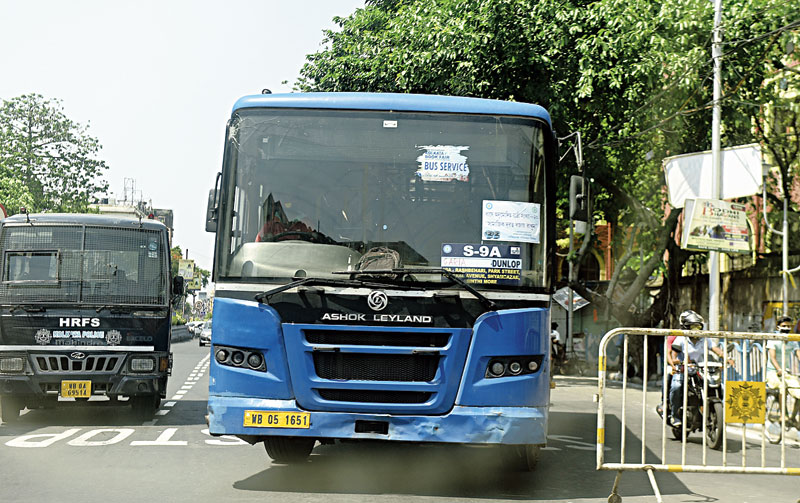 ---
|
Calcutta
|
Published 18.05.20, 11:03 PM
---
Government buses, which were available once every hour till last week, ferried passengers every 40 minutes on Monday morning.

The government said more state buses were on the roads to fill the gap created by the absence of private buses.
Taxis were few but could be seen on the roads till early evening. Some 350-odd taxis ran in the early part of the day. Operators said the response was good and that there would be more taxis on the roads from Tuesday.
A good number of drivers of the city's 11,000-odd taxis have left Calcutta and several owners said they would themselves drive the taxis because passengers were willing to hail cabs.
Some buses on Ultadanga-Salt Lake, Garia-Howrah Station and Dunlop-Ballygunge routes witnessed heavy demand between 9am and 11.30am, a transport department official said. On several routes, conductors had to persuade people not to board buses in excess of the 20-passenger limit set by the government as buses were aplenty.
"We tried to bring down the waiting time to around 40 minutes on most routes in the morning and evening so that passengers didn't have to wait for long at bus stops," a transport department official said. "The afternoon was a lean period when the frequency was regulated."
On Monday, several hundreds of people (many from the private sector) stepped out of their homes with passes and letters to justify their movement during the lockdown.
In some bus depots, cops were present in the morning to prevent possible confrontation between passengers and drivers or conductors, all of who had turned up in protective gear.
"No driver carried more than two passengers on the rear seat," Sambhu Nath Dey of Progressive Taximen's Union. "All passengers and drivers wore masks… only those who had urgent work hailed a cab."
Private bus operators said they hoped the government would take some steps to find a way out of the "fare impasse" so that buses could be on the roads. Most, however, said they were not sure how many trips could be done till
7pm, given the number of
people out on the roads on Monday.
"Even if a private bus operator was out he will have to calculate how many passengers he was carrying in every trip," Rahul Chatterjee of the Bus Minibus Samannoy Samity said. "The government obviously will find a way out for private bus operators."
Some private bus operators said they had been calculating throughout the day but couldn't find a way out of running buses with the existing fare.
"The government will have to come up with definite sops for us to bring out buses," Tapan Bandopadhyay, the secretary of the Joint Council of Bus Syndicates, said.