Lack of material halts mask production
With the state government making it mandatory to wear a mask in Bengal, the requirement for masks has seen a rise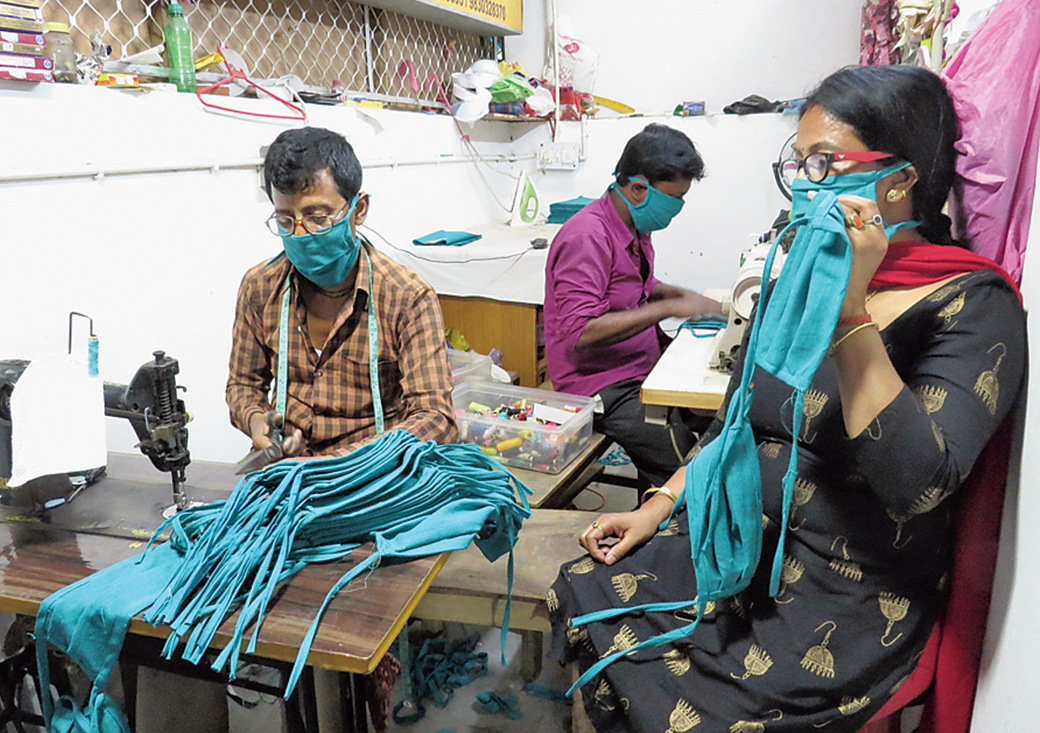 Mask makers at work at a New Town market stall. Now they work in Kestopur
Sudeshna Banerjee
---
Published 18.04.20, 06:28 AM
|
---
With the state government making it mandatory to wear a mask in Bengal, the requirement for masks has seen a rise. Though there are enough hands ready to ply the sewing machines, supply of cloth is proving to be a major hurdle.
Roshanara Bibi, who belongs to a seven-member self-help group in Chandpur, in Rajarhat, has received orders for two consignments of masks ever since the lockdown started. "Before that, we used to make churidar, nightie and blouse. The first masks I made were for children at home. A client saw it and took it as sample. On the basis of that, I was given 198m cloth. We made 850 three-ply masks out of that. The next lot was 1,000m. That yielded 4,700 masks." She alone made 450 masks.
But now many of them are sitting idle as material is hard to come by. "Give us cloth. We are ready to make masks," she tells a customer from New Town. Prayasam, a CG Block-based NGO, runs an upcycling unit called Duoranir Sansar, which collects used clothes from people and makes them worthy of reuse. "When the lockdown started, we started making handkerchiefs with straps using these clothes to distribute among the youths who work with us. We must have made around 1,000 face covers."
Now they still have some material in their clothes godown in Dum Dum. "But our boys who run the unit are unable to get out of their areas because of strict policing ever since the lockdown was extended," said Prayasam founder Amlan Ganguly. "If we could access the material, we could get our tailors to work from home in our Gouranganagar, New Town."
Stylist Tailor is one outfit where material is still at hand. "I had bought enough in advance anticipating demand," says owner Monika Khandelwal. She owns a tailoring shop in New Town Market in Action Area 1 and had turned it into a full-time mask-making centre in pandemic season. "We are getting so many bulk orders for masks that we are not making blouse or salwar kameezes any more," she had told The Telegraph on March 27, in the first week of lockdown.
She owns two stalls. One is where she used to sit wearing a mask, which drew customer attention. The second stall was diametrically opposite it, where two tailors made masks from cashmed cloth. A metre of the cloth is producing 10 to 12 such masks. "We are keeping about Rs 25 as labour charge and selling at around Rs 35," she had said then.
But once the initial orders dried out she had sent her tailors home. Recently with masks becoming mandatory in Bengal, she got orders for another consignment.
"Only I know how one tailor could come back, hitching a ride from his Sundarban village on a vegetable van and landing at Biswa Bangla Gate crossing at 1am from where he walked to our Kestopur factory." Now the New Town Market stall has had to shut but the tailor is carrying on at the Kestopur factory.
An EE Block-based souvenir company is still making masks but does not have the logistics to deliver them home yet.
It all started three days before the lockdown when Somwrita Guha, founder of Papercup, sent her building's caretaker to buy masks for her parents. "Not only were they not easily available, but when he did source them from Kestopur, he was charged an astronomical Rs 60 a piece," says Guha.
Masks were never part of Papercup's product line but they decided to make them as it was the need of the hour. "We got orders for about 800 three-ply masks in 48 hours but the lockdown made it difficult to deliver them. Some customers picked them up from the homes of our tailors in Budge Budge," she says.
Papercup is still getting orders. Raw material is limited but they are working around the problem. "Since the government announced that any kind of protection over the nose and mouth will qualify as mask, we have started folding a single layer of cloth to make them instead of three-ply. If demand persists we may rope in more tailors living around our employees and ask them to stitch masks using saris, kurtis etc," Guha says. She is now trying to arrange a vehicle permit so she can pick up the masks from Budge Budge.
Bishnu Chenani, a CK Block resident who runs Bhaskar Textiles in Madhyamgram, had diverted material from making capris and Bermuda shorts to masks right before the lockdown. "It was the need of the hour. We made 4,000 masks and donated some to clubs in Madhyamgram. The rest are being distributed free of cost to neighbours on behalf of CK-CL Block association," says Chenani.
Chenani has material at his factory, tailors living nearby and is keen to make more masks but is unable to do so due to the lockdown. "If I get definite orders I shall approach the authorities to allow me to reopen the factory," he says. "In fact, we shall start making masks commercially henceforth, keeping prices nominal. The industry has been badly hit and demand for masks will sustain for at least a year now."