Samaritan support for stuck migrants
Most of them used to work at construction sites in Tikiapara; some ferried loads on vans and a few pulled rickshaws and did carpentry jobs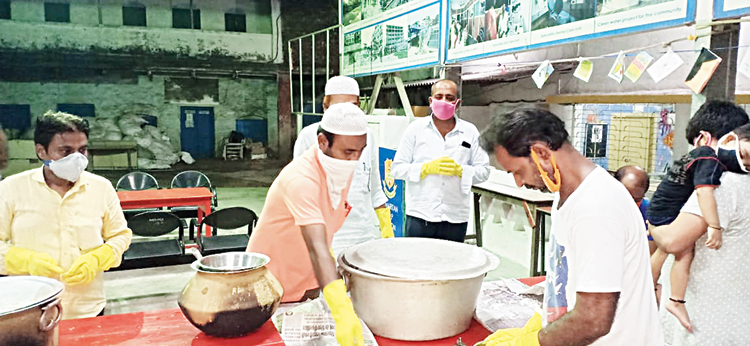 ---
|
Calcutta
|
Published 27.04.20, 09:54 PM
---
More than 100 migrant workers stranded in Howrah's Tikiapara are living on food from a community kitchen that has come up at Rebecca Belilious English Institution, a day-boarding school for the underprivileged.
The workers — who hail from Malda and Murshidabad in Bengal and Katihar, Gaya and other places in Bihar —turn up at the school every evening with tokens and utensils to get rice, dal and an occasional curry of seasonal vegetables.
Most of them used to work at construction sites in Tikiapara. Some ferried loads on vans and a few pulled rickshaws and did carpentry jobs.
Balchand Mistiri, 35, a carpenter from Gaya, had reached Bengal a year ago. "I keep a portion of the dinner for lunch as well. I have six children back home. I don't know how my wife is sustaining the family. I want to go home at the earliest. My wife has been telling me that it is better to die together than live separately with so much anxiety."
Mamoon Akhtar of Samaritan Help Mission, the NGO that set up the kitchen on April 14, said no work meant no pay for the workers. "Work has stopped indefinitely, choking their daily income and the chance of two square meals a day."
The number of people queuing up for food has been on the rise. On Wednesday, around 12kg rice and 6kg daal were prepared in the kitchen, manned by over a dozen volunteers. "There is not much of a difference in the people that we have been working for and these migrant workers," Akhtar said.
"These people (the stranded workers) share small rented rooms. They used to eat at hotels that are closed now. Most don't have enough money to buy food. The bulk of what they had earned, they have sent home. This emergency has cast a cloud on their survival," a volunteer from the NGO said.
The number of migrant workers was above 500 when the lockdown was announced. They wanted to return home but had to stay back for want of transport.
The NGO had coordinated with the administration to arrange for mini trucks, on which around 350 people went home. "The workers underwent medical tests at a hospital before they were allowed to leave for their homes," Akhtar said.
But that was three days into the lockdown. Things have changed since then. Howrah, which has been declared a sensitive containment area following multiple reports of Covid-19, is one of the first places near Calcutta where Section 144 of the CrPC has been imposed to enforce the lockdown.
"There are many more workers stranded in Tikiapara. Our volunteers are trying to reach out to them. But any coordination is difficult now,' Akhtar, a school dropout who had set up the NGO in 2001, said.
The NGO works for residents of slums in Tikiapara; running a school for 3,500 children, mostly of unlettered parents, primary health centres, and a vocational training centre, where women get lessons in tailoring to help them earn a living.