Lockdown hits home medical care in Calcutta
Service suffers as providers are at home or in quarantine after exposure to Covid-19 patients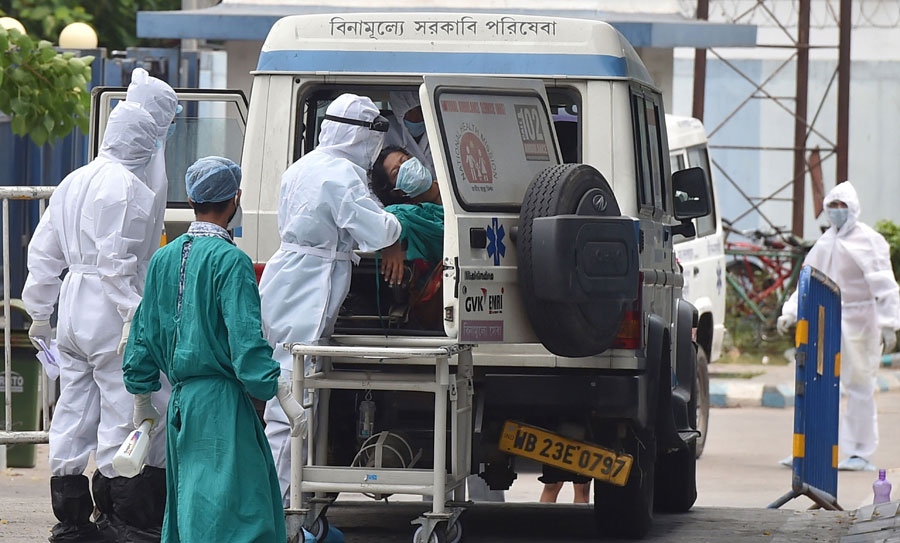 ---
|
Calcutta
|
Published 18.04.20, 09:17 PM
---
Hundreds of elderly Calcuttans and those suffering from chronic medical conditions are finding it difficult to get everyday medical assistance because of the lockdown forced by the coronavirus, said doctors, hospital authorities and organisations providing home care.
The daily medical assistance include checking blood pressure and blood glucose level, and administering insulin and injections.
Assistants at local pharmaceutical stores, popularly called "compounders", are not available at most places, while most private hospitals have stopped sending their personnel to houses to collect samples as a precautionary measure to protect their staff from the virus.
Health-care experts said that because of these two factors, many people suffering from diabetes, renal ailments, hypertension, chronic obstructive pulmonary disease (COPD) and other diseases are finding it difficult to get their conditions monitored regularly or the medical support they used to get readily before the lockdown kicked in.
Manoj Debnath, 59, a resident of Bhowanipore, is diabetic for many years and recently underwent amputation of his right leg below the knee because of gangrene.
"My father is bed-ridden and needs physiotherapy. But now I am not getting any physiotherapist. I had approached the hospital where he underwent the surgery but they failed to provide one," said Abahan, Debnath's son.
Debnath, the headmaster of a local school, would also get his blood glucose level examined by an assistant at a local medicine shop. But that person has gone back to his village because of the lockdown, said the son.
"I have purchased a machine to measure the blood glucose level but my father needs his blood pressure checked, too. There is no one to do it," said Abahan.
A 73-year-old woman living in Kasba needs an injection to be administered every 10 days, which keeps her haemoglobin level normal.
"My mother is diabetic and her kidney is affected, too. She does not need dialysis. Doctors said the injection can boost the heamoglobin level so that the vital organs are not further damaged. But the man who administers the injection is not available now," said her daughter. The doctor has told her to wait till the lockdown is over.
"These medical store assistants are lifesavers for thousands of people in Calcutta. Their absence has made these people helpless. Many of them are reluctant to go to hospital because they are scared of getting infected by the coronavirus. So, nebulisation for patients suffering from COPD, or setting up oxygen cylinders, dressing of wounds, administering intra-muscular injections and checking blood pressure are seriously affected," said Rahul Jain, internal medicine specialist.
Jain said many elderly people, who stay alone because their children work in other cities, are wary of taking insulin or getting blood pressure and blood glucose level by themselves.
"We are trying to guide them through video calls and sending them links. But still many are scared to do these on their own," he said.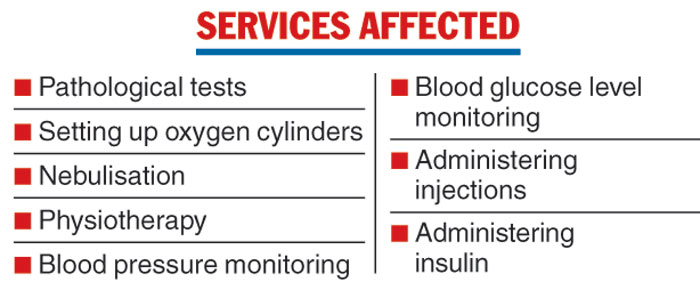 The CEO of a private hospital in south Calcutta said they were getting calls from people who have fever or other ailments like urinary tract infection and need to get the complete blood count test done.
"Two of my employees in the sample collection department have been quarantined at home after they went to collect blood samples of a person who later tested positive for Covid-19. So, we have stopped sample collectors from visiting houses," said the CEO.
Many other hospitals have taken similar steps.
"We are asking people to come to our hospital and get check-ups done because there are no Covid-19 patients admitted here. But many people still don't want to come," said a senior official of another private hospital.
There are organisations providing home care for such people but the numbers covered are not enough, said health-care experts. But these organisations are also receiving much more calls than usual.
"Apart from usual help like assisting them to go to the banks, we are getting calls from panicked elderly people staying alone who are seeking assistance for nebulisation or getting emergency medicines which they can't procure from local medicine stores," said Mou Roy, one of the directors of Rising Care, an organisation that provides assistance for elderly people.
Roy said she got a call from an elderly man staying in Chandernagore who sought assistance to go to a ration shop.
"The man said he had sent someone to the ration shop but the man there insisted that the ration card-holder had to be there in person. We don't have anyone there, so I asked him to call police for help," she said.
Another problem faced by home-care providers is resistance from many residents in apartment complexes.
"Many of our care providers are being stopped by residents of these housing complexes who are demanding fitness certificates for Covid-19. But we can't get Covid-19 tests done for our care-givers who have no such symptoms. This is affecting our care delivery system," said Souvik Bhattacharya, unit head, eastern India, Apollo Homecare.